Tens of Millions of Babies at Higher Risk of Death Because They Are Not Breastfed Soon Enough After Birth
Tens of millions of babies face a higher risk of death and disease because they are not breastfed in the first hour after they are born, health officials have warned.
Breastfeeding a newborn as quickly as possible significantly boosts their chances of survival, according to the World Health Organization (WHO). The lives of an estimated 823,000 children under the age of 5 could be saved each year if more women breastfed.
But an estimated 78 million babies, or almost 60 percent of infants around the world, are not breastfed immediately—mostly in low- and middle-income countries. And an additional 40 percent are not exclusively breastfed until they are 6 months old, the WHO warned in a report released to coincide with World Breastfeeding Week 2018. This year's theme is Breastfeeding: Foundation for Life.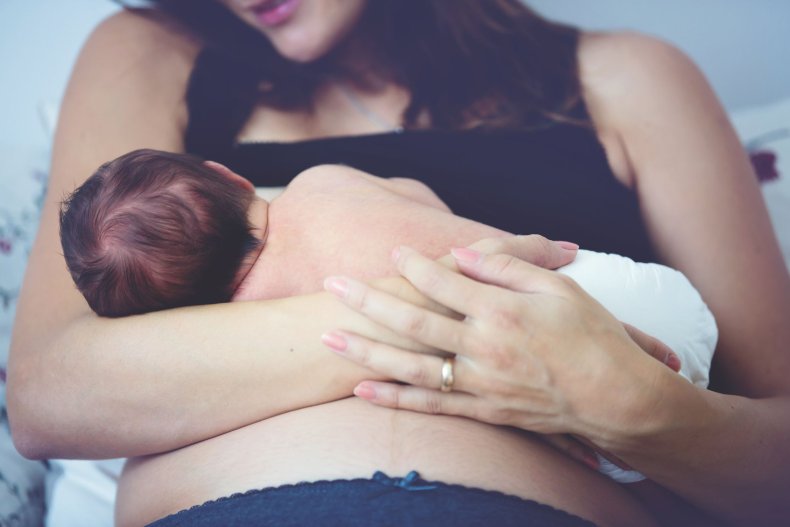 The report comes weeks after the Trump administration sparked controversy after officials stalled a resolution to promote breastfeeding by attempting to remove language urging governments to "protect, promote and support breastfeeding," The New York Times reported.
Skin-to-skin contact helps to kick-start the production of breastmilk, which in the first few days following an infant's birth contains colostrum. Often referred to as the baby's first vaccine, this initial batch of milk produced by the mammary glands is filled with nutrients as well as antibodies that fortify the immune system.
Related: U.S. the most dangerous developed country to give birth in, report finds
Mothers who breastfeed their children exclusively until they are six months of age help their child's brain develop, and also help a baby avoid undernutrition while cutting its risk of obesity.
The benefits of breastfeeding can last into later life, including by reducing infections that can cause nausea and vomiting, sudden infant death syndrome, childhood leukemia and heart disease in adulthood.
The practice also boost's a mother's health by cutting her risk of developing breast and ovarian cancers, as well as osteoporosis, obesity and heart disease.
Breastfeeding is particularly important for families who do not have easy access to basic amenities like clean water and healthcare, according to the WHO.
Henrietta H. Fore, UNICEF's executive director, said in a statement, "When it comes to the start of breastfeeding, timing is everything. In many countries, it can even be a matter of life or death.
Related: What causes anxiety? We may inherit mental Illness from our parents, study in monkey suggests
"Yet each year, millions of newborns miss out on the benefits of early breastfeeding and the reasons—all too often—are things we can change. Mothers simply don't receive enough support to breastfeed within those crucial minutes after birth, even from medical personnel at health facilities."
The agency also acknowledged many millions of women are unable to breastfeed, due to factors including a lack of support, or because they are offered formula milk at healthcare facilities.
"We must find new ways—and new political will—to help these children, wherever they live, benefit from the lifesaving benefits of breastfeeding," the organization said in a statement.
The Global Breastfeeding Collective, which is led in part by UNICEF, the United Nation's humanitarian agency for children, and the WHO, and includes 20 agencies and nongovernmental agencies, is calling for greater investment in breastfeeding projects around the world, including those that document trends. The group also wants to make it easier for parents to take maternity and paternity leave.
Val Willcox, antenatalteacher and spokesperson for the parenting charity NCT, highlighted the report doesn't include data from countries in Western Europe or North America and may unnecessarily alarm parents in these regions.
"We know it's important to feed babies sooner rather than later and establish skin-to-skin contact, which the report advises," she told Newsweek. "We also agree with its recommendations about the need for skilled support to be made available for women who want to breastfeed and regulation of the formula milk industry.
However, she argued the "breast is best" message is not always a helpful one as it can make mothers who can't breastfeed feel they are failing their babies.
"New mothers need practical help and support to feed their babies the way they want to, whether breastfeeding, formula feeding or a combination of both," she said.
This article has been updated with comment from Val Willcox.