'Tens of Thousands' of Florida Alimony Cases Could Be Reopened Under Bill
Women calling themselves "First Wives" are pleading with Florida Governor Ron DeSantis to veto a bill that could see them losing agreed-to alimony from their exes.
The women are fighting against Florida Senate Bill 1796. The bill would effectively put an end to permanent alimony payments in the state.
One woman advocating against the bill said they have been threatened and physically assaulted.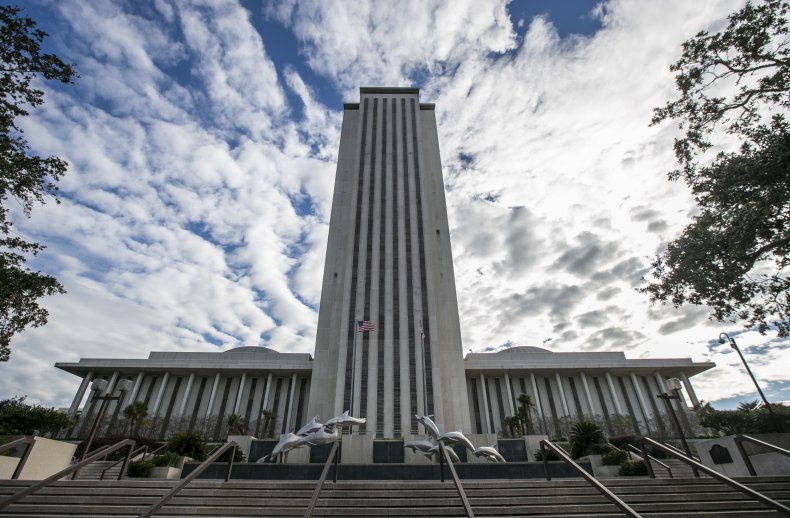 Specifically, Camille Fiveash alleges to have been pushed and shoved in the Florida capitol, according to Raw Story. Additionally, she claims to have had threats made against her life.
"Right here in this Capitol, I had a man shove me, I had a man stalk me, and I have had death threats — death threats! — because of this bill," she told Raw Story.
In February, Raw Story reported that a member of the Florida Senate asked some of his staff to look out for the safety of the women known as the First Wives, as they were set to give testimony during a hearing on the bill.
Philip Wartenberg, a marital and family law attorney, said that the bill would be retroactive.
"You shouldn't be doing retroactive changes. We're trying to protect those people," he told Raw Story.
Wartenberg added that the number of legal cases that could be reopened as a result of the law would be massive.
"Tens of thousands of cases will be reopened," he told Raw Story.
The bill, which was passed by the Florida House of Representatives by a vote of 74-42 on Thursday, March 10, states that "durational alimony may not exceed 50 percent of the length of a marriage lasting between three and ten years, 60 percent of the length of a marriage lasting between 10 and 20 years, or 75 percent of the length of a marriage lasting 20 years or longer," according to 10 Tampa Bay.
Additionally, the bill says that alimony will not be awarded to marriages that lasted less than three years.
In addition to the women known as the First Wives, 10 Tampa Bay says that another organization has come out against the bill: The Family Law Section of the Florida Bar. In a statement, the group encouraged DeSantis to exercise his veto power. They claim that if the bill were to become law it would have a "serious impact" on those hoping to receive alimony.
Additionally, the statement from the group said this law would put into question other "contractual agreements" in the state.
"This sets a dangerous precedent for contractual agreements in Florida, and we are deeply concerned that this public policy erases equitability and sets up a system that heavily favors one party, while damaging the other unnecessarily. It will also result in prolonged litigation, drive the cost of divorce up and cause backlogs in an already overburdened family court system," said the chair of the Family Law Section of the Florida Bar, Heather L. Apicella, in a statement to 10 Tampa Bay.
The bill is currently on its way to DeSantis' desk, where the governor can either sign or veto the legislation. Before DeSantis assumed Florida's governorship, former Florida Governor Rick Scott twice vetoed legislation much like SB 1796, in 2013 and 2016, Raw story reported.
A petition on Change.org urges Desantis to veto the bill, calling it "bad policy." Currently, it has almost 1,300 signatures.
If the Florida governor were to sign the bill, it would become law on July 1, 10 Tampa Bay reports.
Newsweek reached out to Gov. DeSantis' office but did not hear back before publication.