Photos: Thousands Gather for Slain NYPD Officer's Funeral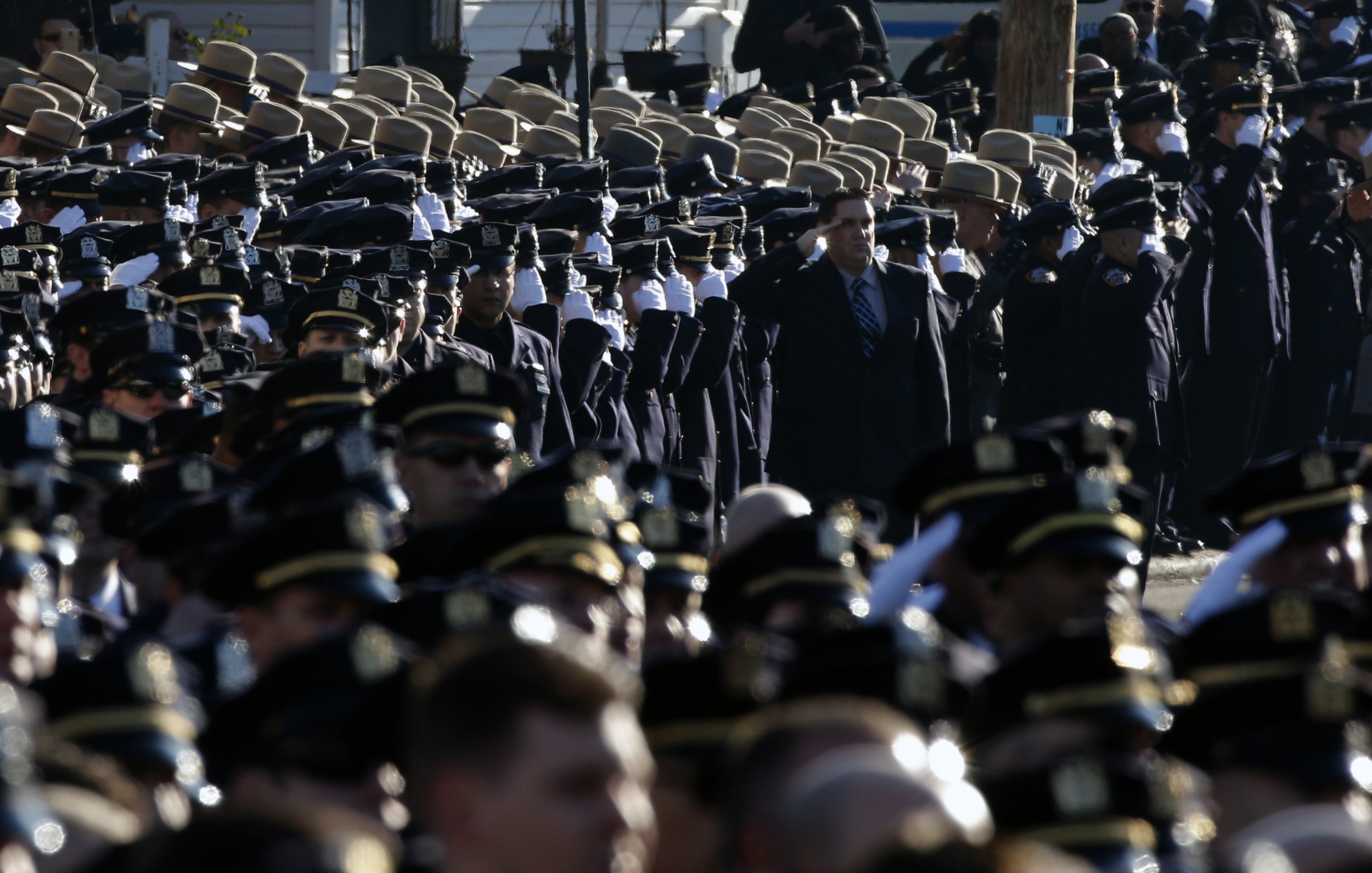 On a chilly but sunny Saturday morning, thousands of mourners, colleagues and onlookers wishing to pay their respects gathered at the Christ Tabernacle Church in Queens, New York, to bid a final farewell to Officer Rafael Ramos. The late NYPD officer and his partner, Wenjian Liu, were fatally shot while sitting in their patrol car in Bedford-Stuyvesant, Brooklyn one week ago.
The pair were both killed by a gunman whose posts on social media showed him hell-bent on avenging the deaths of Michael Brown, Eric Garner and other unarmed men who were killed by police officers this year. The alleged shooter, Ismaaiyl Brinsley, killed himself shortly after ambushing the policemen.
An eight-hour long wake for Ramos, 40, was held on Friday, where a line of police officers up to five blocks long waited to send off their colleague and friend. Ramos is survived by his two sons, Justin and Jaden, and his wife, Maritza. Justin Ramos donned his father's police jacket to the funeral. "Dad, I'm forever grateful of the sacrifices you made to provide for me and Jaden," he said.
A date for Liu's funeral has yet to be set, as his family awaits the arrival of relatives from China.
Nearly 25,000 police officers flew in for Ramos' funeral, with hundreds flown in free of charge by JetBlue. The airline has also offered to fly in Wenjian Liu's family from China as well, according to NBC.
Vice President Joe Biden attended Ramos's funeral and took the stand to say a few words about the fallen officer. "When an assassin's bullet targeted two officers, it targeted this city and it touched the soul of the entire nation," he said. New York City Mayor Bill de Blasio spoke at Ramos's funeral as well, and while he was met with scattered applause, many NYPD officers turned their backs on him, the BBC reports. De Blasio encountered a similar response by law enforcement when he arrived at the hospital where Liu and Ramos were taken shortly after they were shot last week. Yesterday, a group believed to be comprised of former and current NYPD officers flew a banner that read "De Blasio, Our Backs Have Turned To You," in response to his handling to the demonstrations against mistreatment by police.