Dying Dog Who Sits Next to Sign Saying She Needs 'Extra Love' Breaks Hearts
A terminally ill dog who loves to sit outside next to a sign saying she needs "extra love" is melting hearts everywhere.
Sparkle the pup, based in Somerville, Massachusetts, sadly has cancer, and her owners don't know how long she has left.
The 11-year-old dog loves to relax in the front yard, and receive strokes and cuddles from the local community, where it seems she's become something of a minor celebrity.
One passer-by, photographer Eric Magnussen, tweeted a photo of a majestic pooch, alongside numerous signs her owners had put up.
Alongside adorable photos of her face, they left out hand sanitizer as they encouraged adoring fans to clean they hands before going in for a pat.
And they added another photo of their beloved pet, explaining her condition.
It says: "Sparkle has cancer in her upper jaw, which sadly cannot be cured. She is being treated as needed with antibiotics (for secondary infection) and pain medications.
"Sparkle is 11 years old and has given joy and comfort to many in the neighborhood. We hope she will continue to be with us for several more months, but we cannot know.
"Depending on her daily condition, she may be spending more time inside these days.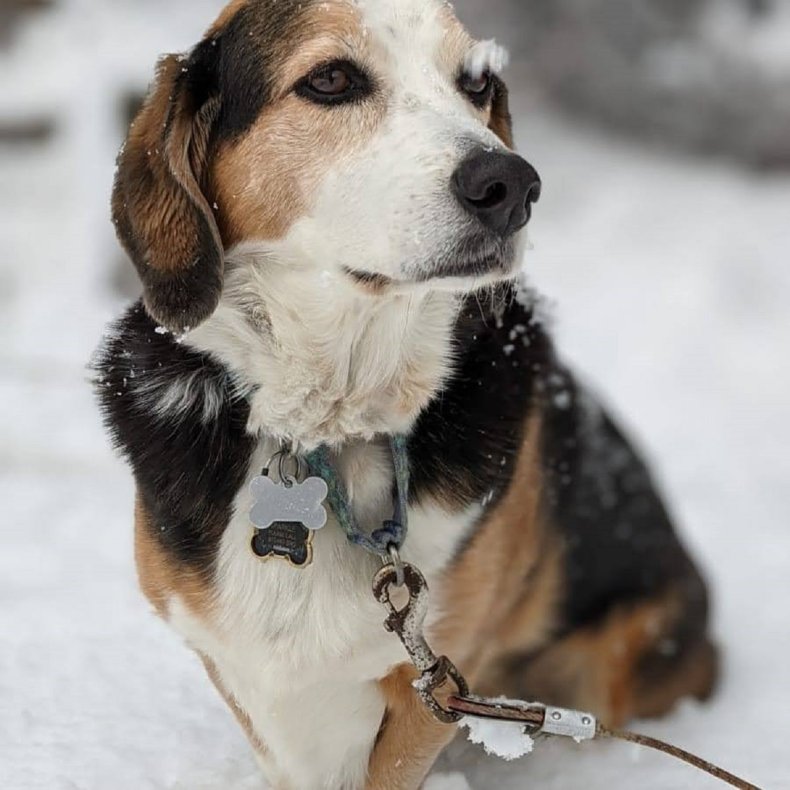 "If you see her outside please continue to love her (gently), but avoid touching the side of her face, because it may be swollen and sensitive, and there may be some bleeding."
And the end it added "soft treats only." The heartbreaking sign was next to another, more generic one.
It read: "My name is Sparkle. I love to be outside and meet people, all year! But I also go inside whenever I want. If you have questions, my tag has my adoptive mom or dad's cell phone number. They speak English better than me. Thanks."
Magnussen's tweet has since amassed more than 187,000 likes, as people shared their own selfies with the pup.
As her popularity online grew, owner Melora Rush created their own Twitter page for her, SparkleMayorOfSomerville, @mayorsparkle. The description said: "Sparkle has been bringing joy to our neighborhood for over 10 years now. Thanks for loving our girl!!"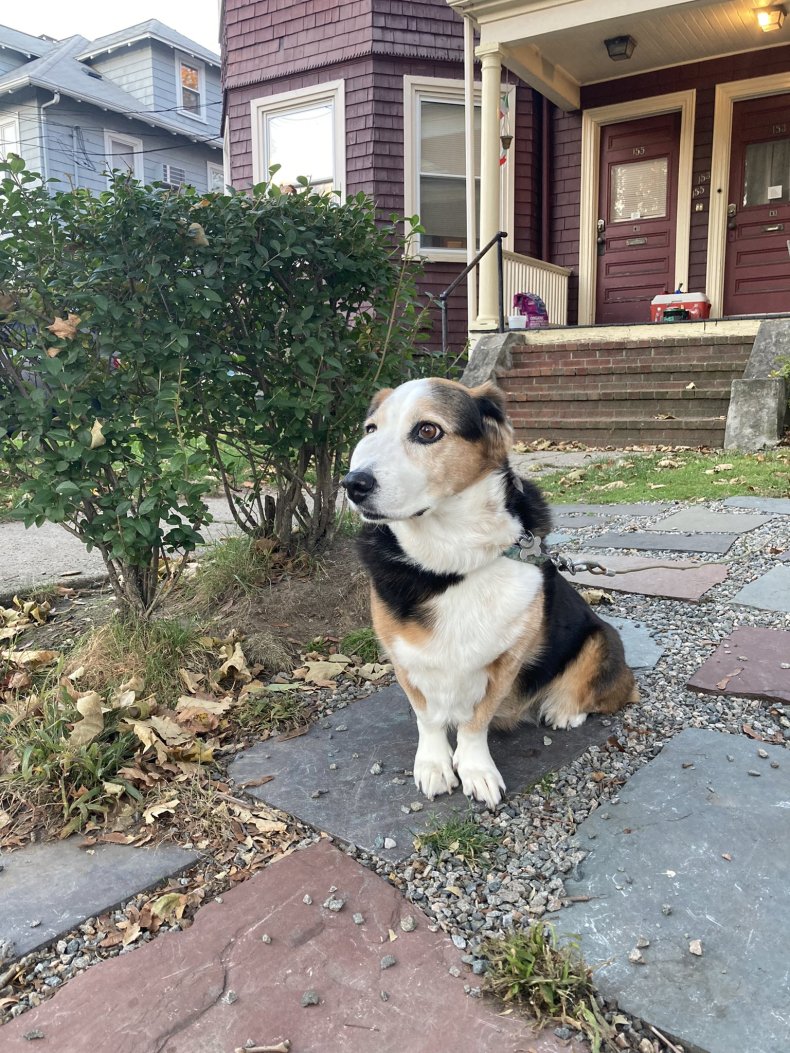 Speaking to Newsweek, Rush confirmed Sparkle is a Corgi mixed with either basset or beagle.
And she explained where she got her name, saying her son, Justin, who was 8 at the time, came up with it.
Rush said: "We adopted her from a rescue in New Hampshire called Mary's Dogs 10 years ago. She was one of their early rescues. She was about 1 yo when we adopted her.
"We knew she had a serious infection in her jaw earlier this summer. We treated that with various antibiotics but it continued to be a problem. A second biopsy, about a month ago, revealed the tumor in her jaw.
"My reaction was profound sadness coupled with a determination to enjoy every minute I had with her and to keep her as comfortable and happy as I possibly could. And to share her love with the neighborhood as much as she is able."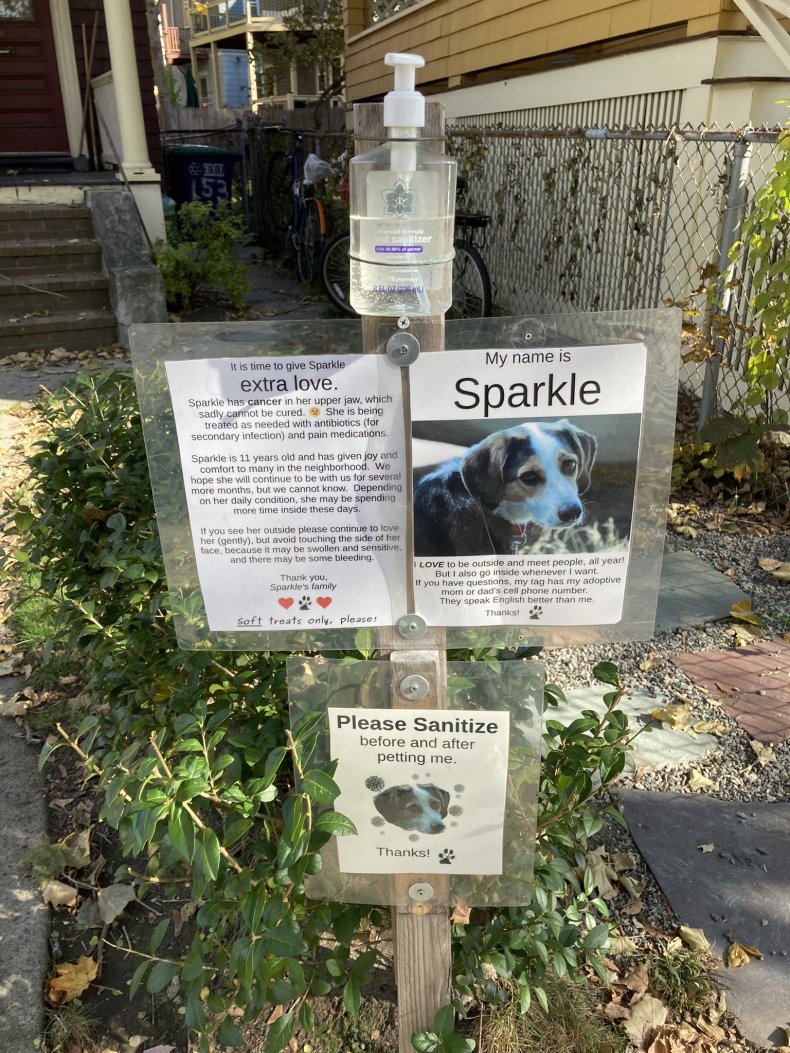 Rush explained Sparkle adored being outside, and the sign initially went up due to the pandemic.
She continued: "Sparkle loves to be outside in our front yard and she always has. She has had a fan club for years. At the beginning of the COVID pandemic we tried to keep her inside, but she wasn't having it. So we came up with the idea of putting out a sign and hand sanitizer. People were so grateful to have Sparkle there as comfort in such a confusing and isolating time."
After the notice informing her loving fans of her diagnosis went up, Rush said there were: "Tears and more frequent visits. Sparkle has been such a gift to the community of dogs and people, and they have been such a gift to her."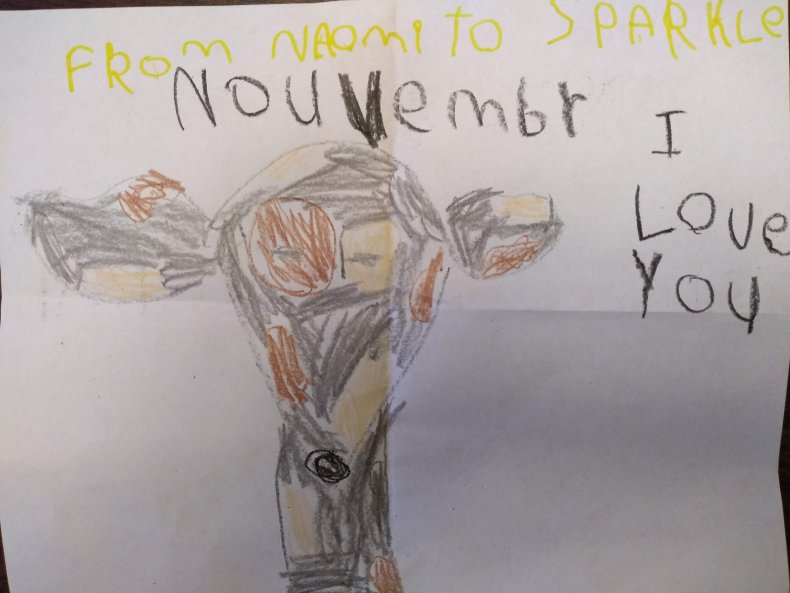 Kieran Taylor, who went to college nearby, told Newsweek Sparkle was well-known in the area.
He said: "So many people have fond memories of seeing her outside for years. She's a real neighborhood fixture.
"It's nice that she's getting such a great send off. When I showed up to pet her yesterday, there was already someone there doing the same. She saw me and said 'oh sparkle, your next guest is here!'
"She's just a sweet girl getting the love and attention she deserves."
While local resident, Ness Curti, told Newsweek: "Pre chin-scratches, I started petting the side of her face and she saw my hand and just rested it there.
"I'd seen her on my walk to work before this and popped by for a head-scratch, but this was when I first got to hang out and just have a moment to pet a dog and relax."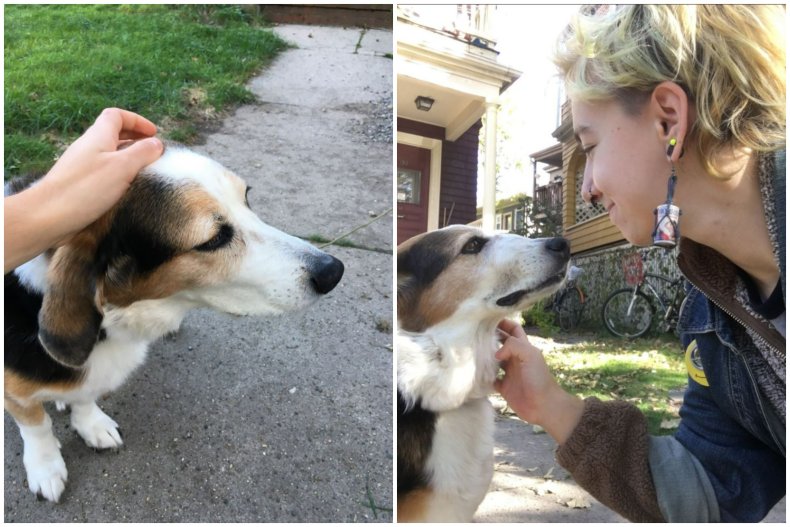 And hundreds expressed their sorrow over her diagnosis in Twitter comments, as April wrote: "I love Sparkle more than words can describe."
"I'm severely allergic and I wanna pet her," @fredrickthuglis wrote.
Jules admitted: "I would quit my job and sit with Sparkle on his stoop for the rest of our lives."
Richhy admitted: "Will literally die for sparkle omg."
DemocracyHeld said: "These are literally signs of some great doggy parents. God bless them. And sweet Sparkle, I wish you many awesome days outside & inside for as many days as your body will allow... your neighbors are lucky AF to love on you."
Newsweek reached out to Magnussen for comment.
UPDATE 11/15/21, 6:31 a.m. ET: This article was updated with comment and photos from Rush. CORRECTION 11/15/21, 6:31 a.m. ET: This article was updated to clarify Somerville is in Massachusetts.