Tesla, Honda Biggest Winners in 2021 Cars.com American-Made Index Results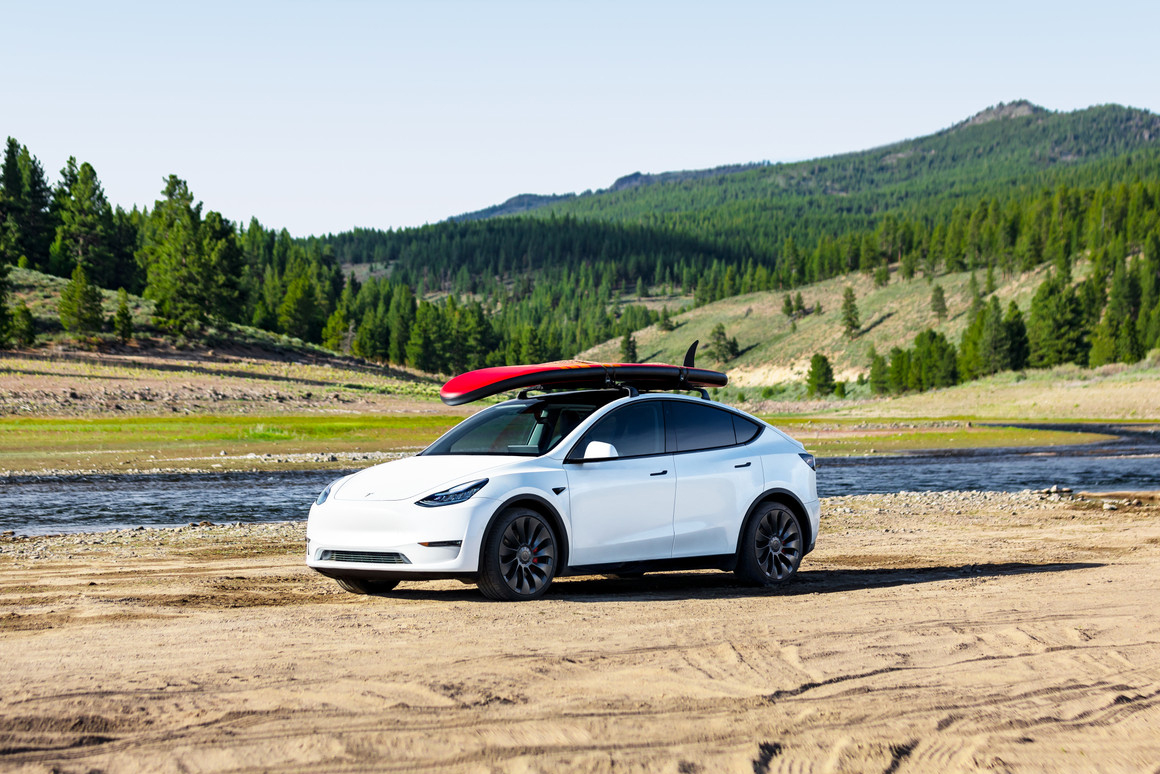 The annual Cars.com list of the most American made vehicles is out. The 2021 American-Made Index ranks 90 vehicles based on their assembly location, parts content, engine origin, transmission origin, and U.S. manufacturing workforce. Much of this information can be found on the Monroney window sticker that is applied to new vehicles.
There has been a shakeup in the rankings for 2021 with many models in the middle-half of the 2020 Index moving up to the Top 20. Last year's number one, the Ford Ranger, has fallen all the way to the 28th position in 2021.
Tesla, Ford, Jeep, Chevrolet, Toyota and Acura all have models in the Top 20. Honda has five while GMC, Lexus and Lincoln have one.
The biggest movers on the list when comparing 2020 to 2021, aside from the Ranger, are the Ram 1500 Classic (down), Honda CR-V (up), Ford Mustang (up) and Lincoln Navigator (up). A few new models have also been introduced.
Some vehicles are manufactured in multiple locations and in multiple countries.
Scroll down to see where your favorite model ranks and more information about where it is assembled. Noted next to each 2021 Index listing is its 2020 position.
Tesla Model 3: Fremont, California (4)
Ford Mustang: Flat Rock, Michigan (34)
Tesla Model Y: Fremont, California (unranked)
Jeep Cherokee: Belvidere, Illinois (2)
Chevrolet Corvette: Bowling Green, Kentucky (8)
Honda Ridgeline: Lincoln, Alabama (6)
Honda Odyssey: Lincoln, Alabama (5)
Honda Pilot: Lincoln, Alabama (13)
Honda Passport: Lincoln, Alabama (7)
Toyota Tundra: San Antonio, Texas (16)
Ford Expedition, Expedition Max: Louisville, Kentucky (20)
Acura RDX: East Liberty, Ohio (14)
Acura TLX: Marysville, Ohio (25)
Chevrolet Colorado: Wentzville, Missouri (10)
GMC Canyon: Wentzville, Missouri (11)
Jeep Grand Cherokee: Detroit, Michigan (26)
Honda Accord: Marysville, Ohio (15)
Toyota Avalon: Georgetown, Kentucky (29)
Lexus ES: Georgetown, Kentucky (28)
Lincoln Navigator, Navigator L: Louisville, Kentucky (54)
Lincoln Aviator: Chicago, Illinois (24)
Cadillac XT6: Spring Hill, Tennessee (21)
GMC Acadia: Spring Hill, Tennessee (22)
Cadillac XT5: Spring Hill, Tennessee (23)
Cadillac CT5: Lansing, Michigan (18)
Cadillac CT4: Lansing, Michigan (unranked)
Kia K5: West Point, Georgia (unranked)
Ford Ranger: Wayne, Michigan (1)
Ford F-150: Dearborn, Michigan and Claycomo, Missouri (44)
Cadillac Escalade, Escalade ESV: Arlington, Texas (31)
Chevrolet Suburban: Arlington, Texas (30)
GMC Yukon, Yukon XL: Arlington, Texas (32)
Chevrolet Tahoe: Arlington, Texas (33)
Cadillac XT4: Kansas City, Kansas (19)
Chevrolet Camaro: Lansing, Michigan (12)
Dodge Durango: Detroit, Michigan (45)
Toyota Highlander: Princeton, Indiana (27)
Jeep Wrangler, Wrangler Unlimited: Toledo, Ohio (42)
Hyundai Sonata: Montgomery, Alabama (36)
Jeep Gladiator: Toledo, Ohio (40)
Hyundai Santa Fe: Montgomery, Alabama (46)
Ram 1500: Sterling Heights, Michigan (47)
Ford F-150 Hybrid: Dearborn, Michigan and Claycomo, Missouri (unranked)
Ford Explorer: Chicago, Illinois (38)
Kia Sorento: West Point, Georgia (37)
Nissan Murano: Smyrna, Tennessee (49)
Mercedes-Benz GLE-Class: Vance, Alabama (43)
Acura ILX: Marysville, Ohio (53)
Jeep Wrangler Unlimited 4xe: Toledo, Ohio (unranked)
Toyota Camry: Georgetown, Kentucky (41)
Nissan Titan: Canton, Mississippi (55)
Nissan Maxima: Smyrna, Tennessee (57)
Chevrolet Traverse: Lansing, Michigan (50)
Buick Enclave: Lansing, Michigan (51)
Nissan Altima: Canton, Mississippi. (70)
Chevrolet Malibu: Kansas City, Kansas (66)
Nissan Frontier: Canton, Mississippi (unranked)
Kia Telluride: West Point, Georgia (59)
Toyota Sienna: Princeton, Indiana (39)
Toyota Camry Hybrid: Georgetown, Kentucky (61)
Ford Escape Hybrid: Louisville, Kentucky (58)
Ford Escape: Louisville, Kentucky (69)
Lexus ES Hybrid: Georgetown, Kentucky (unranked)
Lincoln Corsair: Louisville, Kentucky (71)
Toyota Highlander Hybrid: Princeton, Indiana (60)
Volkswagen Atlas, Atlas Cross Sport: Chattanooga, Tennessee (67)
Honda Accord Hybrid: Marysville, Ohio (64)
Mercedes-Benz GLS-Class: Vance, Alabama. (65)
Honda CR-V: Greensburg, Indiana; East Liberty, Ohio and Marysville, Ohio (81)
Subaru Ascent: Lafayette, Indiana (72)
Subaru Outback: Lafayette, Indiana (75)
Subaru Legacy: Lafayette, Indiana (73)
Honda CR-V Hybrid: Greensburg, Indiana (52)
Chevrolet Silverado 1500: Roanoke, Indiana (77)
Volkswagen Passat: Chattanooga, Tennessee (68)
Subaru Impreza: Lafayette, Indiana (76)
Honda Insight: Greensburg, Indiana (74)
BMW X5: Spartanburg, South Carolina (78)
Nissan Leaf: Smyrna, Tennessee (unranked)
GMC Sierra 1500: Roanoke, Indiana (85)
BMW X7: Spartanburg, South Carolina (82)
BMW X3: Spartanburg, South Carolina (79)
Hyundai Elantra: Montgomery, Alabama (86)
Volvo S60: Ridgeville, South Carolina (80)
Toyota RAV4 Hybrid: Georgetown, Kentucky (91)
Nissan Rogue: Smyrna, Tennessee (89)
Toyota Tacoma: San Antonio, Texas (84)
Toyota Corolla: Blue Springs, Mississippi (87)
Ram 1500 Classic: Warren, Michigan (63)
Honda Civic: Greensburg, Indiana (88)