Testy Exchanges Between Chris Wallace, Jake Tapper Resurface as Fox News Host Heads to CNN
After Chris Wallace announced he is joining CNN, several tense exchanges between the journalist and his soon-to-be colleague, Jake Tapper, resurfaced Sunday.
Wallace revealed today that he is leaving Fox News for the new CNN+ streaming platform after 18 years on Fox News Sunday. Several CNN reporters and anchors quickly offered their congratulations—including Tapper, who tweeted: "Congrats to Chris on a very impressive run at @FoxNewsSunday and best wishes for whatever's next!"
But the two have a history of exchanging criticisms.
During the 2020 presidential election, Wallace moderated a debate between then-President Donald Trump and then-candidate Joe Biden. Tapper criticized Wallace's performance as the moderator, suggesting that he couldn't keep a sense of order during the event.
Tapper said Wallace "did not have the control of the debate stage for much of the evening" and "did not remind the president that he was violating the rules until one hour and 13 minutes into the debate."
Just one day later, Tapper ended an interview with Trump campaign aide Tim Murtaugh because he believed Murtaugh refused to address Trump's failure to condemn white supremacy.
"I'm not Chris Wallace," Tapper said while ending the interview, referring to the debate.
Also in 2020, Tapper criticized Wallace for not questioning reports that American intelligence officials found out that Russia's military intelligence offered Taliban-linked militant bounties to kill U.S. troops in Afghanistan.
"That's right. Even in the wake of this news, interviewers posed questions about tweets, questions about whether the president is too mean to the interviewer. Nothing about the Russia bounty story or those three marines. Not one word," Tapper said on CNN.
He also took to Twitter to share his criticism, writing: "Speaking of sit down: you had an interview with the president and you asked about mean tweets about you and not about intel reports about GRU bounties against US and UK servicemembers."
Wallace has also shared criticisms of Tapper.
In 2017, Wallace wrote in an email to Treasury spokesperson Tony Sayegh that he took issue with Tapper asking Secretary of the Treasury Steve Mnuchin if Trump might fire Special Counsel Robert Mueller instead of tax policy in an interview, according to The Hollywood Reporter.
"As much as I hate the expression 'fake news' — this is a perfect example of it — especially on the week the country gets a massive overhaul of the tax code," Wallace allegedly wrote.
After Tapper announced he would not bring guests onto his show who spread lies about the 2020 election, Wallace dismissed the decision as "moral posturing" in a statement to Politico.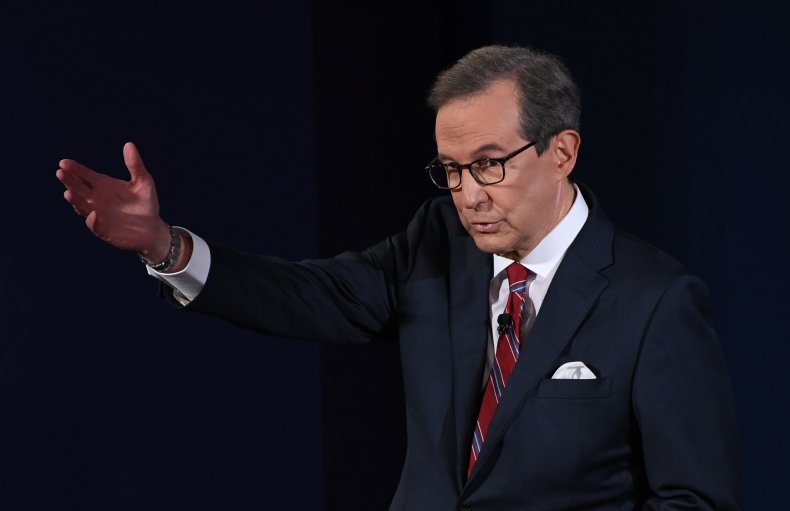 "There are plenty of people I would like to have on Fox News Sunday that voted to challenge the election—House Republican leader Kevin McCarthy for one," Wallace said. "And I don't have any rule about what the first question has to be. I have asked plenty of guests about voting to challenge the election and about Trump's role in the January 6th insurrection. But I cover the news, wherever that takes me."
Tapper hit back: "Should those who shared the election lie that incited the deadly attack on the Capitol and that continues to erode confidence in our democracy be invited onto our airwaves to continue to spread the Big Lie? Can our viewers count on these politicians to tell the truth about other topics? This isn't an easy conversation for some folks—especially for journalists who work for organizations where the Big Lie was platformed—but that's all the more reason to have this conversation."
Newsweek reached out to a CNN spokesperson for comment.