Texans Wait 17 Hours to Speak Out on GOP Restrictive Voting Bill at State Capitol
Hundreds of Texans signed up to testify against Republican-backed election reforms in Texas this weekend, with many waiting for more than 17 hours before they were able to take part in the public hearing at the state Capitol.
GOP lawmakers in Texas are pushing to pass new restrictive voting measures that would tighten the rules around voting by mail, rein in drive-thru voting, and bar local election officials from preemptively mailing out applications for absentee ballots to all registered voters, among other changes slammed by voting rights activists and Democrats.
The Texas House allowed public testimony on the bill starting at 1:41 a.m. on Sunday, but critics of the Republican legislation began showing up as early as 7:30 a.m. on Saturday, The Texas Tribune reported.
"All we want is a fair opportunity to have our voices heard in the election process," Michelle Brown, who traveled to the Capitol with her sorority, told the Austin-based media organization.
Former Representative Beto O'Rourke, a Texas Democrat, joined those testifying against the legislation. O'Rourke posted a photo of himself participating in the legislative session to Twitter early Sunday morning.
"Just testified against Texas voter suppression bill (HB3). I'm truly grateful to everyone who came out & especially to those who are still testifying (at 4:15am!)," the politician—who unsuccessfully sought to unseat Senator Ted Cruz, a Texas Republican, back in 2018—wrote. "We're fighting as hard as we can for voting rights in Texas. I hope the President & Senate will do their part."
Democratic lawmakers in Texas were able to temporarily defeat GOP efforts to push through the voting legislation in late May by organizing a walk-out to deny Republicans the required quorum in the state House. Although Republicans control the Texas House and Senate, they do not have a strong enough majority to hold quorum without Democrats present. Texas House Minority Leader Chris Turner led all of his Democratic colleagues in the walk-out of the May 30 session effectively blocking the bill from moving forward during the legislative session.
Governor Greg Abbott, a Republican, then vowed to call a special legislative session to pass the bill. He also vetoed funding for the Texas legislature in June, meaning lawmakers and legislative staff will not receive their regular compensation. Abbott argued that members of the state legislature should not get paid after they "quit their job early." But Turner called the move "tyrannical," noting that the southwestern state has "a governor, not a dictator."
Republican efforts to reform elections are largely animated by former President Donald Trump's baseless claims that he lost the 2020 election through widespread voter fraud. This extraordinary allegation has been thoroughly litigated and wholly debunked—with experts noting repeatedly that election fraud is exceedingly rare in U.S. elections. But GOP lawmakers in states across the country have pushed forward election changes in the wake of Trump's loss, with controversial bills already being approved in Georgia and Florida.
The Brennan Center for Justice reported in May that "at least 61 bills with restrictive provisions are moving through 18 state legislatures. More specifically, 31 have passed at least one chamber, while another 30 have had some sort of committee action (e.g., a hearing, an amendment, or a committee vote). Overall, lawmakers have introduced at least 389 restrictive bills in 48 states in the 2021 legislative sessions."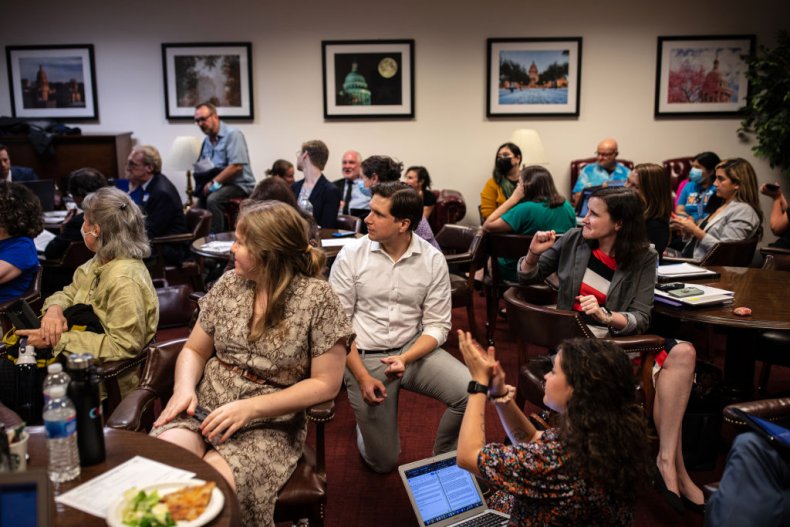 Meanwhile, Democratic lawmakers in Washington, D.C. are attempting to pass the For the People Act, which would shore up voting rights and undo much of the GOP election changes in states across the country. However, that effort remains at an impasse as the national Senate is evenly split between Democrats and Republicans—with GOP lawmakers able to block Democratic priorities through the legislative filibuster.
Newsweek reached out to Abbott's press secretary for further comment, but did not immediately receive a response.