Texas Democratic Lawmakers 'Determined to Kill' GOP Election Bill After Walking Out of Session
Texas state Democratic lawmakers said they are "determined to kill" a Republican-backed election bill that would make it substantially more difficult to vote in the southwestern state, after they walked out of a state House session on Sunday night to block the passage of the legislation.
Voting rights advocates and Democratic leaders have blasted the GOP-backed election reform bill, which analysts have said will make Texas the most difficult state to cast a ballot in the country. Some previous analyses—such as an October 2020 study from Northern Illinois University—have already ranked Texas as the most difficult state for voting.
"Democrats in the House and Senate in Texas have been working all session long to kill these Republican vote suppression measures. And Senate Bill 7 was the worst of the worst," Texas House Minority Leader Chris Turner, a Democrat who led his colleagues in walking out of the legislative chamber, told CNN on Monday morning. "And so we were determined to kill this bill in any way we could," he said, explaining that the state House had a midnight deadline to pass all bills.
"Any bills that don't pass by midnight effectively die," he explained.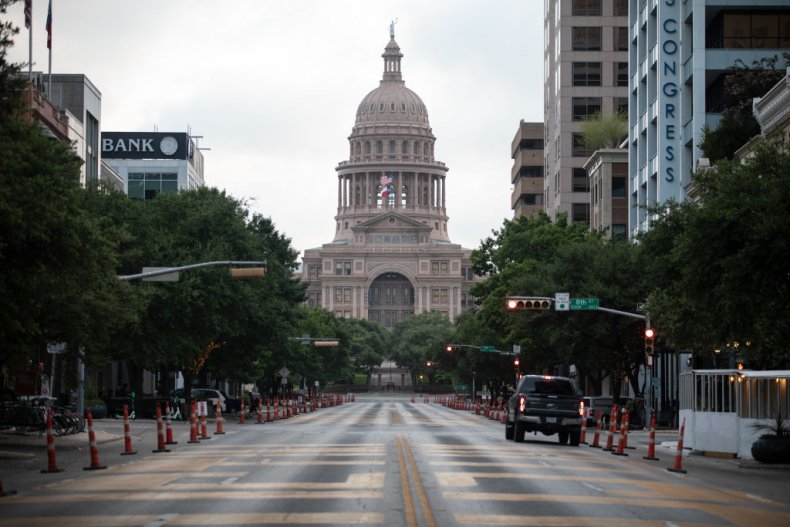 Turner reportedly sent a text message to Democratic colleagues just after 10:30 p.m. on Sunday, instructing them to "discreetly" depart from the legislative building. The decision by Democrats reduced the number of legislatures below the required quorum of 100 members.
"Members, take your key and leave the chamber discreetly," Turner wrote, the New York Times reported. "Leave the building. ~ Chris"
The Texas Senate passed the restrictive voting legislation early Sunday morning after an all-night Saturday session filled with intense debate. It then moved to the House, where Democratic lawmakers effectively prevented its passage by leaving the chamber.
The controversial Texas bill would put new restrictions on absentee voting, ban drive-through and 24-hour voting, increase punishments for election officials who make mistakes or commit offenses, and grant greater authority to partisan poll watchers. Meanwhile, Republicans in other states across the country, such as Florida and Georgia, have pushed through or put forward similar legislation—driven in part by former President Donald Trump's baseless claims of "widespread fraud" in the 2020 election.
"The idea that you can break quorum is always out there. And when you're pushed to the extreme, you respond to that with extreme," Texas state Representative Joe Moody, a Democrat, told CNN.
"We're going to do whatever it takes to maintain the franchise," Moody asserted.
A spokesperson for Texas state House Speaker Dade Phelan, a Republican, forwarded Newsweek the lawmaker's response to Democrats' opposition to the bill.
"Texans shouldn't have to pay the consequences of these members' actions—or in this case, inaction—especially at a time when a majority of Texans have exhibited clear and express support for making our elections stronger and more secure," Phelan said.
While the Democratic effort was successful at blocking the Texas Senate bill, Governor Greg Abbott, a Republican, signaled that he will call a special legislative session in an effort to pass election legislation. That session could start as early as Tuesday.
"Legislators will be expected to have worked out the details when they arrive at the Capitol for the special session," Abbott tweeted late on Sunday.
Biden condemned the election legislation in Texas, while also taking aim at similar measures that have been approved in Georgia and Florida.
"Today, Texas legislators put forth a bill that joins Georgia and Florida in advancing a state law that attacks the sacred right to vote. It's part of an assault on democracy that we've seen far too often this year—and often disproportionately targeting Black and Brown Americans," the president said in a Saturday statement.
"It's wrong and un-American. In the 21st century, we should be making it easier, not harder, for every eligible voter to vote."
This article has been updated with comment from Texas House Speaker Dade Phelan.