Bernie Sanders Compares Republican Tactics to China's 'Growing Authoritarianism'
Senator Bernie Sanders, a progressive Vermont independent, took aim at Republicans in a Sunday tweet, arguing that the right-wing political party is turning to authoritarian tactics.
In his weekend post, Sanders compared the policies and tactics pushed forward by the GOP to the "growing authoritarianism" in China. The senator, who unsuccessfully sought the Democratic Party's 2020 presidential nomination, argued that Republicans are hypocrites for opposing China's government while using what Sanders' views as similar tactics in the U.S.
"Republicans want a cold war with China because of its growing authoritarianism. That stance is coming from a party that refuses to acknowledge Biden's election victory, investigate the January 6th insurrection, and is working overtime to suppress the vote," the senator tweeted.
"What hypocrisy," Sanders added.
Republicans in state legislatures across the country have pushed through election reforms that Democrats and activists argue will restrict access to voting—particularly for communities of color. Meanwhile, former President Donald Trump and many Republican lawmakers continue to baselessly claim that President Joe Biden won the presidential election through widespread fraud.
The claims of fraud motivated hundreds of Trump's supporters to attack the U.S. Capitol on January 6 in an effort to overturn Biden's victory in the 2020 election. On Friday, Republican senators blocked a bipartisan commission that would investigate the events surrounding the insurrection, invoking the first legislative filibuster of Biden's presidency.
A relatively small faction of Republican lawmakers have condemned Trump and GOP leaders who continue to support him. Following the insurrection against the Capitol, 10 House Republicans voted with their Democratic colleagues to impeach Trump. In the Senate, seven GOP senators voted with Democrats to convict the former president for inciting the violent mob. Although this was the most bipartisan impeachment vote against a president in U.S. history, it failed to achieve the high constitutional threshold of a two-thirds majority required for a successful conviction.
Meanwhile, the bulk of GOP voters appear to continue to align closely with Trump. A poll released by Quinnipiac University last week showed that two-thirds (66 percent) of Republicans wanted Trump to run for president again in 2024. Furthermore, 85 percent said they wanted GOP candidates who agree with the former president to run for office, compared to just 10 percent who said they prefer ones who mostly disagree with him.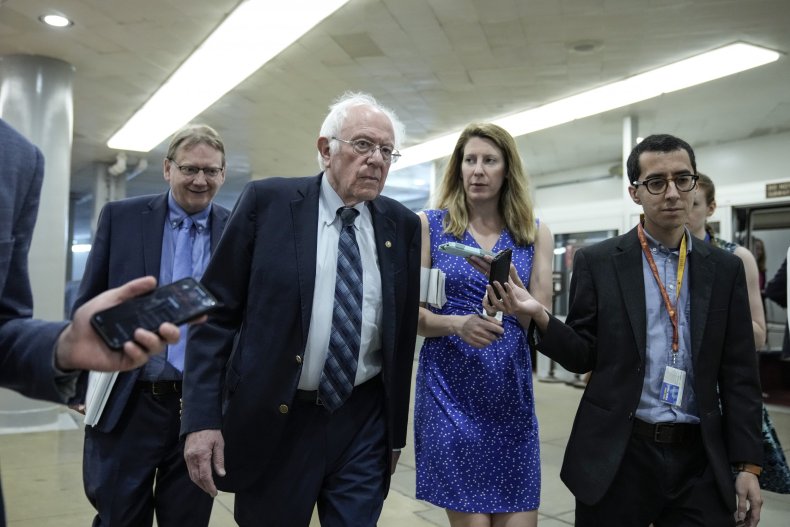 The survey results showed that Trump's lies about the 2020 election are readily believed by most Republican voters. According to the poll, two-thirds (66 percent) of Republican voters said that they do not believe Biden's election victory was legitimate.
Newsweek reached out to the Republican National Committee for comment.