GOP Rep. Fred Upton Slams Colleagues' 'Absolutely Bogus' Downplaying of Jan. 6 Capitol Attack
Representative Fred Upton, a Michigan Republican, slammed the "absolutely bogus" claims some GOP colleagues have made about the pro-Trump attack targeting the U.S. Capitol on January 6.
The majority of Republicans in Congress have aligned themselves with former President Donald Trump and his lies about the 2020 election. Meanwhile, some GOP lawmakers have downplayed the violent assault on the Capitol, with Representative Andrew Clyde, a Georgia Republican, saying the riot looked like a "normal tourist visit" last Wednesday.
Upton was asked to respond to his colleagues' efforts to rewrite history in a Sunday interview with CNN.
"It's absolutely bogus. You know, I was there. I watched a number of the folks walk down to the White House and then back. I have a balcony on my office. So I saw them go down. I heard the noise—the flash bangs, I smelled some of the gas as it moved my way," the Michigan Republican explained.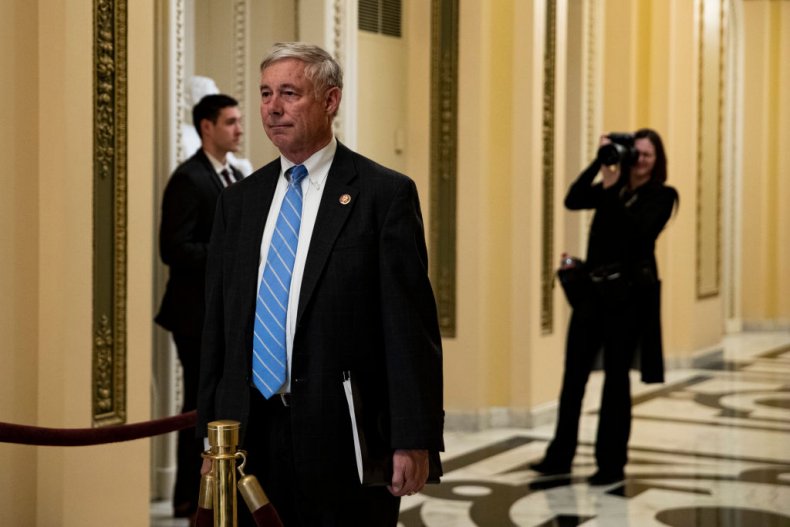 Upton was one of 10 House Republicans to vote with Democratic colleagues to impeach Trump for inciting the mob to attack the Capitol. The GOP congressman has aligned himself with Representative Liz Cheney, a Wyoming Republican, who also backed Trump's impeachment and was ousted from her role as chair of the House Republican Conference last week due to her repeated condemnation of the former president.
"We only win by addition. Not subtraction. I was a supporter of Liz," Upton said, suggesting that Republicans will lose more elections if they continue down the current trajectory. "I was very disappointed about what we did [to Cheney]."
"You know, it's the president—the former president—that continues, and even yesterday, about the Big Lie, about the election being stolen," Upton said, calling out Trump's groundless conspiracy theory. "We're not going to win unless we're a big tent. And we're not going to win unless we add to our base, not subtract from it."
Upton asserted that he personally has "never been afraid" to be for or against a president, regardless of their political party.
House Minority Leader Kevin McCarthy and the other House Republican leaders have aligned themselves with Trump, supporting Cheney's ouster from leadership. Although McCarthy initially criticized Trump in the wake of the January 6 attack, he has since changed his tone and worked to maintain the former president's support for GOP candidates in the 2022 midterms. With Democrats only holding the House by a slim majority, McCarthy is optimistic that the GOP could take control of the chamber and make him House Speaker.
Meanwhile, Trump and his allies continue to lie about the 2020 election, claiming it was "rigged" or "stolen" by President Joe Biden and the Democrats. This conspiracy was instrumental to inciting the pro-Trump mob that attacked the Capitol on January 6, despite the former president and his supporters never providing evidence to substantiate the extraordinary claim.
Dozens of election challenges filed by Trump and his supporters were rejected in state and federal courts. Even judges appointed by Trump and other Republicans dismissed the often bizarre allegations. At the same time, multiple recounts and audits in key battleground states—including in places where pro-Trump Republicans oversaw the election—have reaffirmed Biden's win.
Former U.S. Attorney General William Barr, who was widely viewed as one of Trump's most loyal Cabinet members, also asserted in December that there was "no evidence" of fraud that would impact the election's outcome.
Newsweek reached out to McCarthy's office for comment.