Adam Kinzinger Says GOP All About 'Loyalty to Donald Trump,' Compares to North Korea
Representative Adam Kinzinger, an Illinois Republican, strongly criticized his own political party, saying that the GOP is no longer focused on policy and has become all about "loyalty" to former President Donald Trump.
Kinzinger was one of the 10 House Republicans to vote to impeach Trump in the wake of the January 6 insurrection carried out by the then-president's supporters against the U.S. Capitol. The GOP lawmaker has become one of Trump's most vocal critics and aligned himself with Representative Liz Cheney, who was recently ousted from her role as chair of the House Republican Conference due to her repeated condemnation of the former president.
"I think what I'm used to saying to any Republican that's maybe kind of confused by the moment we're in is policy doesn't matter anymore. It literally is all your loyalty to Donald Trump. As I've said before, this is something that like echoes a little bit out of North Korea, where no matter what policy comes out, you're loyal to the guy," Kinzinger told NBC News' Meet the Press in a Sunday interview.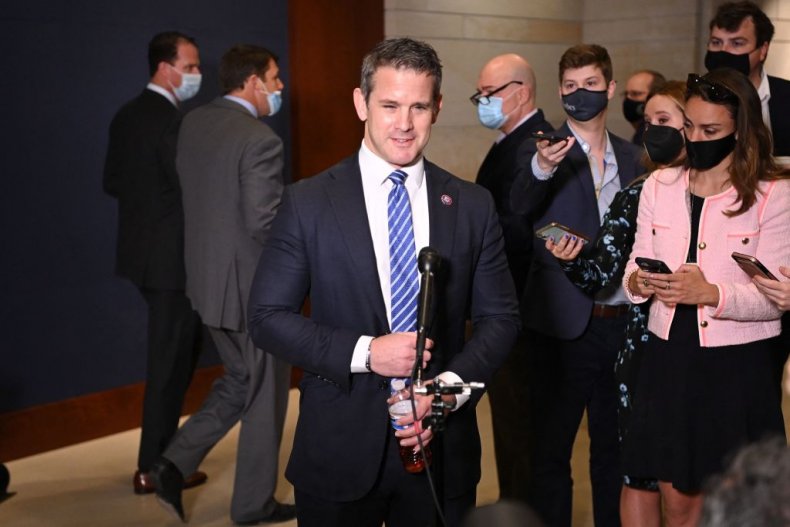 The Republican congressman said he's heard many people say, "I don't like what Donald Trump tweets, but I like his policies, so I'm going to support him." Kinzinger then pointed out that when it comes to Cheney, people say essentially the opposite, "Look, I like her policies, I don't like what she tweets, so she needs to leave."
"What that shows to me is an inconsistency that is built solely around allegiance to one man: Donald Trump. And we have to recognize that as a party. And we have to recognize that four months ago we allowed, basically, the narrative to lead to an insurgency on January 6," the GOP lawmaker said. "And until we take ownership of that, we can't heal."
Cheney was formally ousted from her role as the No. 3 House Republican last Wednesday. Since then, Cheney has doubled down on her condemnation of Trump, warning that he continues to pose a threat to the country. The Wyoming congresswoman has criticized fellow Republican who still back the former president, saying she'll do everything in her power to ensure he doesn't get re-elected in the future.
Despite failing to provide substantiating evidence, Trump and his allies continue to baselessly claim that President Joe Biden and Democrats "stole" the 2020 election through widespread voter fraud. This extraordinary allegation was dismissed in December by former U.S. Attorney General William Barr, who was widely viewed as one of Trump's most loyal Cabinet officials. Barr asserted that there was "no evidence" of fraud that would impact the election's outcome.
Dozens of lawsuits challenging the election results filed by Trump and his supporters in state and federal courts were dismissed and rejected—including by judges appointed by the former president and other Republicans. Furthermore, audits and recounts in multiple battleground states—including places where the election was overseen by pro-Tump Republicans—have reaffirmed Biden's win. And the Cybersecurity and Infrastructure Security Agency at the Department of Homeland Security described the 2020 election as the "most secure in American history."
Cheney again warned Sunday against the threat Trump poses by repeatedly denying reality and casting doubt on the legitimacy of U.S. elections.
"I think it's dangerous," the Wyoming Republican told ABC News' This Week. "I think that we have to recognize how quickly things can unravel. We have to recognize what it means for the nation to have a former president who has not conceded and who continues to suggest that our electoral system cannot function, cannot do the will of the people."
Newsweek reached out to GOP House Minority Leader Kevin McCarthy for comment.