Adam Kinzinger Suggests McCarthy Allowing 'Actual Insanity' in GOP, Points to Lin Wood Video
Adam Kinzinger, an Illinois Republican, slammed House Minority Leader Keving McCarthy, suggesting that the California Republican is allowing "actual insanity" in the GOP—pointing to a video of pro-Trump attorney Lin Wood.
In the video retweeted by Kinzinger, a staunch critic of former President Donald Trump and Republicans who continue to support him, Wood claims that Trump is still in control of the U.S. military and remains to be the president. Wood worked with former Trump attorney Sidney Powell to file a series of baseless lawsuits challenging the results of the 2020 election and is currently running to chair South Carolina's Republican Party.
Kinzinger pointed out in his Saturday tweet that Representative Liz Cheney, a Wyoming Republican, had been ousted from her role as the No. 3 House Republican this week because she pushed back against bizarre and baseless conspiracy theories about the 2020 election.
"Liz was removed by Kevin McCarthy for pushing back against this: This is why we tell the truth, because too many 'leaders' are acting like this is ok. This is actual insanity. (If you believe this please respond with your logic of why.)," Kinzinger wrote.
The Illinois Republican vocally defended Cheney as it became apparent that McCarthy and the bulk of House Republicans would remove the congresswoman from her role as House Republican Conference chair. The Wyoming Republican was easily ousted on Wednesday and replaced by Representative Elise Stefanik, a New York Republican and Trump defender, in a Friday morning vote.
"Trump, GOP 'leadership,' and those who plotted to take down @Liz_Cheney just created their greatest nightmare.... a liberated Liz," Kinzinger tweeted in response to the decision on Thursday.
Cheney and Kinzinger have repeatedly condemned Trump and his allies for continually lying to Americans and spreading conspiracy theories about the 2020 presidential election. Trump and his loyalist supporters claim that President Joe Biden and Democrats "rigged" or "stole" the election, despite no evidence being presented to substantiate this extraordinary claim.
Following the pro-Trump insurrection targeting the U.S. Capitol on January 6, Cheney and Kinzinger were among the 10 House Republicans to vote with Democrats to impeach Trump for allegedly inciting the mob. Cheney said ahead of the January 13 impeachment vote that "there has never been a greater betrayal by a President of the United States of his office and his oath to the Constitution."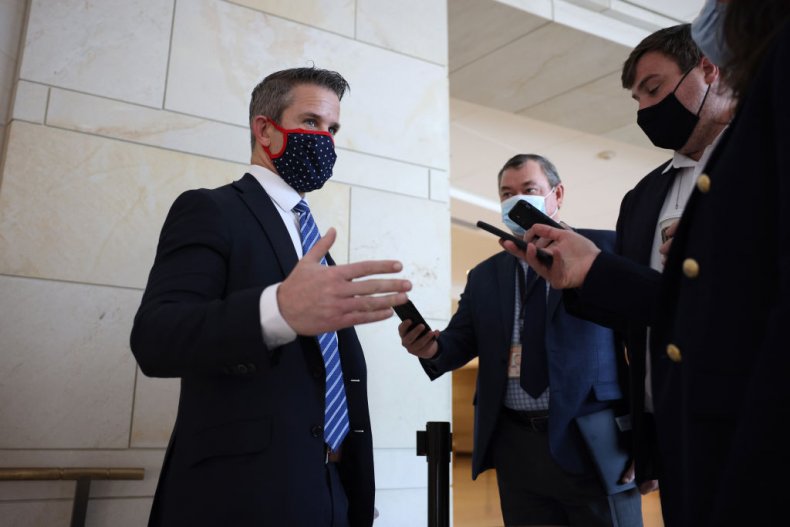 Meanwhile, Trump and supporters—like Wood—continue to push groundless claims about the 2020 election. Wood has attempted to align himself closely with Trump in his bid to unseat South Carolina's current GOP chair Drew McKissick. However, Trump has actually endorsed McKissick, reiterating his support for the Republican official in a Friday statement. The former president said he and McKissick "have done nothing but WIN together."
Newsweek reached out to McCarthy's press secretary for comment.