Lin Wood Insists 'Genius' Trump Still President, Likens Michael Flynn to George Washington
Attorney Lin Wood insisted that Donald Trump is still president and compared retired General Michael Flynn to the first U.S. President George Washington, who led the original 13 American colonies to victory against the British during the Revolutionary War.
Wood, a staunchly pro-Trump conservative, has repeatedly spread bizarre lies and conspiracy theories about the 2020 election. The lawyer worked with fellow pro-Trump attorney Sidney Powell to file baseless election lawsuits challenging the 2020 results and is now running to chair the South Carolina Republican Party. On Saturday, Wood shared a brief video of remarks he made Friday to South Carolina's Richland County GOP via his Telegram channel.
In his remarks, Wood said that child sex trafficking is "the real pandemic that is facing this country and our world." He said, "We've got to find out what they're doing with our children, I think I know what they're doing with our children, I think you do too and I think Donald J. Trump knows."
"He's working on it. Stay tuned," Wood continued. "I believe that Donald J. Trump is still our president." Followers of the QAnon conspiracy theory believe that a cabal of Democratic lawmakers and other elites sex-traffic minors and use them in Satanic rituals. There is no evidence to back this bizarre belief.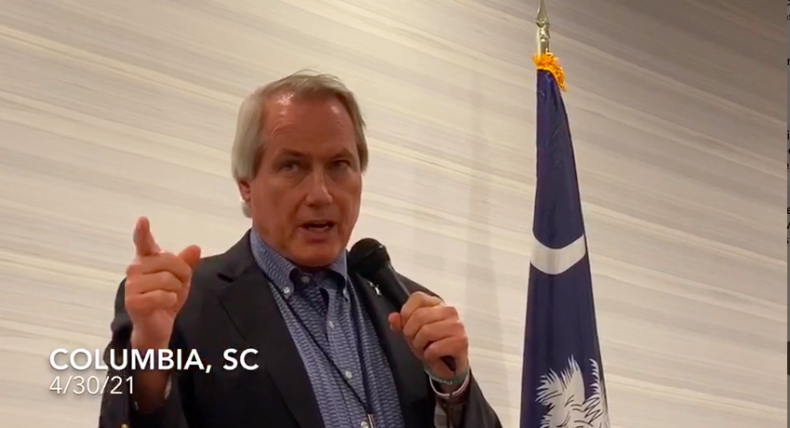 Trump has endorsed South Carolina's incumbent GOP chair Drew McKissick, but Wood suggested that Republicans in the state should "hold off" and not "jump to any conclusions."
"Donald Trump is a genius. Donald Trump works the art of war. He keeps his friends close and his enemies closer. Donald Trump has investigated a number of people in this country," he said. Wood pointed out that Flynn has endorsed his candidacy to be the southern state's GOP chair, as have fellow conspiracy theorists Powell and MyPillow CEO Mike Lindell.
On Telegram, Wood slammed "RINO" (Republican in name only) officials in South Carolina for granting him just five minutes to speak at the Friday event.
"Why do the RINO Republican organizers of the county conventions uniformly seek to limit my time and ability to speak with the members?" he asked "Answer: Because I speak TRUTH and the corrupt RINOs are scared to death of We The People hearing the TRUTH. THE RINOs know that when they are exposed by the TRUTH, their days in power are over."
In another Saturday post to his Telegram channel, Wood praised Flynn, saying he'd gladly fight under the former general in battle—comparing him to Washington.
"I would fight on any battlefield at any place under any conditions under the leadership of General Michael Flynn. You can count on Lin to Fight Like A Flynn. I only wish to have half the courage and love of country as that of General Flynn," Wood wrote. "General Flynn is our present day General George Washington. God bless General Flynn."
Like Wood, Powell and Lindell, Flynn has repeatedly promoted groundless claims that the 2020 election was "rigged" or "stolen" by Democrats and President Joe Biden. Flynn briefly served as Trump's national security adviser at the outset of his term in 2017. But he was forced out after revelations about his communications with Russian officials emerged in the media.
Flynn went on to plead guilty to lying to the FBI about his contacts with Russians during an investigation into Russian interference in the 2016 election. But the retired general was pardoned by Trump in November.
Despite Trump and his supporters making repeated claims about the 2020 election, they have not provided evidence to substantiate their extraordinary allegations. Dozens of election lawsuits filed by Trump and his allies in state and federal courts were dismissed and rejected, including by judges appointed by Trump and other Republicans. Meanwhile, multiple election audits and recounts in key battleground states—including in states where Republican officials oversaw the election—have reaffirmed Biden's victory.
In mid-November, the Cybersecurity and Infrastructure Security Agency at the Department of Homeland Security said that the 2020 election was the "most secure in American history." The agency, which was led by a Trump appointee, asserted that there was "no evidence that any voting system deleted or lost votes, changed votes, or was in any way compromised." And former Attorney General Willliam Barr, who was widely viewed as one of Trump's most loyal Cabinet members, said at the beginning of December that there was "no evidence" of widespread fraud that would change the election's outcome.
But many Trump supporters, like Wood, continue to make groundless claims that the election was fraudulent. Newsweek reached out to Wood for further comment but did not immediately receive a response.