Maryland's Governor Larry Hogan, a Republican, on Sunday criticized House Republicans for ousting GOP Representative Liz Cheney of Wyoming from her leadership role, accusing them of "doubling down on failure."
On Wednesday, Cheney was ousted as chair of the House Republican Conference—the party's No. 3 position in the lower chamber—after she voted to impeach former President Donald Trump in January and repeatedly condemned him and his claim the 2020 election was stolen. Hogan has frequently criticized Trump as well, calling out the former president on numerous occasions. In a Sunday morning interview with CNN, the GOP governor said that there is an ongoing "battle for the soul of the Republican Party."
"You know, I think it was a mistake [to oust Cheney]," Hogan said. "Liz Cheney is a solid conservative Republican who voted with the [former] president 93 percent of the time. I thought she just stood up and told the truth and said exactly what she thought. And to ostracize somebody—remove them from their leadership position—is crazy."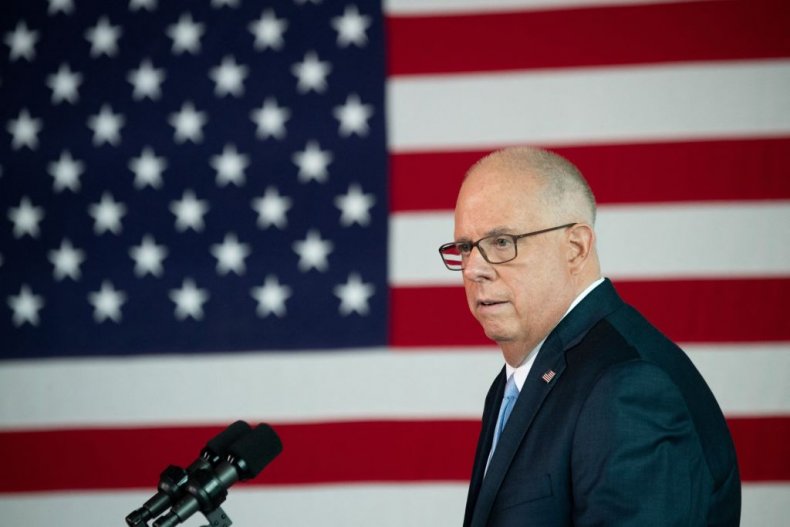 "I mean, it's kind of doubling down on failure," the Republican governor said. Hogan pointed out that Republicans "lost the White House, the House and the Senate over the past four years," saying that "to continue to do the exact same thing and to expect a different result is the definition of insanity."
Cheney drew the ire of Trump and fellow House Republicans for repeatedly condemning the former president and refusing to tolerate misinformation about the 2020 election. The Wyoming Republican blamed Trump for inciting the January 6 insurrection targeting the U.S. Capitol, saying that she'd join Democrats in voting to impeach him.
"There has never been a greater betrayal by a President of the United States of his office and his oath to the Constitution," Cheney said ahead of the January 13 vote. In total, 10 House Republicans voted to impeach Trump.
Since then, Cheney has become one of Trump's most vocal critics. She has repeatedly warned that Trump continues to pose a threat to the country, while also calling out GOP colleagues for accepting or promoting the former president's conspiracy theories about the 2020 election.
Although Trump and his allies continue to claim that the 2020 election was "rigged" or "stolen" by Democrats and President Joe Biden, they have not provided evidence to substantiate this extraordinary allegation. To the contrary, dozens of election challenges filed by the former president and his supporters in state and federal court have been rejected or dismissed—including by judges appointed by Trump and other Republicans.
Meanwhile, numerous audits and recounts in key battleground states—including in places where the election was overseen by pro-Trump Republicans—have reaffirmed Biden's victory. Former Attorney General William Barr, who was widely viewed as one of Trump's most loyal Cabinet members, said in December that there was "no evidence" of fraud that would change the election's outcome. And the Cybersecurity and Infrastructure Security Agency at the Department of Homeland Security said following the election that there was "no evidence that any voting system deleted or lost votes, changed votes, or was in any way compromised."
In another Sunday interview, with ABC News' This Week, Cheney again slammed Trump for his lies about the election and his incitement of the January 6 insurrection.
"I will do everything that I can to make sure [Trump is] not the nominee and, you know, everything necessary to make sure that he never gets anywhere close to the Oval Office again," the congresswoman vowed.
Newsweek reached out to GOP House Minority Leader Kevin McCarthy for comment on Hogan's criticism but did not immediately receive a response.