Trump Blames Election Loss on 'Suppression Polling,' Attacks Pence and 'Pathetic' McConnell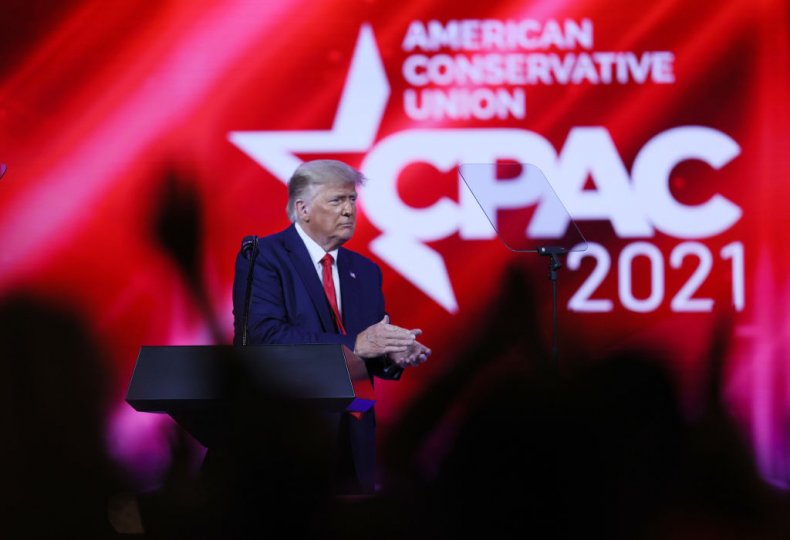 Former President Donald Trump released a statement Saturday claiming 2020 election polling suppressed voters and attacking both former Vice President Mike Pence and GOP Senate Minority Leader Mitch McConnell.
Trump continues to push baseless claims about the 2020 election, alleging that Democrats and President Joe Biden "rigged" votes despite a lack of substantiating evidence. In the Saturday statement, forwarded to Newsweek by Trump adviser Jason Miller, Trump took aim at polling ahead of the election that projected Biden winning by a larger margin of votes than he ultimately received. Trump also slammed Pence for a lack of "courage" to help overturn the election results and McConnell for being "weak and pathetic."
"The public opinion surveys ahead of the 2020 Presidential Election were the most inaccurate ever, according to a major polling panel. This was done purposely. The polls were a joke," Trump stated, claiming that he "won States in a landslide" that he was predicted to lose ahead of the election. Although some polling did inaccurately project that Biden could win in states that Trump ultimately carried, the final vote counts were generally relatively close with Biden trailing by just a few points.
"Other states had me purposely so far down that it would force people, even fans, to say 'Let's stay home Darling. We love our President, but he can't win.' And then I would win those states or at least come very close," Trump said.
"Even the rigged final result was extremely close. It's called SUPPRESSION POLLING and it should be illegal. These are crooked, disgusting, and very dishonest media outlets and they know exactly what they are doing," the former president argued.
Trump then went on to attack fellow Republican leaders. "Had Mike Pence had the courage to send the Electoral College vote back to states for recertification, and had Mitch McConnell fought for us instead of being the weak and pathetic leader he is, we would right now have a Republican President who would be VETOING the horrific Socialistic Bills that are rapidly going through Congress," he claimed.
While Trump did narrowly lose to Biden in several key battleground states, the former president received more votes than any U.S. presidential candidate in history besides Biden. Trump won more votes than any incumbent president and more votes than any Republican presidential candidate in history. Considering GOP voters cast ballots in record numbers, it seems somewhat at odds with reality to suggest that Trump supporters were suppressed by bad polling.
Newsweek reached out to Trump's office for further comment but did not immediately receive a response.
The former president continues to baselessly claim that the 2020 election was "stolen" by Democrats. Democratic and some Republican critics have begun to call this conspiracy theory the "Big Lie," particularly after it animated Trump supporters to attack the U.S. Capitol on January 6 in a bid to overturn Biden's election victory. Trump was impeached by the House of Representatives a week after that assault. Ten House Republicans voted with their Democratic colleagues to formally charge the president with inciting the violent insurrection.
Although Trump was acquitted by the evenly split Senate, seven Republican senators voted with Democrats to convict Trump, marking the most bipartisan "guilty" vote against a president in U.S. history. However, that vote fell short of the two-thirds majority required for a successful conviction by the Constitution.
Dozens of 2020 election lawsuits filed by Trump and his allies have been dismissed and rejected in state and federal courts—even by judges appointed by the former president and other Republicans. Meanwhile, numerous audits and recounts—including in states where the election was overseen by pro-Trump GOP officials—have reaffirmed Biden's win. Former Attorney General William Barr, who was widely viewed as one of Trump most loyal Cabinet members, said in December that there was "no evidence" of voter fraud that would impact Biden's victory.