Ted Lieu Calls Out Andrew Clyde After Capitol Riot 'Normal Tourist Visit' Remark: 'Do You Remember?'
Representative Ted Lieu, a California Democrat, called out Representative Andrew Clyde, a Georgia Republican, after the latter downplayed the attack on the U.S. Capitol by former President Donald Trump's supporters on January 6.
Clyde on Wednesday suggested that the pro-Trump insurrection attempting to overturn the 2020 presidential election results looked like a "normal tourist visit." The GOP congressman has received significant backlash, as five people died in the violence and more than 100 Capitol police officers were injured. The rioters also threatened to hang then-Vice President Mike Pence and kill other lawmakers, while many carried Confederate flags and other racist symbols.
Early on Saturday morning, Lieu retweeted a photo shared by Roll Call photographer Tom Williams. The photojournalist posted an image on Friday that appeared to show Clyde helping others barricade the House Chamber as Trump's supporters violently attacked the Capitol on that January day.
"Dear @Rep_Clyde: Is that you in the picture? Do you remember? Insurrectionists were trying to stop the election certification. This was not, as you now say, a 'normal tourist visit,'" Lieu wrote on Twitter, retweeting Williams' post.
"140 police officers were injured, some severely. You should apologize to law enforcement," Lieu added.
Clyde's remarks about the events of January 6 came during a Wednesday hearing. The pro-Trump Republican also insisted that the assault was not an "insurrection."
"Watching the TV footage of those who entered the Capitol and walked through Statuary Hall showed people in an orderly fashion staying between the stanchions and ropes taking videos and pictures," Clyde said. "You know, if you didn't know the TV footage was a video from January the 6th, you would actually think it was a normal tourist visit."
Many saw Clyde's remarks as an overt attempt to rewrite history.
"By the way @Rep_Clyde I mean wtf kind of Capitol tour groups have you been on?" Representative Adam Kinzinger, an Illinois Republican who voted to impeach Trump following the events of January 6, tweeted on Thursday.
In a Friday interview with ABC's The View, Kinzinger described Republican efforts to rewrite the events of January 6 as "something out of North Korea."
"When I saw my colleagues speak, it feels like it's in the Nineteen Eighty-Four novel or something you see out of North Korea, where it's like we're just going to state whatever we want the reality to be," Kinzinger said.
Speaker of the House Nancy Pelosi, a California Democrat, slammed Clyde's remarks as "beyond denial," saying, "it fell into the range of sick."
Hundreds of rioters from the pro-Trump mob have already been charged by federal prosecutors, as investigations into the assault continue. Trump was impeached by the House of Representatives a week after the insurrection. Ten House Republicans voted with Democrats to impeach the then-president for allegedly inciting the mob to attack the Capitol. The rioters were largely driven to violence by Trump's groundless claims that the 2020 election was "rigged" or "stolen" by President Joe Biden and Democrats.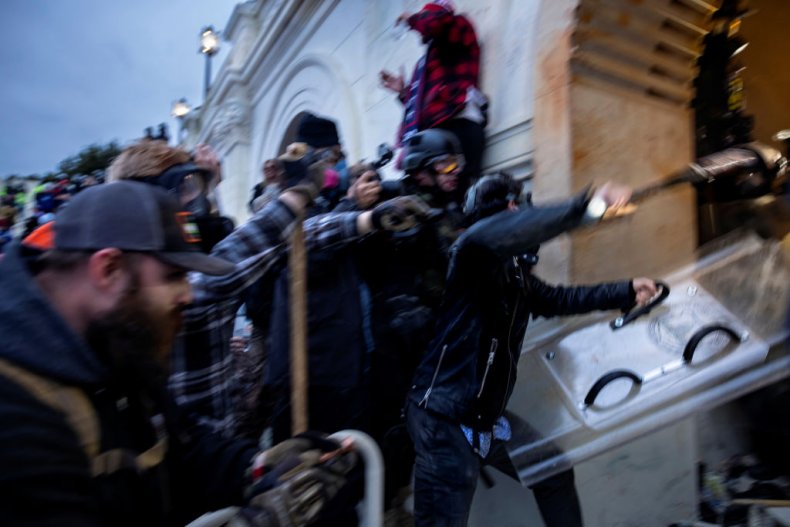 Dozens of election challenge lawsuits filed in state and federal courts by Trump and his allies were rejected or dismissed. Even judges appointed by Trump and other Republicans dismissed the baseless allegations. Meanwhile, numerous recounts and audits in key battleground states—including in places where the election was overseen by pro-Trump Republicans—reaffirmed Biden's victory.
Former U.S. Attorney General William Barr, who was widely seen as one of Trump's most loyal Cabinet members, said in December that there was "no evidence" of voter fraud that would change the election's outcome. And the Cybersecurity and Infrastructure Security Agency at the Department of Homeland Security said following the election that it was the "most secure in American history." The agency, which was led by a Trump appointee, asserted that there was "no evidence that any voting system deleted or lost votes, changed votes, or was in any way compromised."
Newsweek reached out to Clyde's press secretary for comment.