Trump Presidency 'Worst Four Years' Ever for GOP, Says Republican Gov. Larry Hogan
Maryland Governor Larry Hogan, a Republican, slammed former President Donald Trump's tenure in the White House, describing it as the "worst four years" the GOP has "ever" experienced.
Despite being a Republican, Hogan was a frequent critic of Trump throughout his presidency. As many GOP lawmakers backed the former president's false claims that the 2020 election was stolen, Hogan pushed back against Trump and urged him to concede the election to President Joe Biden.
In a Sunday interview with NBC News' Meet the Press, the Maryland governor explained why he believes the former president was harmful to his political party.
"I think we've got to get back to winning elections again, and we have to be able to have a Republican Party that appeals to a broader group of people. And we have to get back to having a bigger tent as [former President Ronald] Reagan talked about and not continuing to—look, we had the worst four years we've had, ever, in the Republican Party [under Trump]," Hogan said.
The Republican governor pointed out that Republicans lost "the White House, the House of Representatives and the Senate."
"Successful politics is about addition and multiplication, not subtraction and division," he said.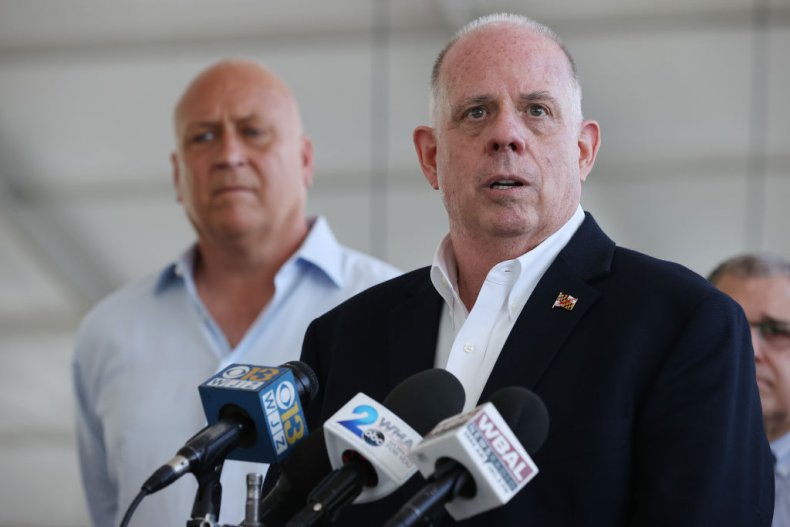 Hogan also criticized House Republicans who appear set to remove Representative Liz Cheney, a Wyoming Republican, from her leadership role due to her repeated criticism of Trump. Cheney was one of the 10 House Republicans to vote with Democrats to impeach the former president after he allegedly incited his supporters to attack the U.S. Capitol on January 6 in a bid to overturn Biden's election victory.
"I think they're concerned about retaliation from the president. They're, they're concerned about, you know, being attacked within the party," Hogan said of House Republican efforts to oust Cheney as the chair of House Republican Conference. "It just bothers me that you have to swear fealty to the 'dear leader' or you get kicked out of the party, it just doesn't make any sense."
Hogan said that the opposition to Cheney and other Republicans critical of Trump is "sort of a circular firing squad where we're just attacking members of our own party." The governor remarked that Republicans should instead be "focusing on solving problems or standing up and having an argument that we can debate the Democrats on some of the things that the Biden administration is pushing through."
When Trump took office in 2017, Republicans controlled the House, the Senate and the White House. But as Hogan pointed out, the GOP went on to lose the House in the 2018 midterm elections. Then in 2020, Democrats took control of the White House and subsequently secured narrow control of the Senate in a January runoff held in Georgia. Despite this record of losing under Trump, Republican leaders appear to be aligning themselves more closely with the former president.
Meanwhile, Trump continues to repeatedly take aim at Republicans he views as disloyal or not sufficiently loyal to him. Jason Miller, a spokesperson for Trump, told The Washington Post in an interview published Saturday that the former president views unseating Cheney in 2022 as "one of the highest priorities as far as primary endorsements go." Trump has also slammed former Vice President Mike Pence, Senate Minority Leader Mitch McConnell, and the Republican lawmakers who backed his impeachment.
But a significant number of Republican voters continue to support Trump. A Reuters/Ipsos poll conducted at the end of March showed that about 6 in 10 GOP voters want Trump to run for reelection again in 2024. The same amount of Republican voters said they believed the baseless conspiracy theory that the 2020 election was "stolen."
Newsweek reached out to Trump's office for comment.