6 in 10 Republicans Want Trump to Run in 2024, Think 2020 Election 'Stolen'
The majority of Republicans want former President Donald Trump to run again in 2024 while an equal number believe the groundless conspiracy theory that the 2020 election "was stolen" by President Joe Biden and Democrats.
Trump and many of his allies continue to promote the false claim that the 2020 election was "rigged," leading to his loss. Although they have not provided evidence to substantiate the allegation, new polling by Reuters and Ipsos shows that a sizable majority of Republican voters believe the conspiracy theory.
The poll, which was conducted from March 30 to 31, showed that six in 10 GOP voters think that Trump should run for president again in 2024. Further, the same amount believe the false narrative that the election "was stolen" due to widespread voter fraud.
"Happy Easter to ALL, including the Radical Left CRAZIES who rigged our Presidential Election, and want to destroy our Country!" Trump said in a Sunday Easter message, continuing to push the baseless conspiracy.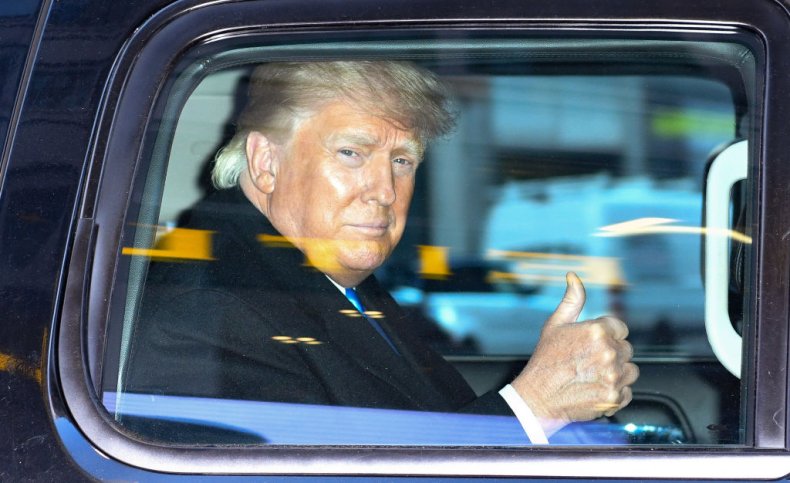 State and federal courts have rejected or dismissed dozens of lawsuits filed by Trump and his supporters challenging the election results. Even judges appointed by the former president and other Republicans have rejected the allegations.
In November, shortly after the election was called in Biden's favor, the Cybersecurity and Infrastructure Security Agency at the Department of Homeland Security, which was led by a Trump appointee, described the 2020 election as the "most secure in American history." The agency pointed out that "there is no evidence that any voting system deleted or lost votes, changed votes, or was in any way compromised."
Former Attorney General William Barr, who was widely viewed as one of Trump's most loyal and effective Cabinet members, said in early December that there was "no evidence" of fraud that would change the election results.
Audits and recounts in multiple battlegrounds states—including some overseen by Republicans who voted for Trump—have consistently reaffirmed Biden's victory. But Trump's lies, rather than the facts, have apparently resonated more strongly with GOP voters.
Another recent poll carried out by Harvard CAPS-Harris Poll showed a narrower majority of Republican voters support Trump's potential 2024 run. That survey, which was conducted from February 23 to 25, showed that 52 percent of Republicans wanted the former president to run in the next presidential election.
A Politico-Morning Consult poll released earlier in February showed that 59 percent of GOP voters want Trump to continue to play a "major role" in the party, while 54 percent said they'd vote for him in 2024 if he ran.