What to Watch for in Texas Medication Abortion Lawsuit Hearing
On Wednesday, Texas federal judge Matthew Kacsmaryk will consider a case brought about by anti-abortion doctors and medical associations. It could completely cut off access to medication abortion on a national level.
The lawsuit targets the abortion pill, the most-common method of termination currently used in the U.S.
It was filed in November 2022 against the U.S. Food and Drug Administration (FDA). Its decision to make medication abortion more easily available after the overturning of Roe v. Wade in June 2022 is being challenged by plaintiffs.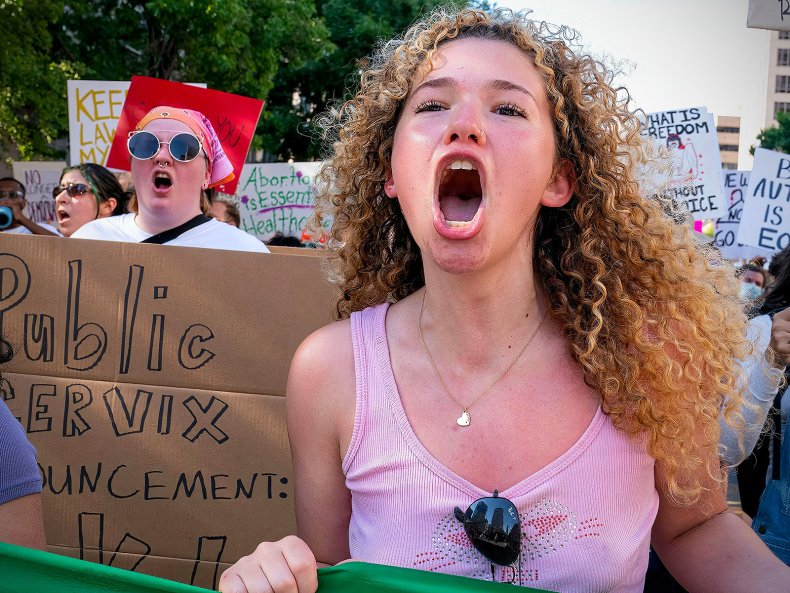 The challengers, who are represented by prominent anti-abortion organization Alliance for Hippocratic Medicine, also demand that the FDA rescind its approval of mifepristone—one of the two drugs used in medication abortion.
The nod was given by the same agency over two decades ago.
"Today, we asked the court to put the health and wellbeing of women and girls first by undoing the harms that FDA has caused by illegally approving dangerous chemical abortion drugs and removing necessary protections," Alliance Defending Freedom Senior Counsel Erik Baptist said, as per a statement sent to Newsweek by the group.
"The FDA's approval of chemical abortion drugs over 20 years ago has always stood on shaky legal and moral ground, and after years of evading responsibility, it's time for the government to do what it's legally required to do: protect the health and safety of vulnerable women and girls.
"As we stated in court, the FDA never had the authority to approve these drugs and remove important safeguards, despite the substantial evidence of the harms women and girls who undergo this dangerous drug regimen could suffer."
The hearing is scheduled for 9 a.m. Central Time and is expected to last several hours. Kacsmaryk will consider the plaintiffs' request for a preliminary injunction that would force the FDA to withdraw or suspend its approval of mifepristone while the lawsuit runs its course.
The Texas judge will consider the merits of the lawsuits, specifically whether, as the plaintiffs say, the FDA violated administrative law in the process of approving the abortion drug and recently relaxing the rules around its use. Kacsmaryk himself won't have much opportunity to intervene in the debate around the safety of mifepristone, as he will have to weigh up a round of procedural questions beforehand.
The FDA asked the judge to deny the motion. It said that removing access to mifepristone would only cause worse health outcomes and harm to patients seeking an abortion. Research backs up the FDA, with studies having consistently shown that mifepristone is safe and effective.
It's rare for a lone judge to challenge the decisions of the FDA—but Kacsmaryk, a Trump appointee, reportedly has a history of backing anti-abortion policies and has written critically of laws allowing abortions. If he finds that the lawsuit has legal ground in front of the court, he might grant an emergency injunction that would temporarily pull the abortion drug from the market.
"Judges aren't intended to be subject matter experts outside of interpreting the law," Los Angeles attorney Vineet Dubey, co-founder of Custodio and Dubey LLP, told Newsweek.
"Never before has a judge overruled FDA guidance and recommendations on a drug that's been safely used in this country. For mifepristone, there is 23 years of evidence which a judge, who has no scientific background, is being asked to throw out without the knowledge necessary to make an informed decision."
The attorney added: "For all its flaws, at least the FDA relies on the expertise of hundreds of top scientists and doctors when deciding to approve a drug, after a meticulous review of all relevant evidence and data.
"Drug approvals in the U.S. do not come quickly because data are gathered and evaluated over many years. This includes pre-clinical lab and animal testing, years of rigorous clinical trials on people, FDA review and years of safety monitoring."
What Happens If the FDA Is Asked to Withdraw Its Approval?
The lawsuit has the potential to force a nationwide ban on mifepristone. For more than 20 years, the drug has been used to end early pregnancies in the U.S.
If access to medication abortion were to be restricted, experts are concerned that more patients trying to end their pregnancies will endanger their health with dangerous abortions.
A ban on medication abortion in every single state in the U.S. would immediately affect over 64 million women of reproductive age, and likely millions more non-binary and trans people. Those seeking abortions could then be forced to wait longer for the procedure as more patients ask for in-person appointments.
"If FDA approval of mifepristone is revoked, 64.5 million women of reproductive age in the US would lose access to medication abortion care, an exponential increase in harm overnight," pro-abortion rights organization NARAL Pro-Choice America said in a statement in February, as reported by CNN.
"This research reveals the high stakes of this lawsuit, and we can only expect the worst from this Trump-appointed federal judge. Americans want access to abortion, but anti-choice bad actors are dead set on restricting reproductive freedom by any means possible," NARAL's Angela Vasquez-Giroux said.
The FDA is widely expected to appeal the judge's decision, should Kacsmaryk rule in favor of the challengers. "I would expect the FDA to appeal—even to the Supreme Court if necessary—and ultimately prevail," constitutional law professor Jessie Hill told Healthline.
Responding to a request for comment on the hearing and to whether the FDA would appeal a ruling against it by the Texas federal judge, the agency told Newsweek: "The FDA does not comment on possible, pending or ongoing litigation."
Update, 3/16/2023 6:10 a.m. ET: This article was updated to include an expert comment from Los Angeles attorney Vineet Dubey and a comment from the Alliance for Hippocratic Medicine.