Texas AG Faces Backlash for Telling Judge to Free 'Unjustly Jailed' Salon Owner Who Violated Stay-at-Home
Twelve Texas civil court judges rebuked Texas Attorney General Ken Paxton on Wednesday after he told Dallas Judge Eric Moyé to commute a seven-day jail sentence for Shelley Luther, owner of the North Texas business Salon À la Mode. Luther kept the salon open in violation of Governor Greg Abbott's executive order shuttering all non-essential businesses.
Moyé also fined the salon $7,000 and ordered Luther to pay $500 for each day the salon continued operating from May 6, the date of her court appearance, to May 8, when Abbott will allow barbers, hair salons and cosmetologists to re-open their businesses.
"I find it outrageous and out of touch that during this national pandemic, a judge, in a county that actually released hardened criminals for fear of contracting COVID-19, would jail a mother for operating her hair salon in an attempt to put food on her family's table," Paxton said in a letter to Moyé.
"The trial judge did not need to lock up Shelley Luther," Paxton continued. "His order is a shameful abuse of judicial discretion, which seems like another political stunt in Dallas. He should release Ms. Luther immediately."
Paxton's letter also pointed out that Dallas County has been releasing prisoners to avoid a coronavirus outbreak, and so it "can certainly stand to release one more—a mother whose only crime was operating a small business in an effort to feed her children," according to CBS DFW.
"I join the Attorney General in disagreeing with the excessive action by the Dallas Judge, putting Shelley Luther in jail for seven days," Abbott said in a separate statement.
"As I have made clear through prior pronouncements, jailing Texans for non-compliance with executive orders should always be the last available option," he said. "Compliance with executive orders during this pandemic is important to ensure public safety; however, surely there are less restrictive means to achieving that goal than jailing a Texas mother."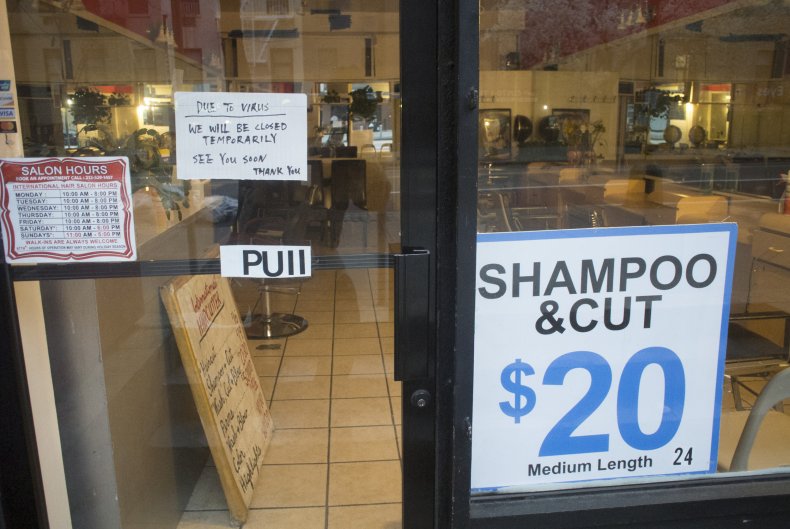 The 12 civil court judges issued a "collective response" to Paxton, stating, "We, the twelve duly Texas Civil District Judges sitting in Dallas County are troubled by what appears to be an ex parte communication about a pending case, directed to the Court without consideration of other litigants."
The judges wrote that such contact is prohibited by the Texas Code of Judicial Conduct.
"In this context," the letter continues, "for you to 'Urge' a Judge towards a particular substantive outcome in this matter is most inappropriate and equally unwelcome. Please do not communicate with the Court in this matter further."
The letter also took issue with the penultimate line in the governor's letter which suggested that the court's prosecution of Luther constituted an "abuse of discretion," unfairly punishing her when the judiciary could've chosen an alternative way to address the matter.
"For the sake of ALL of the citizens of Texas," the judges wrote, "please let the Judicial process play out without any further interference."
On Wednesday morning, protesters in front of the Dallas County Courthouse called for Luther's release. A GoFundMe campaign for Luther has reportedly raised $280,000 of its original $250,000 goal, and has since increased its goal to $500,000.
Luther's attorney has submitted a writ of Habeas Corpus to the Texas Supreme Court challenging Luther's imprisonment with the hopes of having her released by Mother's Day, according to Matt Howerton, a reporter with WFAA, the local ABC News affiliate.
This week, Dallas County reported its highest number of new cases two days in a row. As of May 6, Texas has 32,332 confirmed coronavirus cases and 884 deaths.