Texas Appeals Court Rules Against Gov. Abbott, Says He Can't Ban Mask Mandates
The governor of Texas and the state's attorney general were dealt a loss in court Thursday.
A Texas Court of Appeals ruled that Governor Greg Abbott does not have the authority to ban mask mandates. In July, Abbott issued an executive order attempting to keep local governments and officials from instituting mask mandates, threatening an up to $1,000 fine for failure to comply. The order also sought to keep both public entities and private businesses that are receiving or will receive money from the state from requiring proof of vaccination against COVID-19.
When the order was initially issued, Abbott said the move was in order to "promote statewide uniformity and certainty in the state's COVID-19 response." Abbott added that the EO put the onus on the individual rather than relying on the government, saying, "The new Executive Order emphasizes that the path forward relies on personal responsibility rather than government mandates."
The Third District Court of Appeals in Austin issued their ruling Thursday. Harris County, Texas was challenging the governor's order, saying that they did have the right to issue such mask mandates.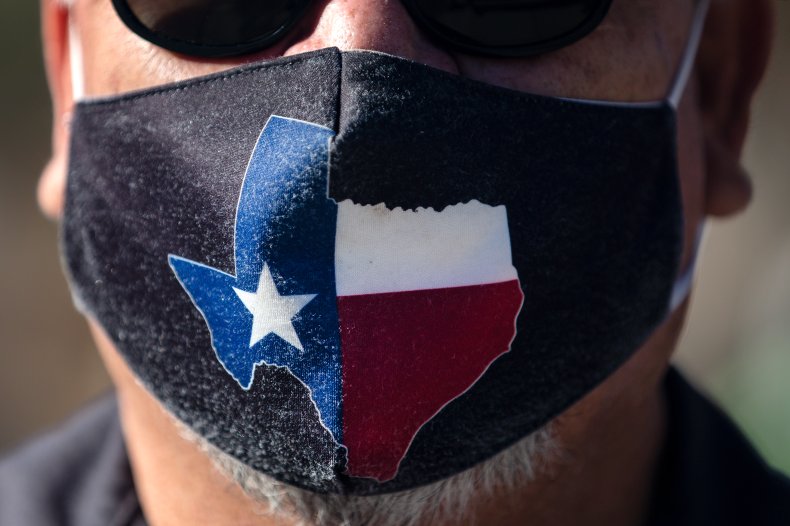 The court said, according to documents obtained by Newsweek, "we conclude that the Governor does not possess absolute authority under the Texas Disaster Act to preempt orders issued by local governmental entities or officials that contradict his executive orders."
The court, in their ruling, stated that a disaster can be both statewide and local, requiring different measures and methods in response. The documents go on to state, "we conclude that the Harris County Parties sufficiently demonstrated that the use of face coverings is an effective tool in controlling the spread of COVID-19."
The Texas Disaster Act was used by Abbott and the state's Attorney General Ken Paxton when issuing the July EO, saying that the act gave the governor the ability to essentially overrule any local mandates in place.
Following the ruling, Harris County Attorney Christian Menefee tweeted: "New: An appellate court ruled in our favor in our case against @GovAbbott and @KenPaxtonTx challenging the Governor's unlawful orders tying local officials' hands in COVID response efforts. I'm glad to see the courts reining the Governor in. Next stop is the Texas Supreme Court."
As of the most recent count, the state of Texas had more than 4 million confirmed total COVID-19 cases, with more than 35,000 new cases and 126 deaths Thursday. Harris County has the most confirmed cases of the coronavirus in the state, with more than 705,000.
Newsweek reached out to the Texas attorney general's office for comment but did not hear back before publication.
Correction 01/07/2022, 10:40 a.m. ET: A previous version of this story incorrectly spelled Harris County in reference to County Attorney Christian Menefee and to coronavirus case counts in Harris.