As novel coronavirus cases in Texas approach nearly 279,600, a bar in southeast Texas was reported to have defied Texas Gov. Greg Abbott's executive order for bars to remain closed by opening its venue to host a rally in protest of the mandate.
This Sunday, the Chuters bar in Pasadena hosted the "Texas Bars Fight Back" rally, where alcohol was reportedly served at the event, The Houston Chronicle reported.
Abbott's executive order last month stated: "All bars and similar establishments that receive more than 51 percent of their gross receipts from the sale of alcoholic beverages are required to close at 12:00 PM today [June 26]. These businesses may remain open for delivery and take-out, including for alcoholic beverages, as authorized by the Texas Alcoholic Beverage Commission [TABC]."
Several state health guidelines were reportedly breached at Sunday's rally, with customers—many of whom reportedly did not wear masks—filling up the dance floor while music was played by a live band, according to The Houston Chronicle.
The rally was to feature several speakers, Chuters noted in a post on its official Facebook page.
"Martin Holsome Future Republican Candidate for Texas Governor will be here along with Chris Polone and other speakers who are all fighting for our constitutional right to run our businesses. We will have BBQ plates, 50/50 pot and Chris Bergeron [the owner of Chuters] and County Line Come out and help us take a stand!," the Facebook post said.
Polone, the owner of the Rail Club Live music venue in Fort Worth, is suing the state following the announcement of bar closures.
Speaking to Newsweek, Polone said: "Anyone who says what Chuters or did was wrong and then will sit at a bar top or drink at a restaurant is by definition a hypocrite out of ignorance of what the difference is between 51 percent and non 51 percent.
"It [the order] is nothing more than warlord tactics to place blame for bad government decision making all while starving out an industry," he said.
Polone added that the governor's order is "so gray TABC has no idea how or when to enforce it.
"Due to my organization suing Governor Abbott I had the pleasure of speaking with 2 TABC agents yesterday. In which both agents stated that they found out about the bar shutdown the same time the general public did," he claimed.
From last month, the TABC has suspended the alcohol permits of several bars in Texas cities, including Houston, Austin and Dallas, for violating safety restrictions.
It is unclear exactly how many people attended the rally, but according to the Facebook page of the rally, 39 people attended, while 171 were interested in the event.
When asked how many were at Sunday's event, Polone told Newsweek: "Not as many as The First Baptist Church had for Celebrate Freedom with Mike Pence and Governor Abbott after issuing GA-28 [Greg Abbott's executive order].
"Not as many as the GOP Convention was going to hold and not as many as Texas Motor Speedway is going to host this weekend," he added.
Polone also told Newsweek that "Chuters implemented the same safety measures as Governor Abbott placed on churches," which includes ensuring proper spacing between attendees, encouraging the at-risk population to participate remotely, having a designated area inside the facility reserved for the at-risk population.
Newsweek has contacted the governor, the TABC and Chuters for comment.
Patron Kristina Reff told The Chronicle: "I believe everyone has the right to work for a living, and I believe they have a right to be open like any other business. This place has been a safe haven for my mom."
Last month, Bergeron organized a peaceful protest in Austin after Abbott announced the bar closures.
"It doesn't make no sense whatsoever and it's totally discrimination is all it is," Chris told The Chronicle at the time.
"I'm not sure why they are picking on us... it's wrong. It's completely wrong. It's totally against our constitutional right," he added.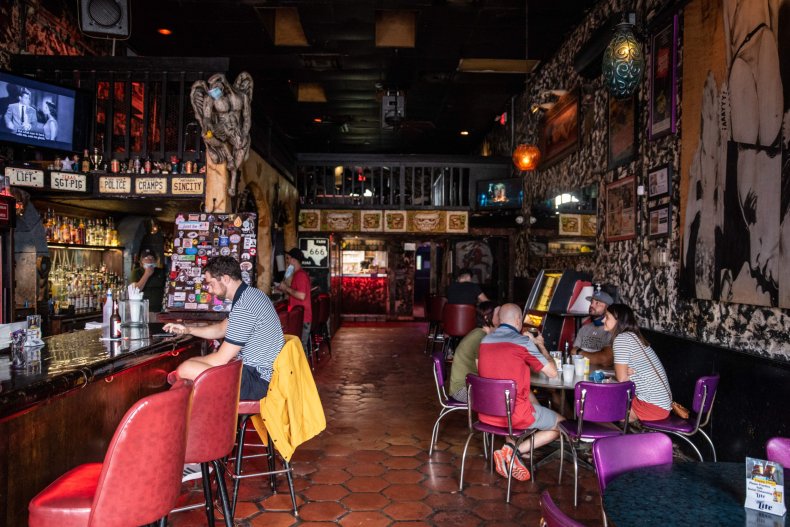 "Our capacity is 581 and at 50 percent it's 290, but we maybe had around 140 people come in because people are still scared to get out because they are telling everybody how dangerous this [coronavirus] is when it's no different than the flu.
"Let us go back to work. We need to be able to survive and get back to work. We want to make an honest living and let people get back to a normal life," he added.
The daily case count in Texas has been mostly increasing on a sharp incline from around mid-June. Dramatic spikes were reported days after the Fourth of July weekend, including on July 9 when around 11,600 new cases were recorded, the highest daily case count since the outbreak began, according to data compiled by Johns Hopkins University.
Hospitalizations continue to soar across the state, with 10,569 reported Tuesday, the highest level since April 4, according to the Texas Department of State Health Services.
Medical teams from federal agencies, including the Department of Defense and the Department of Health and Human Services, have been deployed across the state to help hospitals cope with the surge in COVID-19 patients.
Over 13.3 million people across the globe have been infected since the virus was first reported in Wuhan, China, including 3.4 million in the U.S. More than 7.3 million globally have reportedly recovered from infection, while over 573,600 have died as of Wednesday, according to the latest figures from Johns Hopkins University.
The graphic below, provided by Statista, illustrates U.S. states where reopenings have been stalled or reversed.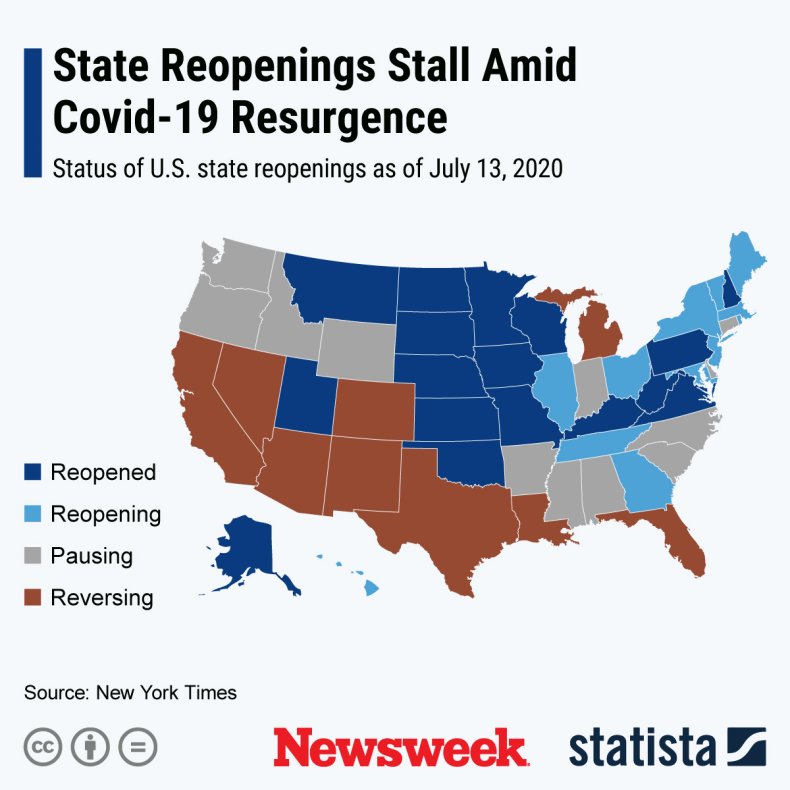 The graphics below, provided by Statista, illustrates the spread of COVID-19 cases in the U.S.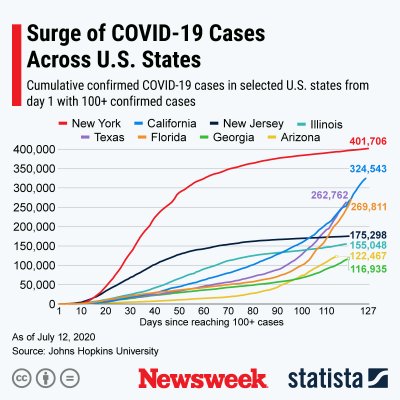 The graphic below, provided by Statista, illustrates the countries with the most COVID-19 cases.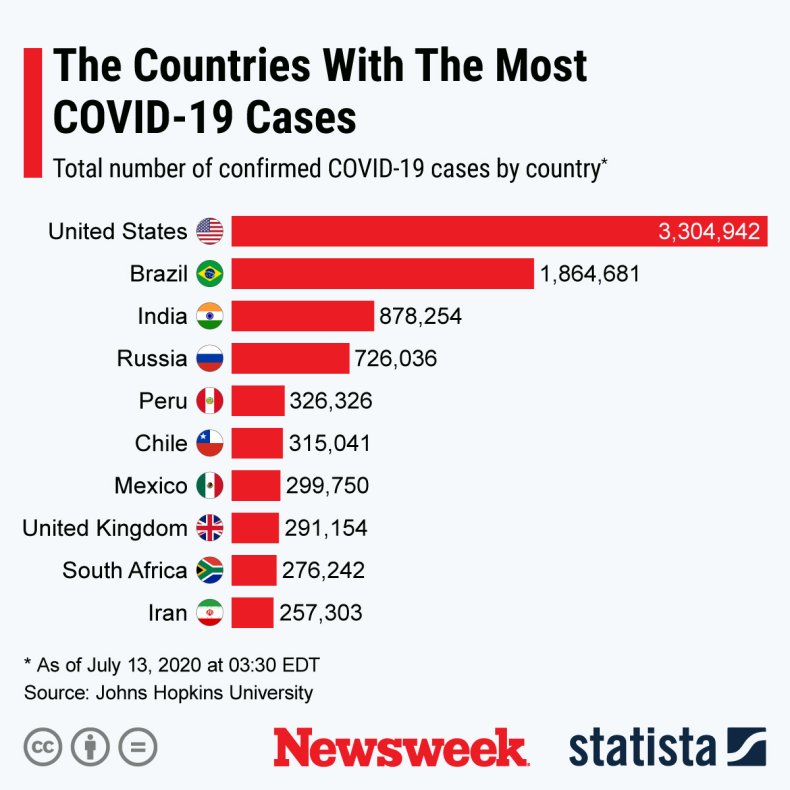 Uncommon Knowledge
Newsweek is committed to challenging conventional wisdom and finding connections in the search for common ground.
Newsweek is committed to challenging conventional wisdom and finding connections in the search for common ground.
About the writer
Soo Kim is a Newsweek SEO Reporter is based in London, UK. She reports on various trends and lifestyle stories, from health, fitness and travel to psychology, relationships and family issues. She is also a South Korea expert who regularly covers Korean culture/entertainment for Newsweek, including the latest K-dramas, films and K-pop news, and is the author of the book How to Live Korean, which is available in eight languages. Soo also covered the COVID-19 pandemic extensively from 2020 through 2021 after joining the general news desk of Newsweek in 2019 from the Daily Telegraph (a U.K. national newspaper) where she was a travel reporter/editor from 2010. She is a graduate of Binghamton University in New York and the journalism school of City University in London, where she earned a Masters in international journalism. Languages spoken: English and Korean.
Follow her on Twitter at @MissSooKim or Instagram at @miss.soo.kim
You can get in touch with Soo by emailing s.kim@newsweek.com