GOP Rep. Briscoe Cain to Be Reported to FBI after Telling Beto O'Rourke 'My AR is Ready for You'
A Texas Republican lawmaker has been reported to the FBI for a tweet in which he appeared to threaten presidential contender Beto O'Rourke after he had made an impassioned plea for tougher gun restrictions.
Rep. Briscoe Cain was reacting to O'Rourke's statement that he would push for a ban on the possession of certain military-style rifles used in mass shootings in Texas, including in his home town of El Paso, which left 22 people dead, and Odessa and Midland, which killed eight.
In his opening remarks during the Democrat debate on Thursday night in Houston, O'Rourke said that the El Paso victims were killed and injured by a man carrying a weapon "he should never been able to buy in the first place," and who had "been inspired to kill by our president."
When later pressed by the moderator about his stance on weapons, O'Rourke said he would support the taking away of a weapon that "was designed to kill on the battlefield."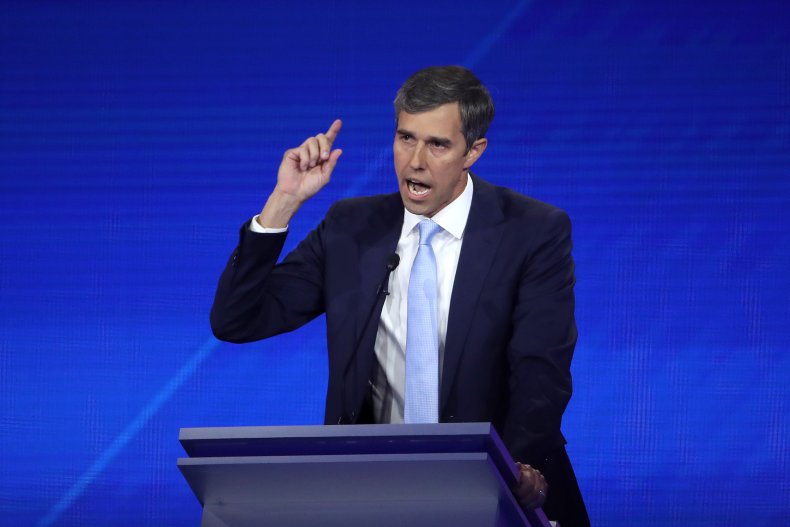 "In Odessa, I met the mother of a 15-year-old girl who was shot by an AR-15 and that mother watched her bleed to death over the course of an hour because so many other people were shot by that AR-15...there weren't enough ambulances to get to them in time."
"Hell yes, we are going to take your AR-15s, your AK-47s, we are not going to allow them to be used against fellow Americans any more," he said to cheers from the audience.
Cain tweeted "My AR is ready for you Robert Francis," using the former El Paso congressman's legal name.
O'Rourke responded on Twitter that Cain's tweet was a "death threat," adding that "clearly, you shouldn't own an AR-15—and neither should anyone else."
Cain's tweet was removed by Twitter, which said in a statement that it violated its rule that "you may not threaten violence against an individual or a group of people," the Dallas Morning News reported. CNN correspondent Leyla Santiago tweeted that the O'Rourke campaign had informed her that Cain's remark would be reported to the FBI.
Hailing from Harris County, Texas, 34-year-old Cain is the state representative for District 128. His campaign website describes him as a "proven conservative leader with strong moral convictions always ready to defend Texas and our values from the constant onslaught by progressives against our faith, family, and freedoms."
After his threat, Cain faced considerable criticism on Twitter. Democratic representative Erin Zwiener tweeted: "This language is dangerous. We, as Texas electeds, have to be better. Language like this contributes to deaths."
Representative Mary Gonzalez tweeted, "The language you are using and the way you are using it is dangerous."
But Cain appeared to be unrepentant, tweeting "come and take it," an apparent reference to a popular slogan among gun rights activists, daring politicians to confiscate their weapons.
He added: "I get ratioed in the reg", meaning his tweets spark a large number of disapproving comments.
After the debate, O'Rourke told reporters that he expected that the process of restricting weapons would be a process that would for the first time "not be dominated by the NRA."
He said it would "include the voices of Moms Who Demand Action, the students who are marching for our lives, and everyday Americans who are sick and tired of what's happening."