Texas Border City With Mexico Approves 'Defund the Wall' Street Mural
City officials in Laredo, Texas have approved a planned street mural promoting the message "DEFUND THE WALL" in large block lettering.
The Laredo City Council voted unanimously on Monday night to allow the mural, which is intended to counter an ongoing push from President Donald Trump and others to build a wall along the Mexican border, which Laredo is located on. Construction of a 69-mile stretch of wall that would slice through the city is slated to begin in early 2021.
"At this very moment, the federal government is pushing through a dangerous project that would harm our city, creating a false sense of crisis that does not actually exist here," insists narration from a video made to promote the project to city council members.
The mural is being planned as part of a "Defund the Wall, Fund Our Future" campaign from the No Border Wall Coalition. The group is attempting to stop construction of the wall, which they say Trump administration officials are pushing through by waiving dozens of laws "in a desperate attempt to legally secure large sections of the wall during this high-stakes election year."
Organizers hope the mural can bring attention to their cause in the same manner as high-profile murals promoting the Black Lives Matter movement, which have recently been completed across the country, including near the White House and outside Trump Tower in New York City.
"We believe that public art can ignite important conversations about what we value in our society, and what we want our future to be," coalition member and filmmaker Karen Gaytan told Border Report. "We believe that if we say 'Defund the Wall,' the rest of the country will pay attention to what's going on here, and listen to what we, the residents of Laredo, want for our future."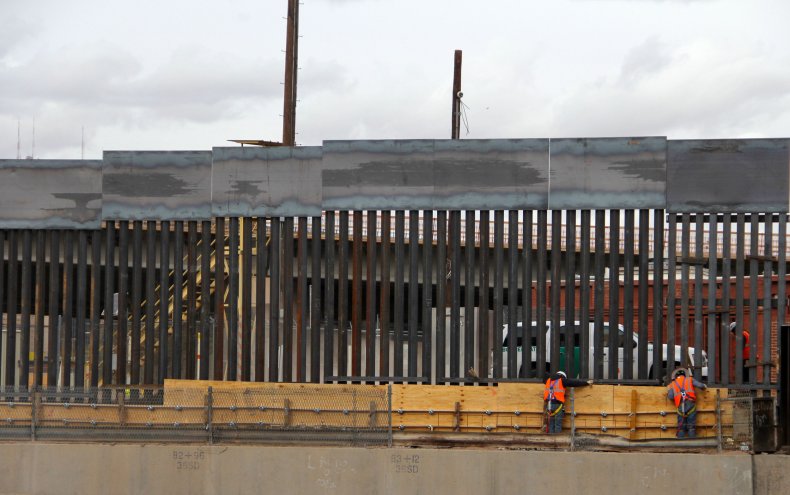 Activists and Laredo residents dispute claims from U.S. Customs and Border Protection (CBP) that the wall would help prevent human smuggling and drug trafficking activity in Laredo.
"The Laredo Sector is an area of high illegal activity, with over 21,000 illegal alien apprehensions and over 19,000 pounds of drugs seized this FY to date," CBP officials said in a May news release. "These projects will improve Laredo Sector's ability to impede and deny illegal border crossings and the drug and human smuggling activities of transnational criminal organizations."
CBP statistics show border apprehension in the Laredo area has been consistently amongst the lowest in the Southwest border region. A lawsuit launched earlier this month by residents of the area, who are overwhelmingly Mexican American, accuses the administration of racism.
Building a wall along with southern border and forcing Mexico to pay for it was one of Trump's key campaign promises ahead of the 2016 election. An estimated 256 miles of the wall, out of nearly 2,000, had been built as of Tuesday, according to CBP. Trump has vowed to build 450 miles by the end of 2020.
Mexico has refused to play any part in financing the wall. After legislation attempting to build the wall using taxpayer funds failed, Trump sidestepped Congress by declaring a national emergency to secure funds. Spending has increased from $11.1 billion to $15 billion since the COVID-19 pandemic began, according to The Los Angeles Times.
Earlier this month, Trump denounced a small private section of wall being built along the Rio Grande river, which separates the U.S. and Mexico, after reports emerged suggesting the wall could collapse due to riverbank erosion. The president claimed the wall, funded and built by some of his most ardent supporters, was "only done to make me look bad."