Following the passage of a Texas bill that prohibits anyone from providing transgender services to children, the state's office of Child Protective Services says it has opened at least nine investigations into parents seeking gender-affirming treatment for their children.
The investigations were opened following a February directive from Texas Attorney General Ken Paxton, in conjunction with Texas Governor Greg Abbott, Paxton said that certain gender affirmation procedures "when performed on children, can legally constitute child abuse under several provisions of...the Texas Family Code."
Paxton added that the treatments could cause "mental or emotional injury to a child that results in an observable and material impairment in the child's growth, development, or psychological functioning."
The attorney general had written the directive in response to an inquiry from the Texas House of Representatives which asked if certain "medical and chemical procedures on
children" could fall under the category of child abuse. The House's inquiry came after the Texas legislature failed to pass a law that would have criminalized these types of treatments.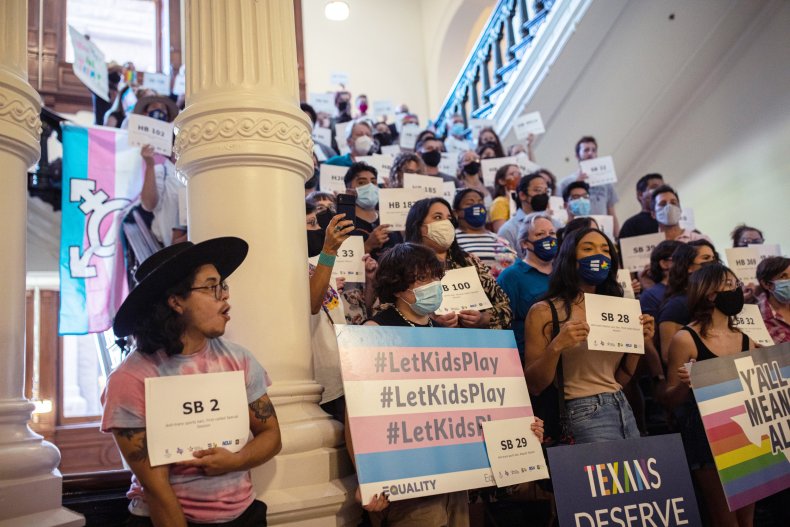 The investigations were opened despite district attorneys in five of Texas' largest counties releasing a letter condemning Paxton's directive. The group said that they would "enforce the Constitution and we will not irrationally and unjustifiably interfere with medical decisions made between children, their parents, and their medical physicians."
The letter continued: "We are deeply disturbed by Governor Abbott and Attorney General Paxton's cruel directives treating transgender children's access to life-saving, gender affirming care as 'child abuse.' This is part of a continued onslaught on personal freedoms."
Even with the district attorneys pledging not to prosecute anyone based on these cases, DFPS has already said that it would follow Paxton's directive—meaning that investigations into these treatments can take place regardless.
Details have not been released on the nine investigations yet, but pushbacks on the directive have already been seen.
The American Civil Liberties Union (ACLU) filed a lawsuit against Texas earlier this month in an attempt to get a restraining order against DFPS investigations into transgender children. The ACLU said in its filing: "[Texas has] trampled on the Constitutional rights of transgender children, their parents, and professionals who provide vital care to transgender children."
"The Defendants have, without Constitutional or statutory authority, acted to create a new definition of 'child abuse' that singles out a subset of loving parents for scrutiny, investigation, and potential family separation," the ACLU said.
The efforts of Texas officials to regulate transgender treatments come despite federal regulations issued by the Biden administration that says it is illegal to discriminate against transgender children.
Paxton is currently suing the Biden administration over those guidelines. If the state loses that lawsuit, reports say that Texas could potentially lose over $1 billion in federal funding relating to health care.
Newsweek has reached out to the Texas DFPS and Texas Attorney General Ken Paxton's office for comment.