Texas Church Shooter Broke Infant Son's Skull While in Air Force, Thought Christians Were 'Stupid'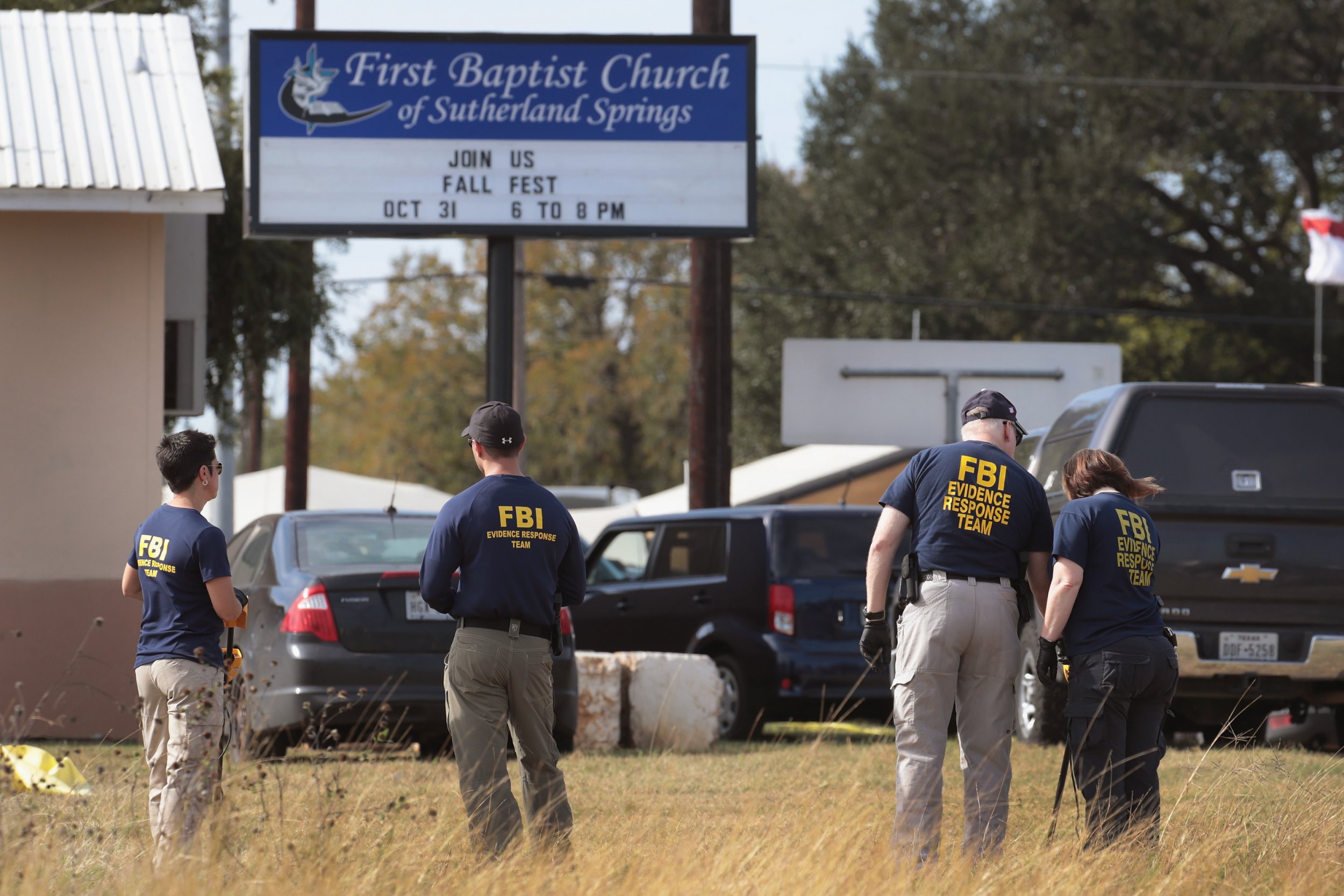 The gunman who opened fire in a rural Texas church, killing 26, was an atheist who may have been targeting his estranged wife's family in Sunday's attack.
Authorities are still probing Devin Patrick Kelley's background and what caused him to snap and target a peaceful congregation Sunday afternoon, leaving both children and adults dead. But a clearer image of the gunman and a possible motive has started to come into focus: He'd been fired, divorced, thought Christians were stupid and had beaten his wife and fractured his step-son's skull while serving in the Air Force.
"He was always talking about how people who believe in God were stupid and trying to preach his atheism," Kelley's former classmate Nina Rosa Nava posted to Facebook, according to The New York Times.
She and others said they deleted Kelley because of his negative and odd posts. But investigators have said they do not think Kelley's religious beliefs played a role in the attack, but rather, a domestic situation.
His first marriage ended after he was court-martialed in 2012 after beating his wife and breaking his infant stepson's skull while serving in the U.S. Air Force, Air Force prosecutor, retired Col. Don Christensen, told the San Antonio Express-News, adding Kelley spent 12 months in confinement.
That was the start of Kelley's downward spiral.
He was charged in 2014 in Colorado with animal cruelty after a neighbor told authorities he jumped on top of a dog and punched it repeatedly in the head. Another neighbor said he took a Husky puppy threw it to the ground then dragged it to his camper, according to the Associated Press.
He remarried that same year to Danielle Lee Shields but the couple didn't stay happy for long. By 2017 the pair had become estranged and he had sent threatening text messages to his mother-in-law, said Freeman Martin, a spokesman for the Texas Department of Public Safety.
Investigators said Kelley may have targeted the First Baptist Church in Sutherland Springs because his wife's family attended the church. Shields's resume shows she taught toddlers at the church for four years, along with being involved in a plethora of other volunteer work.
Shields's immediate family was not in attendance at the church on Sunday, so investigators are looking into why Kelley targeted the congregation that day opposed to another service.
Along with losing wife, he also lost his job as a security guard in June, according to ABC News. He worked for several weeks as a guard at the Texas water park Schlitterbahn in New Braunfels, Texas but was let go because he "was not a good fit," Winter Prosapio, a spokeswoman for the company told the news network.
Investigators are still mystified as to how Kelley bought four guns, but a gun law loophole could be to blame if his name and the domestic violence charges weren't added to the federal background check system, experts said.
"He should not have been able to get a gun," said Christensen, the former Air Force prosecutor. "There is no way this man should have legally owned a gun based upon what he was convicted of."
An earlier version of this story included reports that the grandmother of Kelley's wife was inside the church and killed in the attack. Authorities corrected the inaccuracy at a press conference Tuesday.