Texas Church Shooting Conspiracy Theories Say Gunman Was Muslim Convert, Victims Were Actors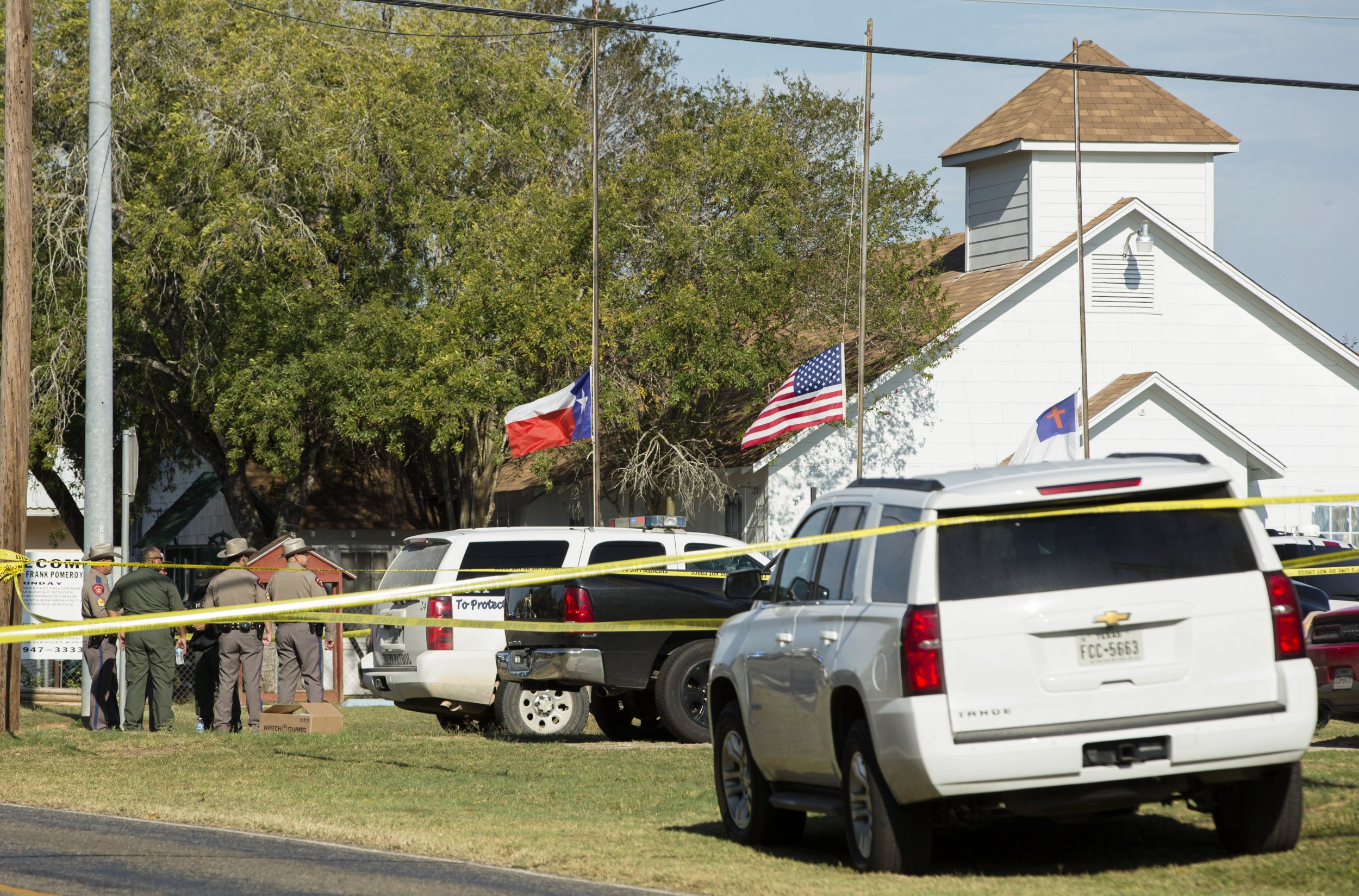 Antifa, Muslims and even Bernie Sanders: After the news broke that a gunman opened fire inside a Texas church and killed half of the congregation, conspiracy theorists ran to their computers and televisions to attempt to pin the shooting on a variety of all-too-familiar (false) culprits—and even some out-of-the-box suspects. It has become almost like clockwork after major episodes of gun violence these days.
Authorities aren't sure of gunman Devin Patrick Kelley's motive in the attack, but they say the shooting may have been sparked by a domestic issue with his estranged wife and her family. In total, 26 were killed and 20 others were injured.
Despite hearing details about the massacre from authorities and stories from survivors and family members of the dead, conspiracy theorists weren't deterred. They quickly offered a variety of bizarre conclusions on why the shooting happened. Here are a few examples:
• One of the first false theories that took off was that the gunman was a Muslim convert named Samir Al-Hajeed who had posted a manifesto online. A video made the rounds on social media showing a man talking about a shooting, saying, "I'm going to try to kill as many people [as] possible." It was used in several reports, including by a right-wing blog and a weekly newspaper in California. Snopes pointed out that the theory is tied to a long-running hoax about comedian Sam Hyde, who was incorrectly named as a gunman by a Texas lawmaker onCNN.
• Conspiracy theorists also quickly jumped on the popular "false flag" narrative. YouTube is full of videos featuring people who record cable news coverage of shootings and falsely point to survivors and victim family members as "crisis actors," claiming they are paid to make the shooting seem real. They also pounce on slip-ups by anchors or reporters during the coverage, calling any false information they convey "proof" that the attack was faked. One video features a man pointing to a crying witness and telling her: "Quit crying and shut the [expletive] up." YouTube has been working to delete many of these videos and accounts that post them, and some do disappear within hours of being uploaded. Another YouTube user looked for some of the victims on social media and when he couldn't find an account for one of the teenagers, he declared the shooting a hoax. The video had about 9,000 views as of Wednesday afternoon.
• A popular theory among conspiracy-minded and right-wing bloggers was that Kelley was a member of "antifa," a leftist protest movement that was also falsely alleged to be plotting a civil war last weekend. Within hours of the shooting, Mike Cernovich, a self-described American nationalist, posted on Twitter: "Mass shooting at The First Baptist Church in Sutherland Springs, which has a largely white denomination. Antifa terrorist attack?" People posted photos from Kelley's apparent Facebook and LinkedIn accounts, which included that he liked atheism pages as well as left-leaning politicians and activities, the HuffPost reported, and some came to the false conclusion that Kelley was a social justice warrior on a quest to kill white, right-wing Christians.
• Bernie Sanders. Yep, the U.S. senator from Vermont is partly to blame for Texas's deadliest mass shooting, according to conspiracy theorists. Kelley apparently liked Sanders on Facebook, and some immediately leaped to the conclusion that he was to blame in part for the massacre. More than likely, this became a focal point for conspiracy theorists because the gunman who shot at members of Congress in June was a liberal. One Twitter user posted, "So shooter of baseball practice & church in Texas both Bernie Sanders supporting radical left wing extremists. @BernieSanders = accountable."