Texas Republican Calls For 'American Nationalist Party,' Says 'Let's Finish What Trump Started'
A Texas Republican is calling for fellow party members to become politically intolerant amid concerns that Tarrant County, the largest Republican county in the state, could turn blue during the 2020 election.

The post, authored by Fredrick Hambright, was posted to the Tarrant County Tea Party website in mid-July, apparently prompted by a ruling made in June by the Tarrant County Commissioners Court. The ruling allowed the program known as 287(g) to continue in Tarrant County, something which Hambright says was spurred by Republicans making their voices heard.
287(g) is named after Section 287(g), which is part of the Immigration and Nationality Act. The program allows members of law enforcement to be deputized as federal immigration agents and to ask those in custody basic questions to determine their immigration status. Several versions of the program exist, and it is unclear which model Tarrant County law enforcement groups employ.
"Estimates by Pew and Yale put the total number of illegal aliens in DFW between 475,000 and 875,000. According to Sheriff Waybourn, 287(g) led to the deportation of just 500 criminal aliens in 2018. But Republicans can learn something from this event. Some subtle indicators give a summary of HOW and WHY progressivism has dominated our discourse and taken our country into this brave new world. A world where clowns reign supreme," Hambright wrote.
"If a change does not happen soon in the Tarrant County Republican Party, those who oppose the leftist agenda will see the loss of Tarrant County to the Democrats forever. The same thing happened in California that is now happening here and our leadership is walking us down the same failed path to political annihilation the California GOP suffered," he continued, going on to say that Republicans have "already accepted defeat."
The lengthy post goes on to highlight how American politics have gradually shifted to the left, citing the '90s sitcom Friends and jokes made on the show about homosexuality. "A few years later, Texas voted on homo marriage and said resoundingly 'yeah, thanks but no thanks.' Then suddenly, those gay jokes were no longer acceptable on TV. Then the Supreme Court, apparently believing Hollywood was an expression of reality, forced this idea of a same-sex marriage upon us without any reasonable legal rationale whatsoever, simply alluring to 'changed attitudes' of the public with no proof," Hambright said.
Hambright added that most illegal immigrants will admit they have come to the United States "for political conquest," and that conservatives will lose elections in Tarrant County because "right-wing conservatives operating within the left-wing's moral framework."
Concerns about a political shift in Texas have been well-founded as traditional Republican strongholds in the Dallas-Forth Worth metro have flipped from red to blue. Tarrant County, home to roughly 2.054 million people, is the last red county in the metroplex and had been a Republican stronghold for 35 years until Democrat Beto O'Rourke narrowly defeated incumbent Republican Ted Cruz to turn the area blue in November 2018.
"I think it's the writing on the walls. From the 2016 cycle to now, Tarrant has been making major moves to move the needle," Marco Rosas Jr., executive director for the Tarrant Democratic Party told the Forth Worth Star-Telegram when asked about Hambright's post.
Julie McCarty, the president of the Tarrant County Tea Party, told the Star-Telegram that she found Hambright's post to be "thought-provoking."
"We need to quit playing by the Left's playbook. The No. 1 thing any activist in Tarrant talks about is the fear of Tarrant turning blue. It's a very real concern," McCarty told the newspaper. "In fact, it's a very real concern for the whole state because everyone knows how significant that would be."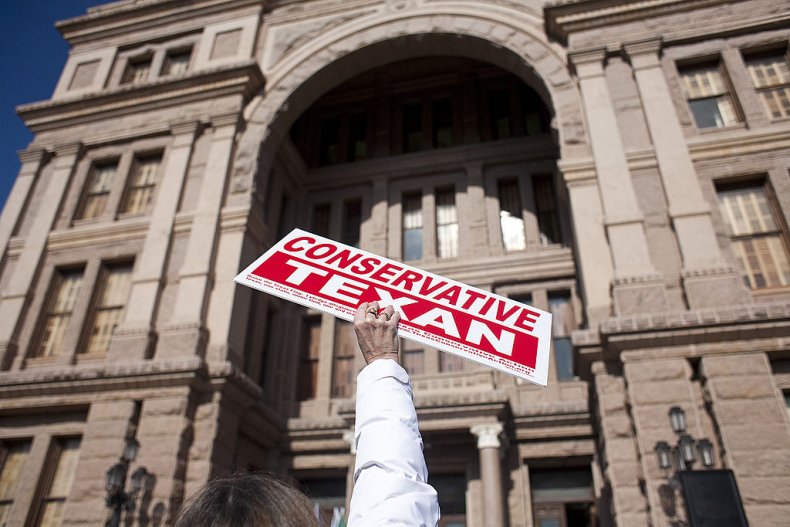 A poll conducted in June by the Texas Tribune indicates that Texas could indeed become a swing state for the 2020 presidential election. Individuals polled were split 50-50 about reelecting President Donald Trump for another term, with 39 percent saying they would "definitely" vote for Trump again, while 43 percent said they would "definitely not" cast a ballot for him.
Eleven percent said they would "probably" vote for Trump, while 7 percent responded to say "probably not."
In his post, Hambright argues that part of the trend that could turn Texas purple is that Republicans cannot argue that progressivism is bad, "because in many ways they subscribe to leftist views."
"They cannot say that allowing unlimited people from Latin America who will vote left wing at a rate of 66 percent to come here and politically disenfranchise white conservatives (the ONLY group that votes majority Republican) is bad in itself. We don't need to justify acting in our own self-interests to ANYONE. Have we accepted that we aren't allowed to preserve our culture and way of life because, what? Racism?," he writes.
"We need Republicans who are calling for the deportation of all illegals, the DACA babies, the anchor babies, & more! We need this not because it's most likely to succeed, but because it will move the needle away from the 500 illegals we are currently debating to a more favorable debate for Republicans and America. We cannot tear down our radicals. This is how we position ourselves to advance our cause. As the largest Republican county in America, we should be the leader in this effort if we are serious," Hambright said.
Hambright, whose biography on the post lists him as a lifelong Tarrant County resident, also writes that Republicans cannot run elections "against socialism" or the party will lose.
"Likewise, if simply complain or ridicule ideas we see as foolish, we will lose," he says. "To stop the advancement of leftism, we must take advantage of the first law of politics: we must be intolerant of progressivism. All of it. Total intolerance is how progressives moved the country so far left. Beyond left field and into outer space."
"Let's finish what Trump started and capitalize on the yearning for an American Nationalist party and put these Bolsheviks in their place. We must look to the future and not just offer criticisms, but offer the American people a strong vision of sanity for our increasingly insane country."
When asked by the Star-Telegram about Hambright's calls for an American Nationalist Part, McCarty said she doesn't believe there is a need for a new party "at this point in time."
McCarty told the newspaper that the point of Hambright's post "is that Republicans should take a lesson from the Progressives and never compromise on anything. Progressives never do. Conservative politicians always do."
Texas Republican Calls For 'American Nationalist Party,' Says 'Let's Finish What Trump Started' | U.S.