Texas Man Arrested After Allegedly Stealing Ambulance to Buy Fried Chicken and Cigarettes
A man stole an ambulance from outside a Texas hospital early this morning then told officers he did so because he needed to get food and cigarettes, police said.
The suspect—who was not named but described as being in his 60s—took the vehicle from the Cypress Creek Hospital, a psychiatric facility in Houston, just after 12 a.m., KHOU reported. He was located by Harris County Sheriff's Office deputies at a gas station on W. Richey road.
According to 6abc (WPVI-TV), officials said the ambulance had been left with its engine running outside the hospital, where the man is believed to have once been a patient.
When deputies asked him why he had stolen the vehicle the suspect claimed he "needed a ride." Inside, officers found the man had obtained fried chicken from KFC and cigarettes. The suspect was detained and will be charged with unauthorized use of a motor vehicle, police said.
He was taken into custody without incident. It was not immediately clear how long he was in possession of the ambulance. 6abc reported deputies had responded around 2:30 a.m. A Harris County Sheriff's Office media rep did not immediately respond to a request for comment.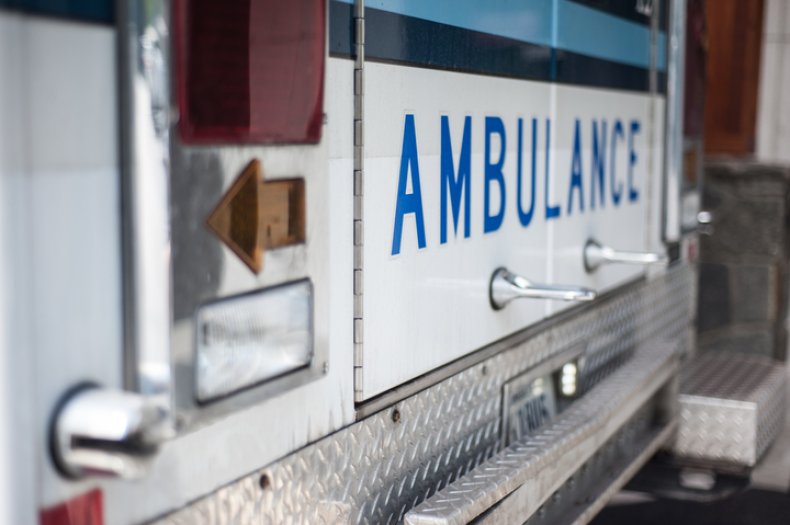 Yesterday, a 29-year-old woman was arrested in Florida for allegedly stealing an ambulance before crashing into a police car after a short pursuit, WPTV reported.
Nate Spera, the St. Lucie County Fire Chief, said the incident occurred shortly after 9:30 a.m. as paramedics were responding to a Fort Pierce apartment building. The suspect, Amber Lynn Sills, allegedly took advantage of the ambulance's running engine and swiped the vehicle.
Police arrested her roughly two miles away from the scene. Spera told CBS12 reporter Denise Sawyer that the patient's transport had been delayed by just under 10 minutes but the person remained stable after reaching hospital. Sills has a criminal history, including burglary.
"From what I understand, the patrol car pulled out in front of the ambulance when they caught up with her. She stopped, and then proceeded to ram the patrol car," the fire chief added, noting ambulance's are often left unlocked with engines running to ensure staff can respond quickly.
Two weeks ago, a police department in Nebraska cited a 9-year-old who stole a vehicle and hurled racist slurs at officers. "This one is pretty concerning and a little out of the ordinary," captain Jim Duering said at the time, adding: "Hopefully we can get services introduced and get this young man back on the right road."
A similar case emerged in Texas last week, involving a 10-year-old boy who was accused of stealing his father's truck before crashing into a police patrol car and then hitting a tree, deputies said.