Texas Democratic Party Offices Vandalized With Anti-Election, Pro-Revolution Message
The Harris County Democratic Party headquarters were vandalized with anti-election, pro-revolution messages a day before Election Day.
"The vandals used red spray paint to write 'Election No, Revolution Yes' with a drawing of a sickle and hammer symbol across the front of the building. The entryway door was covered with dripping red paint," the party said in a press release.
The locks to the office were also super glued so that officials were unable to enter the building on Monday.
Officials said these attacks are responses to a potential victory for the Democrats in Texas.
"This is what happens when Republicans are losing," Harris County Democratic Party Chair Lillie Schechter said in a statement. "They use scare tactics and intimidation to scare voters."
"This will not distract us from our mission to elect Democrats up and down the ballot, making people's lives better by enacting positive progressive policy," she added.
For the first time in over four decades, Democrats are hopeful they might actually win the Lone Star state. No Democratic presidential candidate has won Texas since Jimmy Carter in 1976. Four years ago, President Donald Trump won with a nine-point victory over Democrat Hillary Clinton.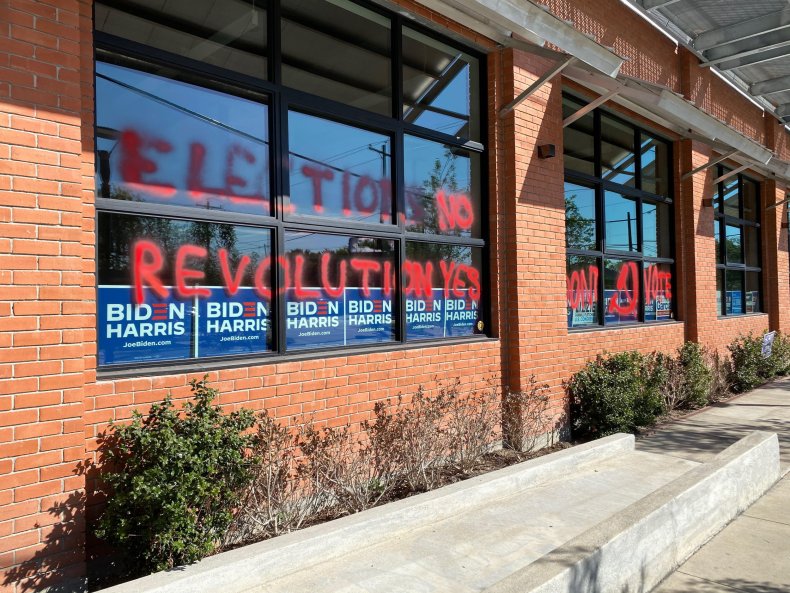 Texas Republicans are beginning to feel pressure mount as polls show the race narrowing.
On Sunday, the Texas Supreme Court denied the request of Republicans to throw out nearly 127,000 votes already cast in Harris County. Republicans argue that drive-thru voting in the largely Democratic county—the state's most populous—does not tally with federal law and are seeking ballots cast in this manner be rejected.
The effort to get rid of the ballots from 10 drive-thru polling sites in Houston is now left up to an election-eve hearing at the federal level. Democrats are hopeful that Sunday's decision from an all-Republican court will foreshadow Monday's ruling.
Election officials in Texas have also expanded voting hours this year. As of Thursday, eight Harris County polling locations have been open for 24-hour voting.
On Friday, voters in the county surpassed the total number of ballots cast in 2016. According to the Harris County Democratic Party, over 1.3 million votes had been counted as of 1 a.m. Saturday morning.
Texas is becoming an increasingly important state for both President Donald Trump and Democratic nominee Joe Biden as tensions between the parties have heightened in the final weeks of the election.
On the final weekend of the 2020 campaign, video footage showed a caravan of motorists displaying Trump 2020 flags converging on a Biden campaign bus traveling from Austin to San Antonio.
The Biden campaign told CNN that there were "nearly 100 vehicles around the campaign bus." Due to safety concerns following the incident, Texas Democrats canceled multiple campaign events on Saturday.
According to The Texas Tribune, the alleged harassment is now under investigation by the FBI.
Newsweek reached out to the Harris County Democratic Party for comment but did not hear back before publication.