The state of Texas has already surpassed 76 percent of its total turnout in the 2016 general election with the number of early votes, as the Democratic Party is aiming to win the state for the first time in 44 years.
With its 38 electoral votes—the second-largest of any state—Texas is a key prize in the November 3 election. Once a reliably red state, recent polling indicates that Democratic candidate Joe Biden has a shot at flipping Texas blue. If successful, 2020 would mark the first year Texas has voted for a Democratic president since Jimmy Carter pulled off a win in 1976.
The Lone Star State went to President Donald Trump in 2016, with the Republican securing a lead nine percentage points higher than Hillary Clinton—and that was still the smallest margin seen by a Republican candidate in recent years.
But polling website FiveThirtyEight has Trump beating Biden by less than 1 percentage point in its national average, down significantly from Trump's 3.9 percent lead in March. Two of the most recent polls had Biden either ahead or tied with Trump.
A Morning Consult survey conducted October 11 through 20 polled more than 3,000 likely voters in the state to find Biden leading Trump by one point—48 to 47 percent. A Quinnipiac University poll conducted between October 16 and 19 found the candidates tied, both receiving 47 percent of likely voters' support.
Texans are heading to the polls in what appears to be record numbers this year. Early voting began in the state on October 13, but as of October 23, approximately 6,857,259 ballots had already been cast either by mail or in-person, according to the Texas secretary of state. This represents 76.45 percent of the total 2016 voter turnout, which saw 8,969,226 ballots cast.
There are nearly 17 million registered voters this year in the state, with the number of early votes amounting to a 40.44 percent turnout so far. In 2016, Texas experienced just a 59.39 percent turnout of its 15 million registered voters.
Texas has seen the highest voter turnout among youth voters across the U.S., according to new data released by the Center for Information & Research on Civic Learning and Engagement (CIRCLE) at Tufts University.
At least 493,314 early votes or absentee ballots have been cast in Texas among residents between the ages of 18 and 29. That number is likely to be even higher, as data is available only for 23 counties in the state according for 65 percent of the population, researchers noted.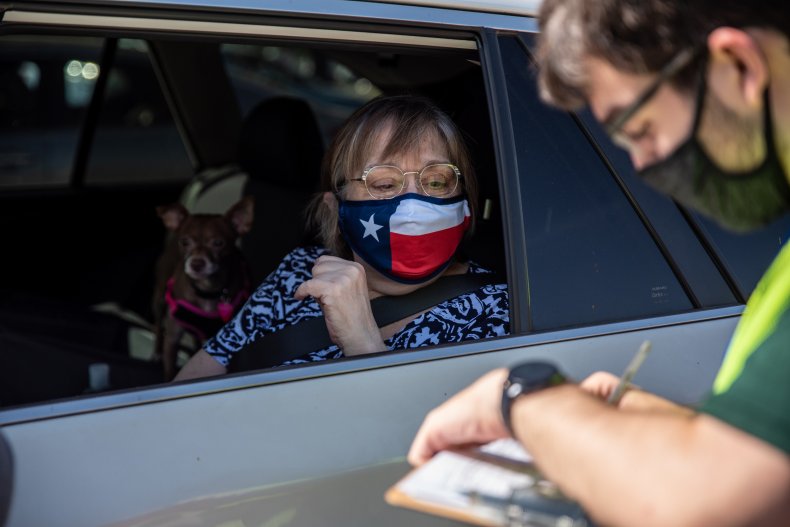 The record numbers seen in Texas are reflective of a larger pattern across the U.S., as early voting indicates this year's turnout could be the highest in the country since 1908. More than 56 million Americans have already cast their ballots ahead of the November 3 election, evidence of just how much the coronavirus pandemic and divisive political climate have shaken up the cycle.
University of Florida professor Michael McDonald, who tracks early voting totals through the United States Elections Project, is predicting 150 million votes will be cast. This would be a turnout of 62.5 percent, as nearly 240 million American citizens are eligible to vote this year.
The nation hasn't seen turnout that high in a presidential election since 1908 when Republican William H. Taft defeated Democrat William Jennings Bryan. Taft won the popular vote and an electoral college landslide.