Texas Elementary School Requires Police Security After Anti-Maskers Harass Student
A Texas elementary school has requested police security after anti-mask protesters harassed a student and confronted a principal.
Around 7:30 a.m. on Friday morning, about 30 anti-mask protesters came onto the grounds of Bennie L. Cole Elementary School. The protesters were demonstrating against the Northside Independent School District's (NISD) mandatory mask policy for students. The district resides within central Texas, just northwest of San Antonio.
While on school grounds, the protesters yelled at a student, telling him that he needed to take his mask off, NISD executive director of communications Barry Perez told the San Antonio news website MySA.com.
"He went to the counselors because he was upset," Perez added.
The protesters reportedly confronted the school's principal Tod Kuenning and "caused a scene," the school wrote in a Friday email to parents. The confrontation compelled district police to intervene. Police asked protesters to leave. They departed without any arrests.
Perez said the school requested police security for the coming week in case the protesters return.
"The safety of students and staff remains our priority," Perez told Newsweek. "District police officers will maintain a presence on the campus to help ensure the safety of students, staff, and visitors so that we can continue to provide the best possible learning environment for our students."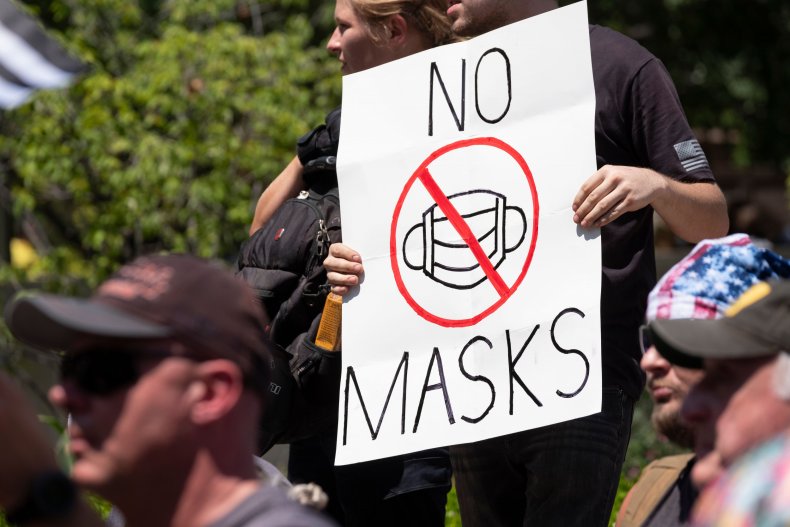 At least 108 of Texas' 1,247 public school districts have mask mandates. While that's only 8.5 percent of the state's total districts, that also includes five of the state's biggest school districts. Those five districts alone contain over 10 percent of the state's 5.4 million students.
These 108 school districts have required masks in defiance of a ban issued in July by the state's Republican Governor Greg Abbott. Abbott threatened to issue $1,000 fines against officials who imposed mask mandates. However, his ban hasn't been enforced due to lawsuits challenging his authority to issue it.
On August 19, the Texas Education Agency said it would enforce the ban once the court challenges had been resolved, the San Antonio Express-News reported.
In the meanwhile, Texas public schools self-reported 27,353 student cases of COVID-19 and 4,447 staff cases through August 29, WFAA reported.
The issue of school mask mandates has increased tensions between parents and schools in the Lone Star State.
Last month, a teacher in the Eanes Independent School District (EISD) of Austin, Texas, had her face mask ripped off by an angry parent. Parents yelled at another EISD teacher when they said they couldn't hear her talking through her face mask.
At a late August school board meeting within the Dripping Springs Independent School District near Austin, one parent nearly stripped naked during his public comment in support of mask mandates. The man, James Akers, left only a pair of swim trunks on to illustrate what happens when people refuse to wear things for others' comfort, USA Today reported.
"It's simple protocol, people," Akers told the board. "We follow certain rules for a very good reason."
The district's Board of Trustees President Barbara Stroud then told Akers, "I believe you're a swimmer, but if you wouldn't mind putting your pants back on for a comment, that would be appreciated."
Update (9/8/2021, 12:06 a.m.): This article has been updated to include a statement from NISD.