The Texas energy grid has shown signs of faltering just as a "very substantial" arctic cold front is set to hit the Lone Star State as early as Friday morning.
The grid, managed by the Electric Reliability Council of Texas (ERCOT), failed during snowstorms that hit the state in February 2021. The failure knocked out power for 4.5 million homes and businesses for days and contributed to the deaths of over 240 Texans.
ERCOT's dashboard showing grid conditions was down on Wednesday evening, according to a tweet by Jeremy Rogalski, an investigative reporter for the news station KHOU-TV. ERCOT's webpage showing hourly resource outage data was also down, he reported.
An ERCOT spokesperson told the reporter, "We are working through some issues that we had from an upgrade made back in November." The spokesperson reportedly told Rogalski that the snags were "short-term and expected to be resolved in the next few hours."
ERCOT has issued a winter weather watch through Sunday. The council expects the highest energy demand to occur on Friday morning when the cold front first hits.
Despite assurances by state energy officials, on Tuesday, Texas Republican Governor Greg Abbott said that he can't guarantee that the coming winter storms won't result in localized power outages.
"No one can guarantee that there won't be a load shed event," Abbott said, according to the Texas Tribune. "But what we will work and strive to achieve—and what we're prepared to achieve—is that the power's going to stay on across the entire state."
A load shed occurs when the demand for electricity is more than the available supply, causing rolling blackouts while grid operators try to keep the system from collapsing. The load shed last year caused energy blackouts across the state.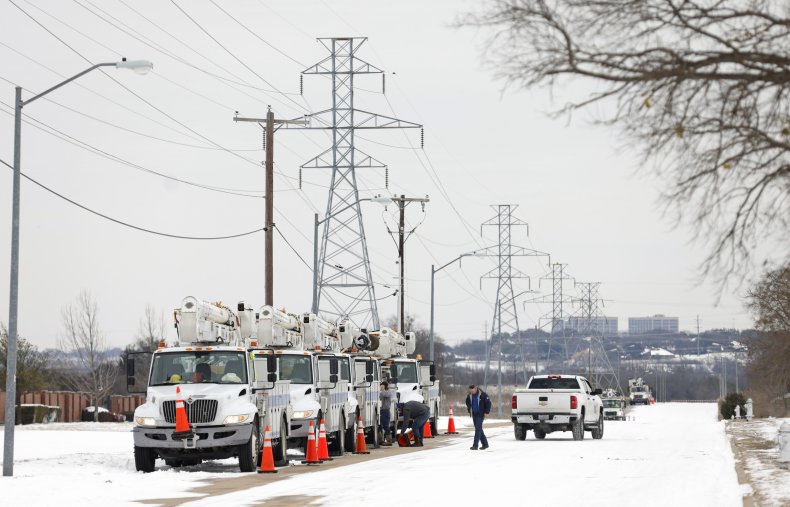 Since last year, 99 percent of state power plants have been inspected, according to the Public Utility Commission of Texas (PUCTX). The state's power grid and transmission infrastructure now exceeds federal winterization standards, PUCTX Chairman Peter Lake said on Tuesday.
"This grid is more reliable than it ever has been in the past," Brad Jones, the interim president and CEO of ERCOT, also said on Tuesday. "We feel very comfortable with their level of readiness. We are ready for this storm. We'll be prepared for this."
The coming freeze is expected to last about 48 hours, compared to last year's freeze, which lasted 139 hours.
ERCOT is facing multiple class-action lawsuits connected to the damages and price spikes connected to the February 2021 grid failure.
Newsweek contacted ERCOT and Abbott's office for comment.