Local officials in Texas and Florida discussed recent spikes in their states' novel coronavirus outbreaks on Sunday, noting a clear correlation between reopening procedures and heightened incidence of COVID-19.
Harris County (Texas) Judge Lina Hidalgo, Houston Mayor Sylvester Turner, and Miami Mayor Francis Suarez spoke about how loosened economic and social restrictions contributed to increased virus transmission during separate interview with ABC News' This Week on Sunday morning.
Hidalgo, who presides over the Texas county hardest hit by COVID-19, urged state leaders to take more significant action against the virus' continued spread. Noting the COVID-19 hospitalizations and deaths have increased in Texas alongside new cases, Hidalgo suggested re-implementing a statewide stay-at-home order.
"We don't have room for incrementalism when we're seeing these kinds of numbers. Nor should we wait for all the hospital beds to fill and all these people to die before we take drastic action," she told ABC News reporter Martha Raddatz on Sunday. Hidalgo also said Texas' outbreak resurgence should serve as "a word of warning" to other communities as they forge ongoing reopening efforts.
"Frankly, if we had stayed shut for longer, if we'd opened more slowly, we would probably be in a more sustainable place in our economy. We wouldn't be shuttering from open to closed," Hidalgo continued. "The reason we're here is because of that 'least common denominator' strategy."
Texas officials criticized Hidalgo's response to Harris County's COVID-19 outbreak in April, when she issued an order that required residents of the jurisdiction to wear face masks in public spaces. More than two months later, as the Texas Department of State Health Services (DSHS) confirmed new infections in record quantities, Governor Greg Abbott issued a similar order for residents of all Texas counties where at least 20 coronavirus cases were confirmed. On June 26, the governor also directed bars across the state to temporarily suspend operations and restaurants to lower capacity limits to 50 percent. Restaurants and other businesses began to reopen on May 1 in Texas.
Turner, the mayor of Houston, which is part of Harris County, also commented on Sunday that the rise in coronavirus cases in his city could be linked to reopening too soon. In an interview with CBS News' Face the Nation, he said: "From the beginning, when we started opening too quickly and when you layer that on top of everything else, all the other activities that were taking place and people starting to re-socialize, then you started to refuel the virus. And that's when the numbers started to increase."
Suarez shared a similar perspective about the relationship between reopening policies rising cases of the novel virus reported in Miami. Miami-Dade County, with the highest concentration of COVID-19 cases in Florida, has reopened businesses and public areas based on a different timeline than almost all other regions. Still, Suarez said Miami's infections increased noticeably after the county initiated its first phase of reopening at the end of May, weeks after those undertakings began in other parts of the state.
"When we reopened, people started socializing as if the virus didn't exist," he told Raddatz during his This Week appearance on Sunday, saying "there is no doubt" that reopening businesses and public spaces contributed to a subsequent rise in virus cases.
Suarez explained that Miami health officials were reporting an average of 14 new COVID-19 cases per day prior to lifting restrictions, a figure that had increased to 91 cases per day by the end of last week.
"It's extremely worrisome," Suarez said.
Newsweek reached out to the offices of Hidalgo, Turner and Suarez for additional comments, but did not receive replies in time for publication.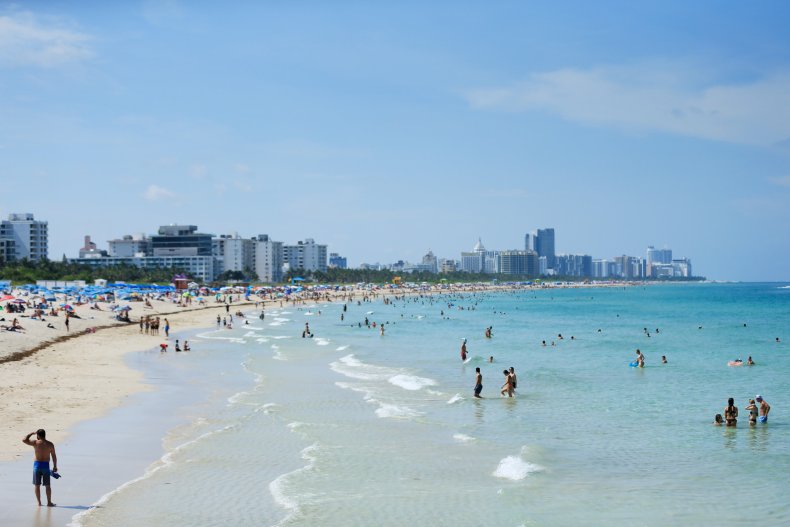 Texas and Florida have seen two of the country's most severe upticks in novel virus outbreaks since the beginning of June. Health department in both states confirmed their highest single-day increases in infections on Saturday, with Texas reporting more than 8,250 new cases and Florida reporting close to 11,500.
Texas has confirmed nearly 191,800 cases since the start of the pandemic, while Florida has confirmed more than 200,000, according to their respective health departments. Both states have diagnosed upwards of 100,000 new COVID-19 infections since mid-June.
Updated 4:34 PM ET, with comments by Houston Mayor Sylvester Turner.