Texas Great Dane Is Officially World's Tallest Dog at 3'5"
A Texas Great Dane is the world's tallest dog, according to Guinness World Records.
Zeus is a grey and brown American Great Dane who lives with the Davis family from Bedford, Texas.
The 2-year-old dog stands at 3 foot, 5.18 inches.
Owner Brittany Davis told Guinness World Records that she had always dreamed of owning a Great Dane ever since she was a little girl. She finally got Zeus at 8 weeks old from a breeder her brother worked with.
Zeus has been a huge dog ever since he was a puppy, Guinness World Records reported.
Even as a puppy, Davis said he "had huge paws."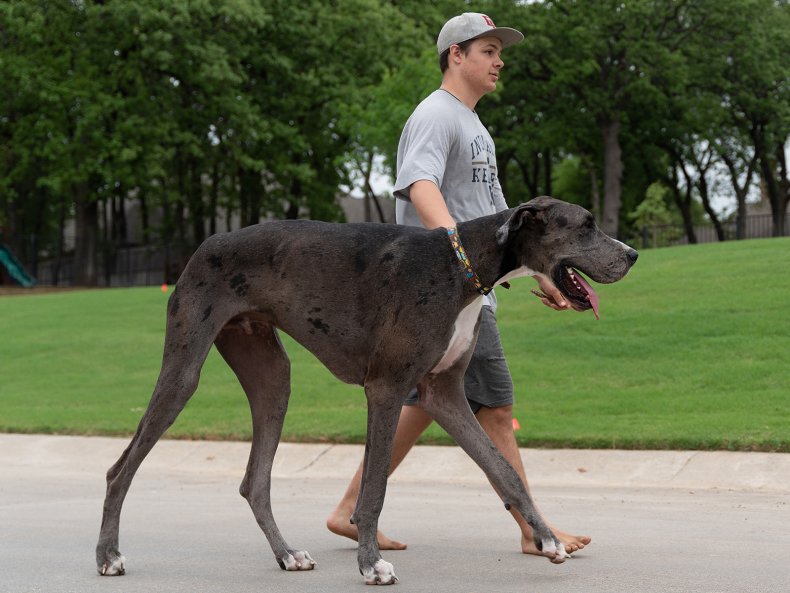 The record was previously held by another Great Dane named Zeus from Michigan, who died in 2014. Great Danes are one of the largest dog breeds in the world, traditionally used to hunt. The average Great Dane stands around 2 feet tall.
After realizing that her dog was probably taller than the previous record-holder, Davis decided to reach out to Guinness World Records.
"We didn't think that was even a possibility but once we measured him, we realized he probably was [taller]," Davis told Guinness World Records. "This has been a whirlwind and unexpected. We never thought we would own the largest living dog...the award for us just really recognizes how special Zeus is."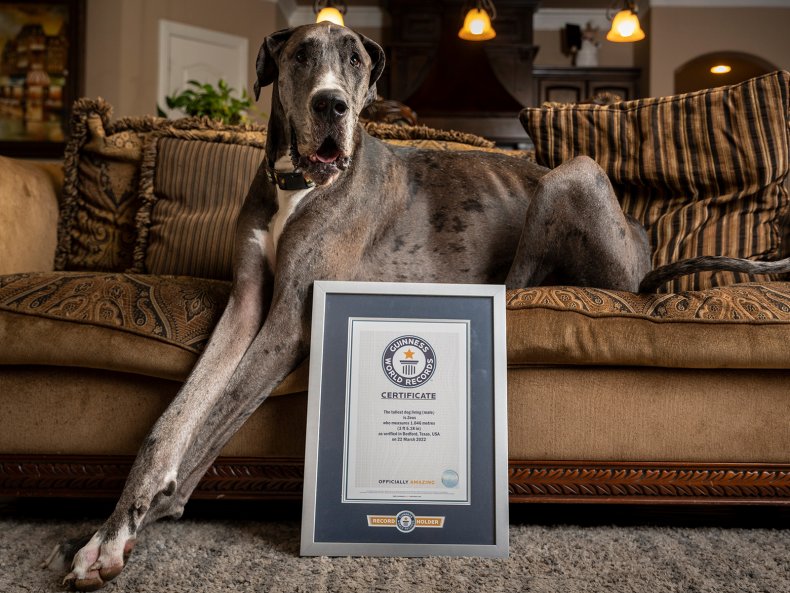 Despite being so large, Zeus is a friendly dog that provides "a lot of joy" to the family.
The gentle giant is usually well behaved, Guinness World Records reported, however he can cause occasionally cause mischief around the house.
"He likes to steal the baby's pacifier off the counters and any food left on the counters is definitely free reign for him," Davis told Guinness World Records. "When he gets the zoomies, he runs around for 30 seconds and jumps up on his chair once he gets tired."
The record-breaking dog quite often draws attention to himself when out in public due to his size.
"The comment that we hear most often is 'Wow, that's a horse!,' 'Can I ride him?' or 'Does he have a saddle?'" Davis said.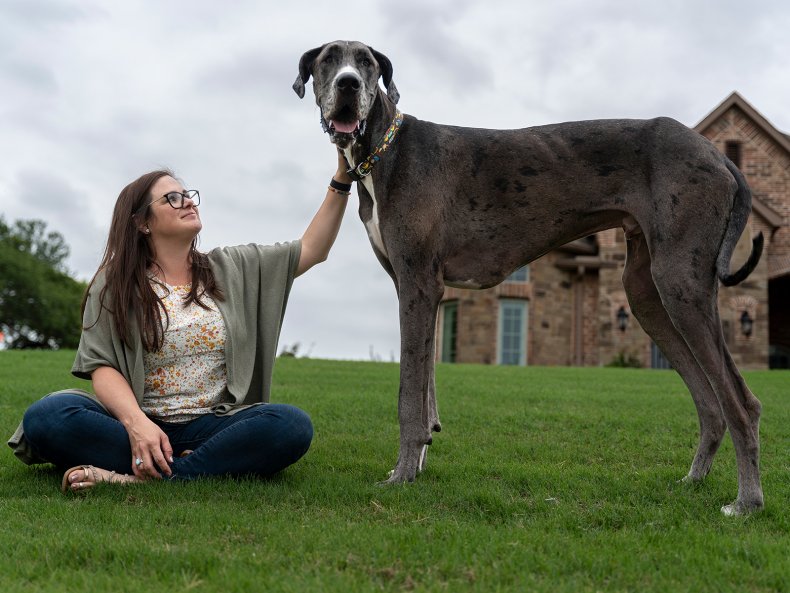 The dog has even become a local legend at the Dallas Farmers Market.
"Everyone knows him, and the vendors all know him. He gets extra treats and lots of attention," Davis said.
The only downside to owning such a large animal is the cost of food, according to Davis, as it can be expensive to feed the giant. Zeus' favorite treat, however. is ice cubes.
Davis told Guinness World Records that having Zeus around the house just feels like "another person."