NYC and D.C. Migrant Busing Complaints Prompt Abbott Invitation to Border
Texas Governor Greg Abbott has hit back in an ongoing spat with the Democratic mayors of New York City and Washington, D.C., over migrants.
Since April, Texas has bused more than 5,200 foreign migrants to major cities across the country, with a further 1,100 being sent from Arizona, according to KXAN News. Abbott and Arizona Governor Doug Ducey have characterized this system as a voluntary offer to help migrants reach family in other cities. It has also been characterized as a political maneuver by the Republican state leaders in response to President Joe Biden's handling of U.S.-Mexico border policy.
In the wake of these migrant influxes, New York Mayor Eric Adams and D.C. Mayor Muriel Bowser have expressed alarm and criticized Texas and Arizona for the practice. Bowser on Friday requested that the D.C. National Guard be activated indefinitely to help with the migrants arriving in the city.
In response to Adams and Bowser, Abbott released a statement inviting them to visit the border, while also continuing to take swipes at the Biden administration.
"As law enforcement agents along the Texas-Mexico border respond to thousands of illegal crossings each and every day, putting their lives on the line for Texans and for all Americans, the crisis demands the attention of not only the Biden Administration, which is responsible for securing the border, but of leaders across the country," Abbott wrote in the statement. "As Governor, I invite you to visit our border region to see firsthand the dire situation that only grows more urgent with each passing day, and to meet with the local officials, who like yourselves, realize this matter deserves immediate federal action."
"Your recent interest in this historic and preventable crisis is a welcome development—especially as the President and his Administration have shown no remorse for their actions nor desire to address the situation themselves," Abbott wrote in his letter to the two mayors. "I also ask you to join me in requesting President Biden secure the border and put an end to this disastrous crisis."
Newsweek reached out to Bowser's office for comment.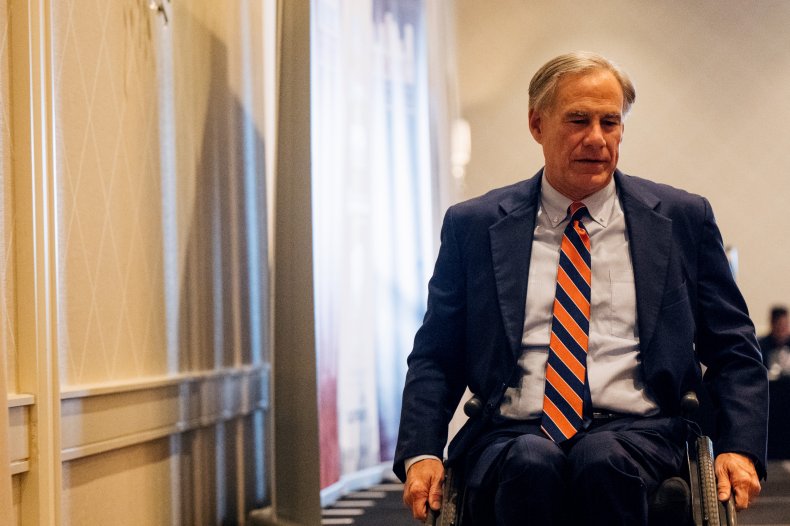 "Instead of a photo-op at the border, we hope Governor Abbott will focus his energy and resources on providing support and resources to asylum seekers in Texas as we have been hard at work doing in New York City," Fabien Levy, press secretary for Mayor Adams, told Newsweek in an emailed statement. "We continue to work with federal partners to receive additional financial resources immediately, but will never turn our backs on those in need who are arriving here."
The busing of migrants out of state is part of Texas' $4 billion initiative to address border security. The initiative also includes the deployment of Department of Public Safety troopers and Texas National Guardsmen to patrol the border. Abbott claimed that 290,000 migrants have been intercepted at the border since March.
In a March report on 2021 border encounters, the American Immigration Council said that the "roots" of the current upward trend "began months—and in some cases years—before President Biden took office." The council also urged the Biden administration to view the increase in asylum seekers "as a humanitarian protection management challenge, not a security challenge."
Updated 8/2/2022, 4:44 p.m. ET: This article was updated with a statement from the office of Mayor Eric Adams.