Texas Highway Department Says 'Let's Go Brandon' Road Sign is Not Theirs
Texas prides itself on nice roads and a beautiful scenery of bluebonnets and Indian paintbrushes along its highways. On Monday, the state's highway department had to react to a road sign it says was posted by an outside contractor.
The electronic sign simply read, "Lets Go Brandon."
"This sign is stationed on one of TxDOT's SH 6 projects and belongs to the contractor," the Texas Department of Transportation (TxDOT) said in a statement. "The message has been removed, and TxDOT is in communication with the contractor regarding this matter."
TxDOT has said the sign just west of Waco, in Central Texas, is that of third-party contractor Big Creek Construction, LTD, according to KXXV.
That "Let's go Brandon" saying has become synonymous with insulting President Joe Biden with curse words without actually saying the curse words.
The "Let's go Brandon" chant is something that originated from early October after NASCAR driver Brandon Brown won the Xfinity Series race in Talladega, Alabama. As he was being interviewed by sportscaster Kelli Stavas, a group of fans in the background began yelling, "F*** Joe Biden!" several times.
Stavas seemingly mistook what was being yelled when she said, "As you can hear the chants from the crowd – 'Let's go, Brandon.'"
At that point, those who have displeasure with President Joe Biden have used the "Let's go Brandon" chant as a rallying cry, and as a way to say the expletive version without actually saying the expletive.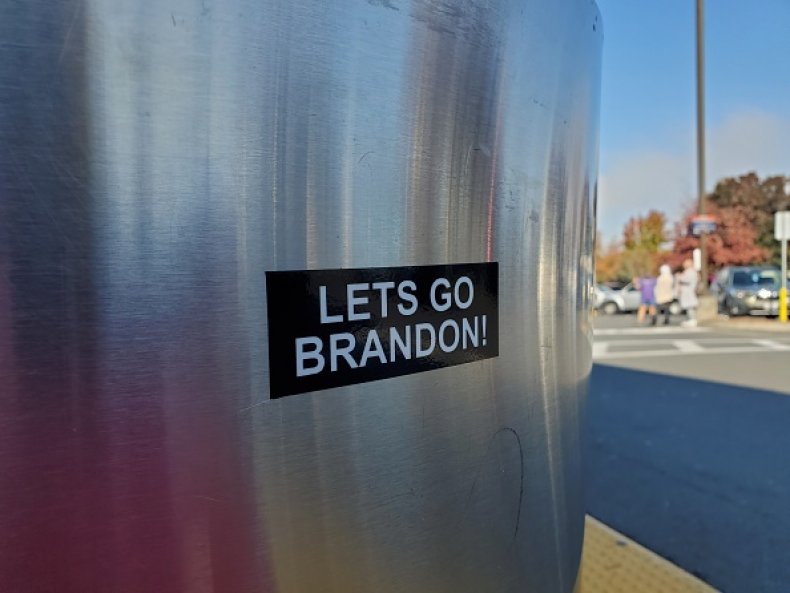 The "Let's go Brandon" chant only began in August, but it's become a popular chant among conservatives, especially those who still clamor for former President Donald Trump to be back in the White House.
Even last month during the World Series in Atlanta, Georgia, where Trump attended a game, the crowd turned toward him and chanted "Let's go Brandon," in which he responded with a smile and shaking his head with approval.
A Major League Baseball (MLB) spokesperson said Trump requested to attend the World Series game. He was spotted hobnobbing with former running back Herschel Walker, who has announced he will run for the U.S. Senate in Georgia. Trump and Walker's friendship goes back to the 1980s when Trump was an owner of the New Jersey Generals in the now-defunct USFL.
Texas has been a Republican stronghold for a few decades, and its governor, Greg Abbott, faces a battle against liberal star Beto O'Rourke in 2022.
Senator Ted Cruz narrowly defeated O'Rourke in the 2018 mid-term election.