Giant Beto O'Rourke Sign on Texas Lawn Sparks Threats from 'Hostile' Homeowners' Association
A large sign painted on a Texas family's lawn in support of Democratic candidate Beto O'Rourke, who is running to unseat incumbent Republican Senator Ted Cruz, has caused a clash with a homeowners' association.
Shannon Bennett of Katy, Texas, told Newsweek Saturday that earlier in the week, she received a notice from her HOA to remove a painted sign on her lawn that showed her family's support of the Democratic candidate because it violated the community's ordinances.
The sign, featuring "BETO" painted in large, white captial letters with a black background, is on the front lawn of Bennett's home about 30 miles west of Houston.
Bennett said the president of the HOA confronted the family about the sign before she, her husband and kids had even finished painting it.
"We were not even halfway through when we started getting visits from angry neighbors," she said. "One of those was the HOA president who got out of his pickup truck, confronted us, and told us we were in violation of the deed restrictions."
In its notice, Bennett said the HOA gave conflicting dates ranging from five to 30 days of when the sign should be removed. She also said the association threatened to remove the sign itself, leaving Bennett to wonder whether that meant it would dig up the grass or mow the lawn.
The HOA, Chesterfield Community Association, and the management company used by the HOA, Real Manage, did not immediately respond to Newsweek's request for comment Saturday.
The chief risk officer for Real Manage, Steve Jordan, told the Houston Chronicle the violation and notice sent by the HOA was not for political reasons.
"This is not a violation for them placing a political sign; it's the type of signage that they've actually placed on their property being an extremely large painting on the actual grass of their front yard," Jordan said. "It is a landscaping and signage violation. It has nothing to do with it being a political signage. Any type of signage of that nature would be in violation."
Bennett told Newsweek she believed otherwise.
"They're enforcing the laws selectively based on what I perceive as personal bias," Bennett said. "Interestingly, my husband is not a Democrat and has never voted for a Democrat in his entire life. This particular candidate is one that appeals to different parties."
In a statement to Newsweek the following Tuesday, the Chesterfield Community Association said its rules are "consistent with state law and Section 202.009 of the Texas Property Code."
"It prohibits political signs that are attached to plant material," the HOA said. "The association provided an owner a notice letter giving them an opportunity to cure their violation."
The code cited by the HOA states that Texas law "does not prohibit the enforcement or adoption of a covenant that prohibits a sign that contains … landscaping," among other things.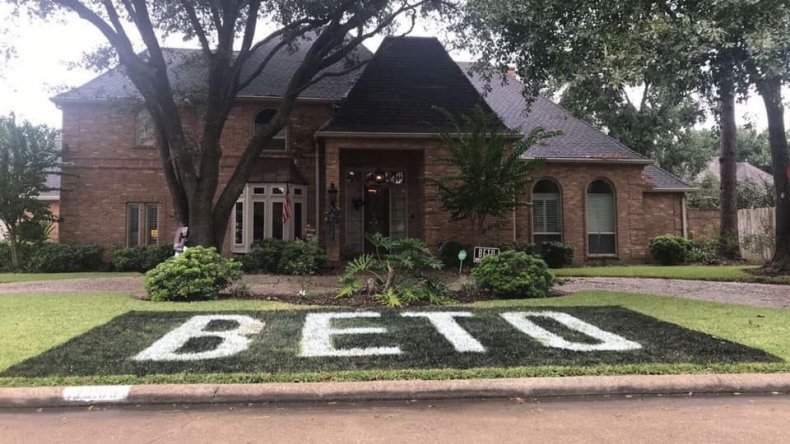 According to Texas law, a "property owners' association may not enforce or adopt a restrictive covenant that prohibits a property owner from displaying on the owner's property one or more signs advertising a political candidate or ballot item for an election on or after the 90th day before the date of the election to which the sign relates; or before the 10th day after that election date."
The law does state that an HOA is allowed to have ordinances prohibiting signs larger than four feet by six feet.
The problem with the HOA's citing of state law, Bennett said, is that the association has no current rules against the type of sign her family displayed. She and her family researched the law carefully before painting the sign and maintained the notion that they were neither in violation of the HOA's ordinances nor the state law. Her family's intent, Bennett said, was not to upset their fellow neighbors.
"We were trying to model positive civic engagement to our kids," she said. "There's nothing that exists in the [HOA's] code today that we violated."
Bennett's next course of action is to request a hearing from the HOA about the sign it alleges is against community rules.
In recent days, O'Rourke has seen an endorsement from the Houston Chronicle–a paper with a long history of supporting conservative candidates for office–and said he still supports President Donald Trump's impeachment for possible Russian collusion and obstruction of justice at a CNN town hall.
Update: This story has been updated to include comments from Shannon Bennett. This story was further updated after a statement from the Chesterfield Community Association was directly provided to Newsweek.