Beto O'Rourke on Donald Trump Impeachment: 'There Is Enough There to Proceed With a Trial'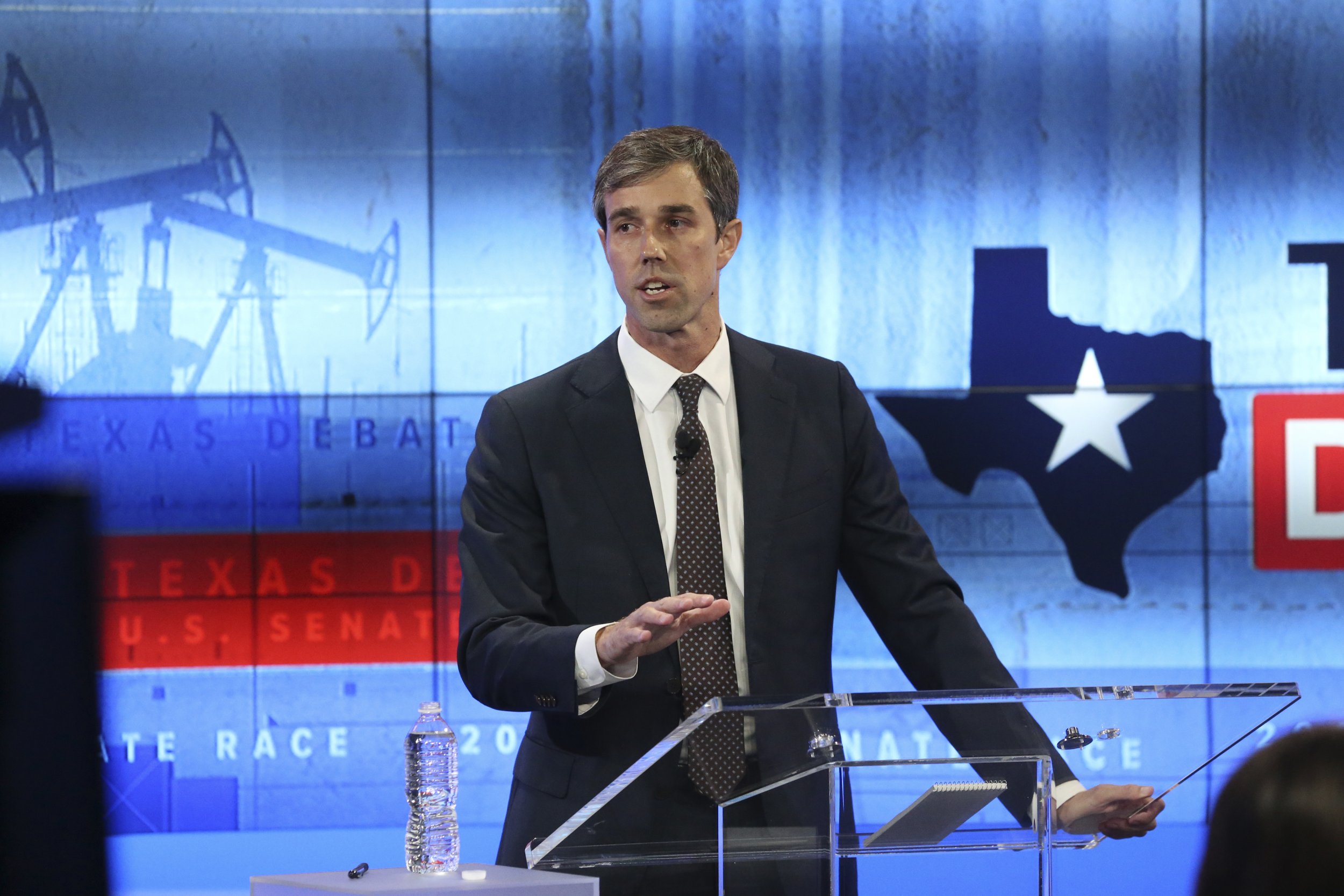 Representative Beto O'Rourke, the Democratic hopeful to replace Republican Senator Ted Cruz of Texas, maintained his stance Thursday night during a CNN town hall on whether he would vote to impeach President Donald Trump.
Asked by CNN's Dana Bash if he'd changed his mind about his vote, O'Rourke said he hadn't.
"Let me put it this way," O'Rourke said. "There may be an open question as to whether the president, then the candidate, sought to collude with the Russian government in 2016."
The Texas Democrat has said many times over the course of the past few months that he would support impeachment proceedings against the president for obstruction of justice in the ongoing investigation into Russian interference in the 2016 U.S. presidential election, and his campaign's possible collusion with the Russian government.
O'Rourke said it was "collusion in action" when Trump failed to condemn Russian President Vladimir Putin for election meddling during their Helsinki summit last July, a possible "attempt to obstruct justice" when he fired former FBI Director James Comey, who headed the Russia investigation, and "obstruction in action" when Trump, "by broad daylight on Twitter," asked Attorney General Jeff Sessions to end the investigation.
"I would liken impeachment to an indictment," O'Rourke said. "There is enough there to proceed with a trial for a full vetting of the facts and to make the best-informed decision in the interest of this country."
In an email to Newsweek, the Cruz campaign called O'Rourke's support for impeachment "extreme."
"Congressman O'Rourke is the only Democratic Senate nominee in the country who has explicitly come out for impeaching President Trump. That is extreme," a campaign spokeswoman said. "It would mean two years of a partisan circus bringing our federal government to a standstill. That's not good for the state of Texas. It's not good for our country."
Numerous other Democratic members of Congress have said they, too, would support impeachment proceedings against the president. But the likelihood of impeachment is slim, because even if Democrats regain control of the House and a majority approves the articles of impeachment drawn up by a committee, a two-thirds majority Senate vote would be required to remove the president from office, and that seems unlikely.
During a Tuesday night debate between O'Rourke and Cruz, the Democratic challenger borrowed a line from Trump's 2016 campaign, calling Cruz "Lyin' Ted." Cruz laughed, saying O'Rourke's "pollsters told him to come out on the attack."
With only a few weeks before Election Day, the O'Rourke campaign recently announced it had raised an unprecedented amount of money in the third quarter, raking in a record-breaking $38.1 million. The amount far exceeded Cruz's $12 million, and was even more than Democratic presidential candidates Hillary Clinton and Bernie Sanders raised during their third quarters in 2015.
As of September 30, O'Rourke had brought in nearly $62 million, almost double Cruz's $35 million, according to Federal Election Commission records.
Still, more money doesn't necessarily mean more support. Most polls show Cruz holding a steady lead in the deeply conservative state. A Real Clear Politics poll calculating the average results from the most recent five polls showed Cruz with a seven point lead. As of October 13, it showed Cruz's average support at 50.8 percent with O'Rourke trailing at 43.8 percent.
Update: This story has been updated to include comment from the Cruz campaign.