The University of Texas is the latest college to face calls to make its campus more inclusive to the black community and remove references to Confederate figures or events.
On Friday, Texas Longhorns athletes released a statement calling for the university to discontinue the use of "The Eyes of Texas" as the school song and to rename four buildings on the Austin campus that are named after men who either promoted racial segregation or were prominent Confederate figures.
"The recent events across the country regarding racial injustice have brought to light the systemic racism that has always been prevalent in our country as well as the racism that has historically plagued our campus," the athletes said.
The athletes added that without if the required changes aren't implemented, they "will not be participating in the recruitment of incoming players or other alumni events", although they would regularly participate in training and other team activities.
Routinely played before and after each Longhorns football game, "The Eyes of Texas" is set to the tune of the folk song "I've Been Working on the Railroad," which was released in 1894. Nine years later, University of Texas student John Sinclair first performed the Texas-specific song he had himself written.
Sinclair, the editor of the school's Cactus yearbook and a member of the university band, wrote the song at the request of fellow band member Lewis Johnson who felt the university needed a school song and he first performed it in May 1903 at a Varsity Minstrel Show.
At the time, minstrel shows regularly featured white characters covered in black costume makeup—better known as "blackface"—to portray plantation slaves. African American characters were regularly depicted as ignorant and the shows perpetuated the notion black people were inferior to their white counterparts.
Despite making its debut at a show with racial connotations, the song has become inextricably linked with the university and is regularly performed at major occasions.
Aside from Longhorns games, the song was played at the funeral of First Lady Bird Johnson, a former university alumna, in 2007 and before Super Bowl XXVII when the Dallas Cowboys faced the Buffalo Bills at the Rose Bowl in Pasadena, California.
A copy of the original lyrics even made it to the moon in 1969 thanks to University of Texas alumnus Alan Bean.
Despite its popularity, the song has long been considered troubling in some quarters. Over a decade ago, ABC reported students were boycotting the song in protest against the university's perceived lack of diversity, while last year Leslie Blair, the executive director of communications for the school's Division of Diversity and Community Engagement, said the university acknowledged the concerns.
"We don't want to forget the history of it," Blair told The Daily Texan. "It's important to keep it alive. The university is aware of its past, of course, and we try to acknowledge it and hopefully offset it a little bit."
In their statement on Friday, players also called for the Robert Lee Moore Hall, Painter Hall, Littlefield Hall and the James Hogg Auditorium to be renamed.
Moore, who taught mathematics at the university between 1920 to 1969, for years prevented black students from attending his classes, while Theophilus Painter prevented Heman M. Sweatt from enrolling at the school's faculty of law on racial grounds.
Sweatt sued Painter, who served as university president between 1944 to 1952, and legal action eventually forced the school to admit black students from 1950. Littlefield Hall, meanwhile, is a women's dormitory named after Alice Littlefield, the wife of former Texas president George Littlefield, who served in the Confederate Army.
James Hogg's legacy also includes pro-segregation policies as in his role as Texas governor he signed the state's first Jim Crow laws, which included the segregation of railroad cars.
The athletes also called for a statue of Hogg to be removed and for part of Darrel K Royal-Texas Memorial Stadium to be renamed after Julius Whittier, the Longhorns' first black player.
"I am always willing to have meaningful conversations regarding any concerns our student-athletes have," Texas athletic director Chris Del Conte said in a statement.
"We will do the same in this situation and look forward to having those discussions."
The University of Texas isn't the first college to be confronted by demands to part ways with racist symbols of its past. Earlier this week, Arizona Cardinals wide receiver DeAndre Hopkins and Houston Texans quarterback Deshaun Watson called for Clemson to remove John C. Calhoun's name from the school's honors college.
Calhoun was a vocal advocate of slavery, famously describing it as a "positive good" rather than a necessary evil. Clemson's campus, where Watson and Hopkins spent their collegiate careers, sits on the site of Calhoun's Fort Hill Plantation in South Carolina.
The petition signed by Hopkins and Watson gathered over 20,000 signatures and on Friday Clemson trustees voted in favor of renaming the school's honors college, stripping off Calhoun's name.
"Board members have felt and feel that it is important to address this matter now rather than wait until July due to the recent events happening across our country," Clemson board of trustees chairman E. Smyth McKissick said in a statement.
"No one can watch what happened to George Floyd in Minneapolis and not be outraged. That terrible death and other incidents across our country reinforced that we all still have work to do, and that includes Clemson."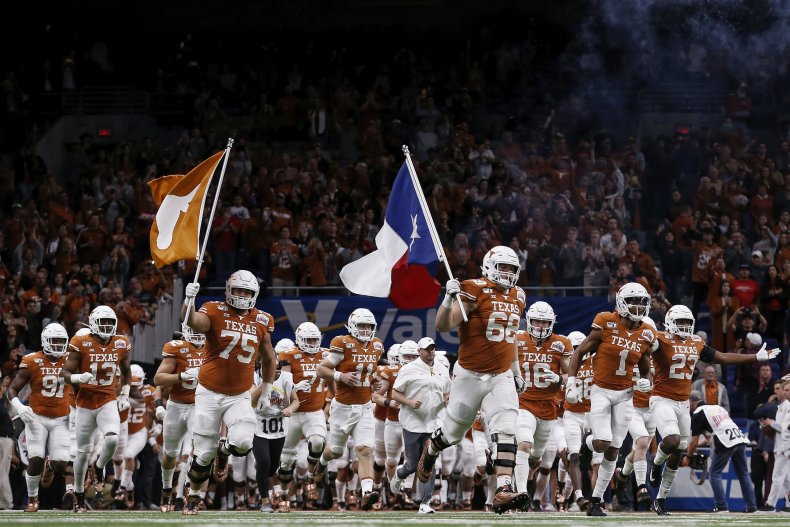 Uncommon Knowledge
Newsweek is committed to challenging conventional wisdom and finding connections in the search for common ground.
Newsweek is committed to challenging conventional wisdom and finding connections in the search for common ground.
About the writer
Dan Cancian is currently a reporter for Newsweek based in London, England. Prior to joining Newsweek in January 2018, he was a news and business reporter at International Business Times UK. Dan has also written for The Guardian and The Observer.