Texas Makes Convention Center a Hospital Amid COVID Surge, Polling-Place Masks Still Optional
A sprawling convention center in El Paso will act as a makeshift hospital starting this week, as the southern Texas city grapples with spiking COVID-19 cases and a subsequent surge in hospitalizations related to the disease.
But while the state amplifies its response to El Paso's coronavirus outbreak, Texas is reporting an enormous turnout at in-person polling places, where participants are not required to wear face masks. The sharp uptick in El Paso's COVID-19 cases has occurred during Texas' early voting period, which commenced on October 13 and ends this upcoming Friday.
Texas Governor Greg Abbott announced on Sunday plans to expand the El Paso's hospital capacity using the El Paso Convention and Performing Arts Center, in partnership with the Texas Division of Emergency Management (TDEM). The site will initially offer 50 additional hospital beds, with the potential to double its capacity if necessary, as well as medical equipment. According to the governor's office, TDEM personnel and other Texas health officials have also worked to establish auxiliary medical units at local hospitals as part of their efforts to meet increasing patient needs.
"The alternate care site and auxiliary medical units will reduce the strain soon hospitals in El Paso as we contain the spread of COVID-19 in the region," Abbott said in a statement released Sunday morning. "We continue to work closely with local officials in El Paso and provide resources to reduce hospitalizations, mitigate the spread, and keep the people of El Paso safe."
Abbott's latest announcement trailed several others concerning El Paso's outbreak resurgence, issued last week. The governor first detailed the deployment of state resources, including medical personnel, equipment and hospital beds, to the El Paso area on Thursday. He later confirmed Dr. Robert Kadlec, of the U.S. Department of Health and Human Services, authorized Abbott's request to use El Paso's William Beaumont Army Medical Center as a temporary medical facility for patients without COVID-19.
Amid rising COVID-19 cases reported by health departments across the U.S., officials in El Paso have confirmed climbing diagnosis counts and a record number of new hospitalizations linked to the virus since early October.
On Sunday, the city's public health authorities asked that residents remain in their homes to the greatest extent possible for the next two weeks, in hopes lowered interpersonal contact will help mitigate further spread.
Data published by the El Paso Public Health Department shows hospitalizations related to COVID-19 have increased by more than 300 percent since the beginning of the month, peaking on Saturday at 786 hospitalized patients. Of those admitted to area hospitals, 117 patients required ventilators.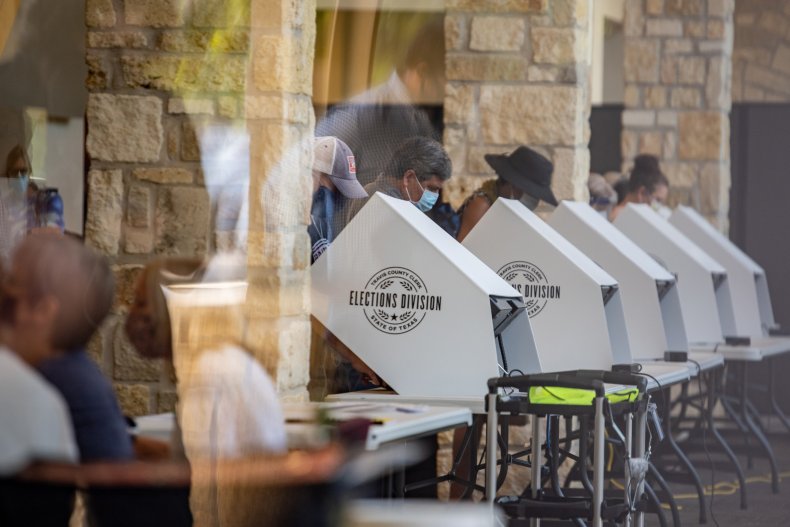 El Paso residents are required to wear face masks in public areas and practice social distancing, in accordance with Abbott's July executive order, which effected mandatory COVID-19 mitigation measures for areas with 20 or more active cases. The order provided 11 instances where individuals may be exempt from complying with its terms.
Among those exempt are individuals who are "voting, assisting a voter, serving as a poll watcher, or actively administering an election." However, the governor's order noted that wearing face masks is still "strongly encouraged." Local leaders, including Travis County Clerk Dana DeBeauvoir, have also emphasized the importance of wearing masks to polls during early voting.
Newsweek reached out to Abbott's office for further comment, but did not receive a reply in time for publication.