Texas Man Who Used a Chainsaw to Scare Away Protesters Has Been Arrested
Police in McAllen, Texas—a city near the Mexico border with—have arrested a man after a viral video showed him trying to scare Black Lives Matter protestors with a chainsaw.
While police didn't release the man's identity, video of the man posted last Friday quickly went viral, racking up 8.61 million views in just three days.
In the video, the man exits his truck and brandishes his chainsaw at the protesters on the sidewalk, revving its engine as he tells the protestors, "Move! Move! Go home! Go home!"
"Don't let those f*cking [n-word] out there fool you. Don't let this f*cking trash, that evil b*llsh*t people see. Don't let these pendenjos right here, don't let these f*cking *ssh*les lie to you! Don't let them lie to you!" the man screams as the protesters disperse.
In the background, one woman can be heard yelling, telling the others to call 9-1-1.
McAllen city police confirmed that the man was apprehended on Friday evening, on the same day the video was posted.
"Thus far [this man's attack] been the only incident we've had at today's (protest) event," McAllen Police Chief Victor Rodriguez said on Friday. "We've identified that person, we've detained that person and are continuing our investigation into the particular incident."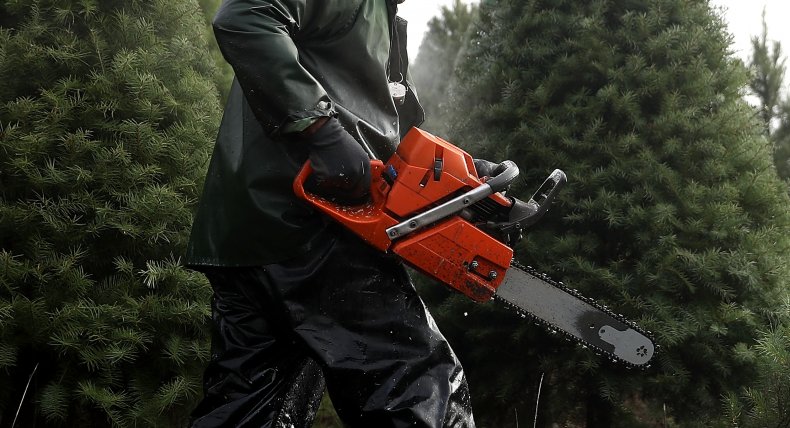 McAllen, Texas—a town of roughly 143,000 residents—actually has an 85 percent Hispanic or Latino population, an 11 percent white population, a 2.5 percent, and Black residents barely registering under 1 percent.
The ongoing and nationwide protests against anti-black police brutality have created a wave of videos showing non-black citizens attacking or harassing protesters.
Another recent video showed a woman verbally attacking an 8-year-old and her mother during a Friday protest in Northwest Bakersfield, California. The woman threatened to kill the mother and her child, who were both white, before being dragged away by her shirtless husband.
The verbal assailant in that incident turned out to be an employee of the Bakersfield City School District. The district has since said its conducting an investigation into the matter.
In yet another assault captured on viral video last week, a Kensington, Maryland resident named Anthony Bernard Brennan III assaulted a young girl and her family while the family hanged protest flyers at a local bike trail. After video of the incident went viral, Brennan was arrested and charged with three counts of second-degree assault.