Texas May Be Won By A Democratic Presidential Candidate for the First Time in 44 Years, Poll Shows
Texas hasn't gone blue during a presidential election since former President Jimmy Carter, but it's possible that could change in November as polls show President Donald Trump losing the Republican hold on the state.
A Quinnipiac University poll released on Wednesday showed Trump and Democratic nominee former Vice President Joe Biden neck and neck in the race for Texas. Trump, with 44 percent, had a slim lead over Biden, who received 43 percent, an advantage that was well within the margin of error of 2.9 percentage points.
Texas, a Republican stronghold, hasn't voted for a Democratic president since 1976 when Carter ran against President Gerald Ford. In the post-Watergate scandal era, Carter painted Ford as an extension of former President Richard Nixon and took Texas by 3.2 percentage points.
The Democratic hold on Texas was short-lived, though. In 1980, when Carter faced off against former California Governor Ronald Reagan, he lost the state by about 13 percentage points.
Quinnipiac University Polling Analyst Tim Malloy said in a statement that it's "too tight to tell" what will happen with Texas in November. During a time when America deals with the new coronavirus pandemic and nationwide protests against police brutality, Malloy said "one of the most important states of all is a toss-up."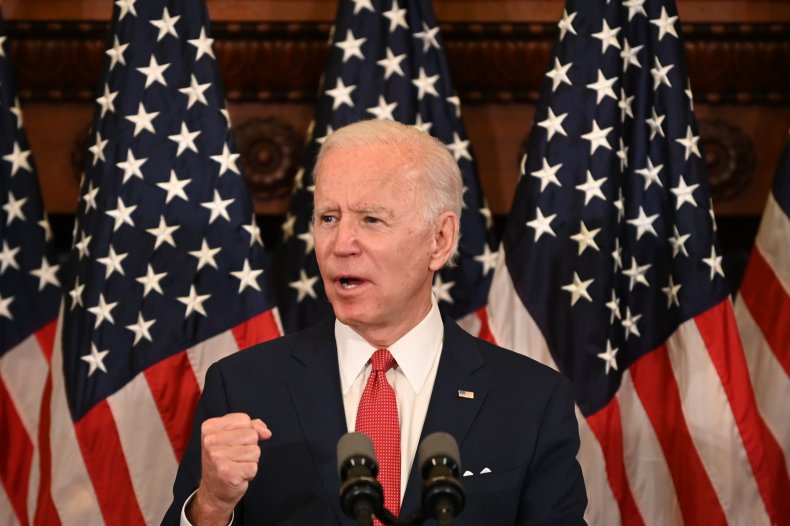 Senator John Cornyn, who is up for reelection in Texas in November, said in 2019 that if Texas becomes a Democratic state, "we'll never elect another Republican [president in my lifetime." Senator Ted Cruz, a Texas staple, called it "game over" if Republicans lose Texas.
A state that has 38 electoral votes, it's important to Republicans reaching the 270 votes needed to win an election. If Democrats gain control, it could make for an easy path to the presidency, as California and New York, two Democratic strongholds, carry a collective 84 votes.
In the poll, Texas voters picked Trump to handle the economy by 54 to 40 percent but choose Biden to handle health care by 49 percent to 43 percent. Biden has a slight lead over Trump in handling the pandemic by 47 percent to 45 percent.
Newsweek reached out to President Donald Trump's and former Vice President Joe Biden's campaigns but did not receive a response in time for publication.
Overall, Trump's presidency received a 45 percent approval rating from the 1,166 registered voters in Texas who were surveyed between May 28 and June 1. His biggest fans were among those who are 65 years old and over, who gave him a 55 percent approval rating, and those between 50 and 64, who gave him a 51 percent approval rating.
It's possible Biden's gaining traction among Texas voters, as previous polls showed a wider margin between the two candidates. An April University of Texas/Texas Tribune poll gave Trump a five percentage point lead over Biden and a May poll conducted by Emerson College and Nexstar Media gave Trump a six percentage point lead.
One poll conducted by the Dallas Morning News and the University of Texas at Tyler in April yielded similar results to the Quinnipiac poll. Of the 1,183 registered voters surveyed, Biden and Trump both received support from 43 percent.
"Whether Texas becomes a battleground in November is up to Joe Biden," Mark Owens, a political scientist at UT-Tyler, told the Dallas Morning News. "Does he want to put resources in the state?"
During a Facebook Live on Saturday, Biden expressed confidence in his party's ability to take Texas. He called it an "important battleground state" for his 2020 campaign and said, "we have a real chance to turn the state blue because of all the work you have done."
"It's important that we all turn out to vote, from Houston to El Paso and everywhere in between," Biden said. "We have to do everything we can to make sure Democrats on the ballot across Texas are successful in November."