Texas' New Abortion Ban Will Have Some Women Drive Up to Nearly 500 Miles for Appointments
Texas' new six-week abortion ban may have some women driving up to nearly 500 miles in order to access out-of-state abortion care.
With the new ban in place, the average one-way driving distance to an abortion clinic would increase from 12 miles to 248 miles, according to research from the Guttmacher Institute, a pro-choice research and policy organization.
The figures from Guttmacher indicate that someone seeking an abortion would likely have to drive roughly 496 miles to an out-of-state clinic and back in order to receive the procedure—and those distances would be doubled again for women who travel to neighboring Louisiana, where a two-visit requirement is in place.
Texas' new ban, which is now one of the harshest abortion laws in the nation, prohibits most abortions after about six weeks of pregnancy.
Among the patients who sought abortion care in the state in 2018, 58 percent were past the six-week time frame when they first called the clinic inquiring about an appointment.
An emergency application filed to the Supreme Court on Monday estimates the number of affected persons to be even higher, projecting that the law would terminate care for "at least 85 percent of Texas abortion patients (those who are six weeks pregnant or greater) and likely forc[e] many abortion clinics ultimately to close."
At midnight, the law went into effect after the Supreme Court failed to act on the request to block the ban.
Although precedents forbid states from banning abortion before fetal viability, which is around 22 to 25 weeks, the Texas law presents a unique legal challenge because it deputizes private individuals, not state officials, to sue an abortion provider or anyone who "aids and abets" an abortion.
Thus, anyone who is opposed to abortion, regardless of whether they have an association to the patient, can sue anyone—from doctors to staff members at clinics to someone who helped pay for an abortion or drive a patient to a clinic—for $10,000.
Research by the Texas Police Evaluation Project at the University of Texas of Austin shows that of those seeking abortion care in the state, 43 percent had someone drive them to the appointment and 57 percent had a friend or family member help pay for the abortion.
"For those without their own transportation it is much more difficult to access care in a clinic. They must rely on friends or family or enlist the help of a practical support network," Elizabeth Nash, a principal policy associate at the Guttmacher Institute, told Newsweek. "The people most heavily impacted by the ban and the related financial and logistical burdens are those who have the lowest incomes, people of color and young individuals, among others."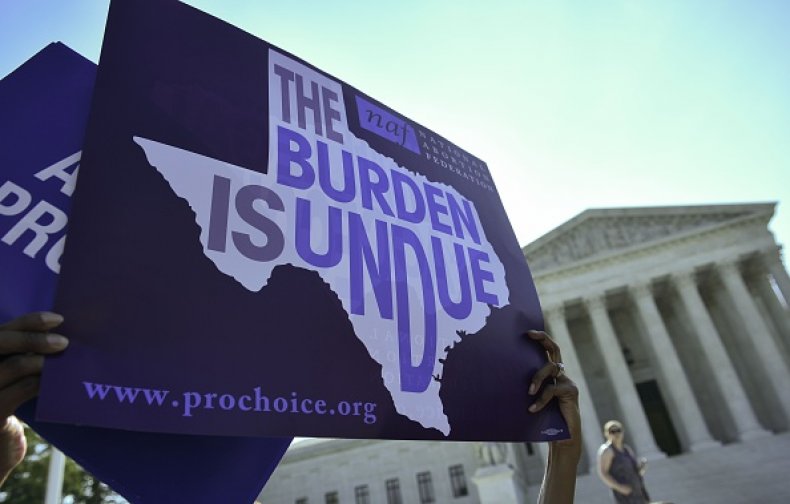 Distances to abortion clinics outside of Texas will not only be time-consuming—going up nearly 3.5 hours each way and sometimes requiring overnight stay—but could be costly as well. The analysis from Guttmacher found that someone making minimum wage in Texas would have to put more than 3.5 hours' worth of earnings toward the cost of gas to cover the additional one-way trip—or nearly a whole day's wage for the trip there and back.
The research organization also noted: "Beyond the cost of gas, a person who needs to travel for an abortion may also have to factor in lodging, child care, lost wages from time off work and other logistical expenses, in addition to the cost of the abortion."
Additionally, the majority of Texans would be nearest abortion clinics in states that are not without their own restrictive abortion policies. Sixty percent of Texan women of reproductive age would be traveling to Louisiana and 32 percent would be headed to Oklahoma. Both states have barriers to abortion care in place.
"No one should be forced to travel hundreds of miles to another state for health care yet, starting today, that is what our patients will have to do to access an abortion safely in a health care setting," Ken Lambrecht, president and CEO of Planned Parenthood of Greater Texas, said in a Wednesday statement.
Clinics across the state began preparing for the ban weeks before the law went into effect.
Since mid-August, all 11 of the Planned Parenthood health centers in Texas stopped scheduling visits for abortions past six weeks of pregnancy after September 1.
Whole Woman's Health's four clinics in Texas will also comply with the law in an effort to protect staff who could be sued individually.
"Our staff and doctors would be put in the position of having to defend themselves against accusations of breaking the law," Amy Hagstrom Miller, the chief executive of Whole Woman's Health, told The New York Times. "It's sobering. This is way beyond anything any of us had imagined."
The Supreme Court may still rule on the emergency request, but abortions in Texas will be extremely limited until the justices do so.
Newsweek reached out to Planned Parenthood for additional comment.
Updated 2:15 p.m. ET, with comments from Nash.