Crowded Houston Nightclub Video Goes Viral as Texas Coronavirus Cases Spike
Video has emerged showing a crowded club still operating in Texas despite the state experiencing a record high number of coronavirus cases.
The clip, which was posted to social media, shows a number of people in close proximity and not wearing masks at the Spire nightclub in Houston over the weekend.
A caption posted along with the video states: "How's that stay home order working out...."
Houston resident Carson Zoch, who posted the video onto Twitter, wrote: "This is an actual video from last night at Spire Houston. I cannot even fathom how dumb some people are. Imagine prioritizing your 'social life' over people's actual lives. This isn't about you anymore, you are putting others at risk. Incredibly selfish humans."
He added: "Not to mention the Texas Medical Center is now at 100% capacity as of Friday afternoon. I wonder what could be a major contributing factor to that..."
The clip has been viewed over 9,000 times on Twitter.
The footage emerged after Texas Governor Greg Abbott announced that all bars and clubs that receive more than 51 percent of their gross receipts from the sale of alcohol must close from Friday, June 26, and for restaurants to be reduced to 50 percent occupancy to control the spike of new COVID-19 cases.
"At this time, it is clear that the rise in cases is largely driven by certain types of activities, including Texans congregating in bars," Abbott said in a statement.
"The actions in this executive order are essential to our mission to swiftly contain this virus and enhance public health. We want this to be as limited in duration as possible.
"However, we can only slow the spread if everyone in Texas does their part. Every Texan has a responsibility to themselves and their loved ones to wear a mask, wash their hands, stay six feet apart from others in public, and stay home if they can."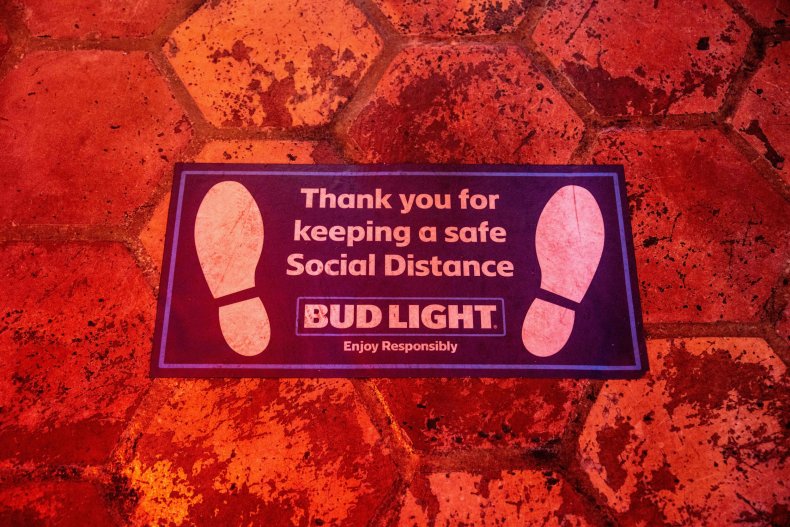 On Friday, Harris County Judge Lina Hidalgo also updated the county's COVID-19 public threat level from Level Two to Level One, meaning there are now "severe and uncontrolled" levels of the virus
The rise in threat level meant that all gatherings of 100 or more people have been banned in Harris County, with residents urged to stay at home except for essential journeys such as buying groceries or medicines and avoid all non-essential businesses.
On June 23, Hidalgo's mandatory mask order went into effect, which required all residents over the age of 10 to cover their faces while inside businesses.
The owners of Spire told KTRK that they stayed open over the weekend as they are registered as a restaurant. The business has been contacted for further comment.
There are more than 150,000 confirmed cases of COVID-19 in Texas, with at least 2,400 deaths and 79,000 recoveries, according to Johns Hopkins University. Of the 2.54 million cases in the U.S., 685,164 people have recovered from the virus.
The graphic below, provided by Statista, shows the spike of new COVID-19 cases in the U.S. as of June 28.