Some of Texas' leading political figures have criticized Governor Greg Abbott's decision to lift the state's mask mandate and ease other COVID-19 restrictions.
Abbott, a Republican, announced on Tuesday that the mandate would end and all businesses would be permitted to open at full capacity. The changes will take effect from March 10.
The governor will retain the power to reimpose restrictions if there is a significant rise in hospitalizations, but critics said the move to end the mask mandate was premature.
Gilberto Hinojosa, chair of the Texas Democratic Party, called Abbott's decision "extremely dangerous" and referred to him as "the worst governor in modern Texas history."
"This will kill Texans," Hinojosa said in a statement. "Our country's infectious disease specialists have warned that we should not put our guard down even as we make progress towards vaccinations."
Chris Turner, chair of the Democratic caucus in the Texas House of Representatives, also took aim at Abbott in a statement issued on Tuesday.
"Masks work to slow the spread of COVID-19, plain and simple," Turner said. "The fastest way we can all get back to normal is to listen to the director of the CDC, who just said that now is not the time to relax restrictions.
"If the last year has taught us anything, it is that we need to listen to doctors and scientists more, not less. Unfortunately, Gov. Abbott is desperate to distract from his recent failures during the winter storm and is trying to change the subject."
Texas was recently hit by severe winter storms that left 4 million residents without power and caused water shortages. Abbott initially blamed green energy for the power outage, but later acknowledged the widespread failure of the grid, which depends heavily on fossil fuels.
Democrat Lina Hidalgo—judge for Harris County, the nation's third largest county—also highlighted the power outages when she criticized Abbott's decision on Twitter.
The graphic below, provided by Statisa, compares current COVID-19 vaccine rollout progress across U.S. states.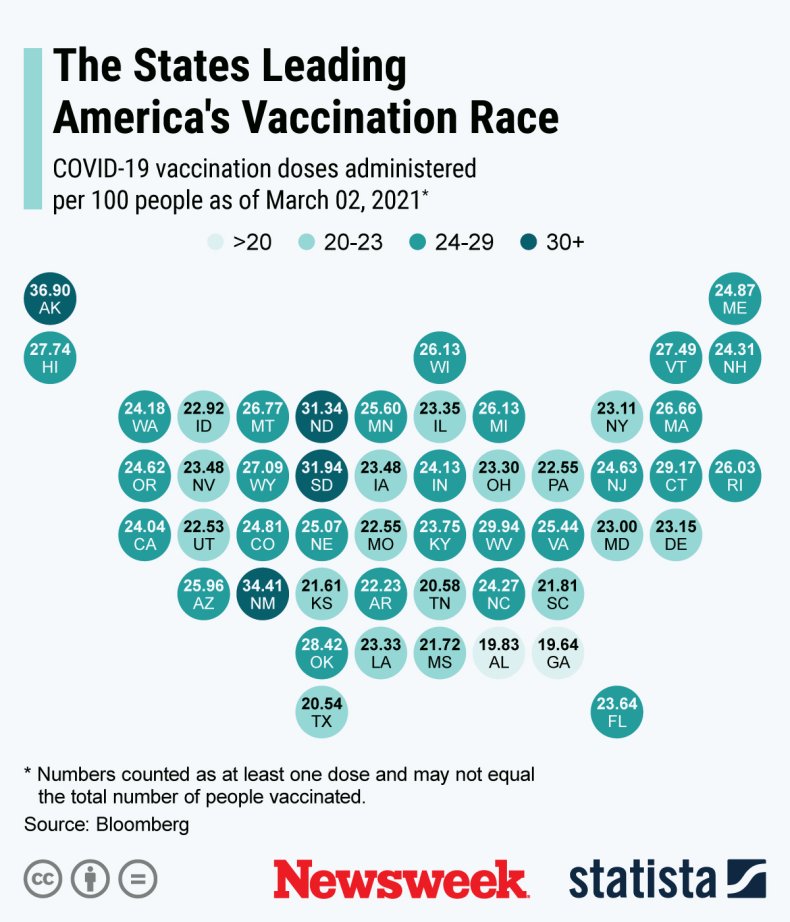 "At best, this is wishful thinking, that COVID is somehow less dangerous than it was yesterday," Hidalgo wrote on Tuesday. "At worst, it is a cynical attempt to distract Texans from the failures of state oversight of our power grid."
San Antonio Mayor Ron Nirenberg, an independent, described Abbott's decision as "a huge mistake."
"COVID-19 is still widespread in our community and infecting too many of our vulnerable residents. You don't cut off your parachute just as you've slowed your descent. Please join me in continuing to wear a mask," he said in a statement.
Former Congressman Beto O'Rourke called the policy a "death warrant for Texans."
"Add them to the 44,000+ killed as he failed to confront the pandemic & botched the vaccine rollout," O'Rourke wrote on Twitter. "And those who froze to death because he cares more about energy companies' profits than keeping Texans alive."
Abbott said on Tuesday: "Removing statewide mandates does not end personal responsibility. It's just that now state mandates are no longer needed."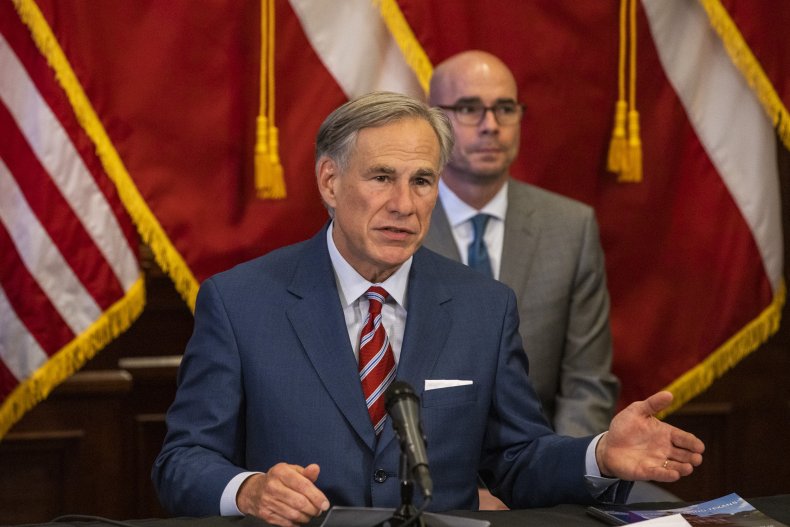 Update 3/3/21, 9:45 a.m. ET: This article was updated to include an infographic.