Texas Power Outage Map, Update as ERCOT Warns of Rolling Blackouts
The Electric Reliability Council of Texas (ERCOT) has issued a public announcement calling on people to conserve as much energy as they possibly can.
Texans are currently being hit by a heat wave that could see temperatures rise to 112 F.
This could lead to an energy emergency, given the increased use of air conditioners, fans, air cooling units, pool pumps and other items.
This map from poweroutage.us shows the areas where the power is currently on or out.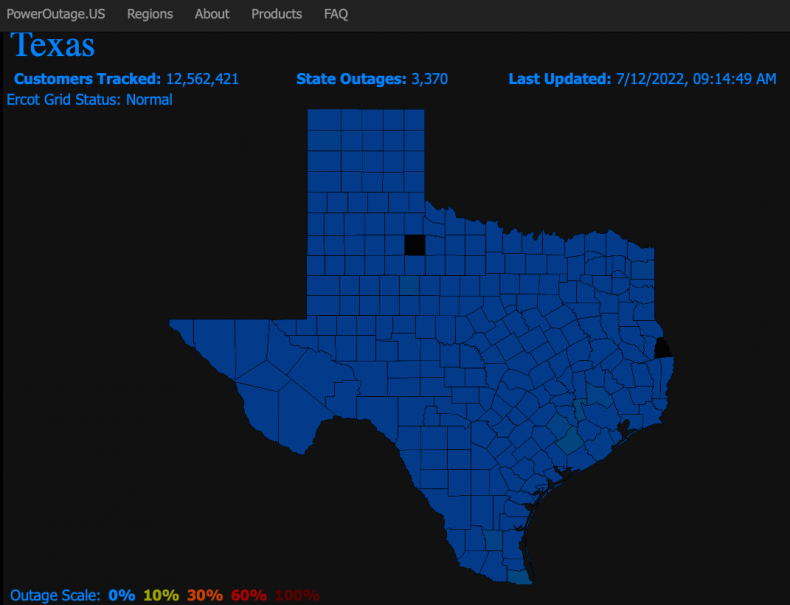 Why is it so hot in Texas?
There is currently a heat wave in Texas, driving record power demands across the state. The National Weather Service (NWS) has issued excessive heat warnings for parts of Texas. It has explained how the "extreme heat and humidity will significantly increase the potential for heat-related illnesses, particularly for those working or participating in outdoor activities."
What has ERCOT said about rolling blackouts?
There are no expected blackouts thus far in Texas. ERCOT's concern is that there is currently no market solution to the energy consumption, which could lead to ongoing or rolling blackouts. The worst hour is expected to between 2 p.m. and 3 p.m. on Monday, July 11.
An ERCOT spokesperson told Newsweek: "We are not in an emergency situation. Our control room has issued a watch and we are asking for voluntary energy reduction where possible.
"If rotating outages became necessary, ERCOT would direct transmission and distribution companies to shed load/reduce demand in their areas/regions. Each area has an amount they would need to reduce demand by. It is up to them to manage the rotating outage if it were to occur. At this time, we do not anticipate this happening".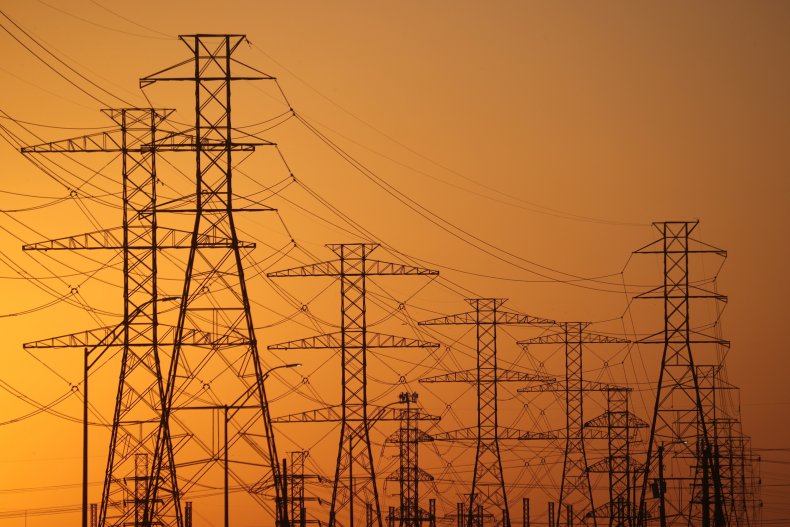 You can read ERCOT's full statement below :
"AUSTIN, TX, July 10, 2022 – With extreme hot weather driving record power demand across Texas, the Electric Reliability Council of Texas (ERCOT) is issuing a Conservation Appeal, asking Texans and Texas businesses to voluntarily conserve electricity, Monday, July 11 between 2-8 p.m.
ERCOT also issued a Watch for a projected reserve capacity shortage from 2-8 p.m. At this time, no system-wide outages are expected. Conservation is a reliability tool ERCOT has deployed more than four dozen times since 2008 to successfully manage grid operations. This notification is issued when projected reserves may fall below 2300 MW for 30 minutes or more.
ERCOT encourages all electric customers to visit the Public Utility Commission's (PUC) Power to Save or their electric providers websites to get important conservation tips. According to the PUC, ways to reduce electricity use during peak times include turning up your thermostat a degree or two, if comfortable, and postponing running major appliances or pool pumps during afternoon peak hours."