Texas GOP Officials Keep Peddling Debunked Claim Green Energy Caused Crisis
Texas Lt. Gov Dan Patrick has become the latest Republican official to claim that renewable energy is to blame for the widespread power outages across the state.
With millions left freezing in the dark this week following a massive winter storm, Patrick said that the crisis strengthened the argument that fossil fuels, as well as nuclear energy, were the most important factors in ensuring power supply in the Lone Star State.
His comments on Fox News came as energy analysts revealed clean energy did not fuel most of the power plants that failed.
Patrick started the interview with anchor Laura Ingraham by disputing the statistic that a quarter of the state's power comes from renewable sources and that during the winter, "we were planning about 12 percent."
"We were down to about two percent because the wind turbines were frozen," Patrick said, repeating a claim made by GOP officials that wind energy infrastructure was the most to blame for the outages.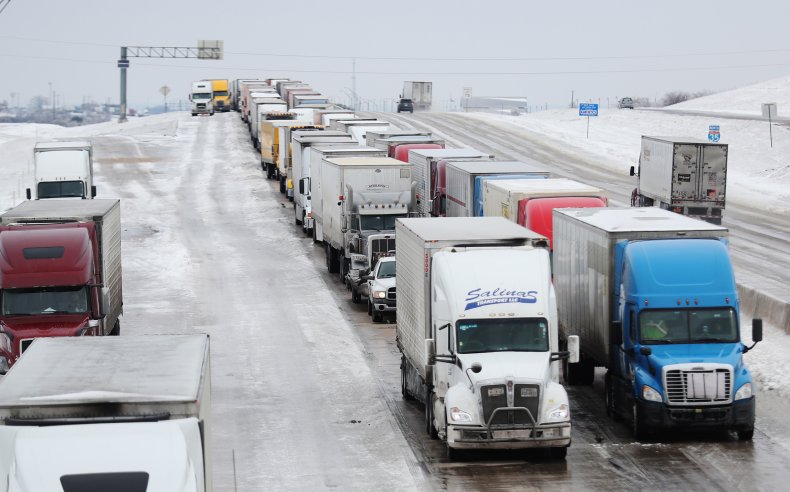 "The lesson is we cannot go down this road Laura of green energy, because right now we have almost everyone's power back," he said, "and it's not wind and it's not solar, it's dark out and I can't make the turbines go round.
"It's fossil fuel, it's clean-burning coal, it's nuclear, that's what this country and this state needs," he added.
Republicans have lined up to criticize renewable energy as the crisis unfolded this week in the state, where wind energy has been promoted over the past 15 years.
GOP Gov. Greg Abbott told Fox News on Tuesday that after wind and solar power "got shut down, it thrust Texas into a situation where it was lacking power on a statewide basis," although he later acknowledged the role that coal and natural gas played in the outages.
Sid Miller, the state's agriculture commissioner, wrote on Facebook: "We should never build another wind turbine in Texas. The experiment failed big time."
Meanwhile, Texas congressman Dan Crenshaw tweeted: "Bottom line: Thank God for baseload energy made up of fossil fuels. Had our grid been more reliant on the wind turbines that froze, the outages would have been much worse."
U.S. Sen. Steve Daines, a Republican from Montana tweeted on Tuesday: "This is a perfect example of the need for reliable energy sources like natural gas & coal."
However, the state electric grid operator, the Electric Reliability Council of Texas (ERCOT), said that while there was a partial failure of renewable energy sources, thermal sources such as coal, gas and nuclear energy lost almost twice as much power during the snowstorm.
Patrick told The Ingraham Angle there would be an investigation and said that ERCOT had assured state lawmakers that Texas could handle an extreme weather event.
"Maybe it is time to get rid of ERCOT altogether and start with a new form," Patrick said. Newsweek has contacted ERCOT for comment.
The graphic below provided by Statista shows how Texas generates its electricity.