The live updates for this blog have ended.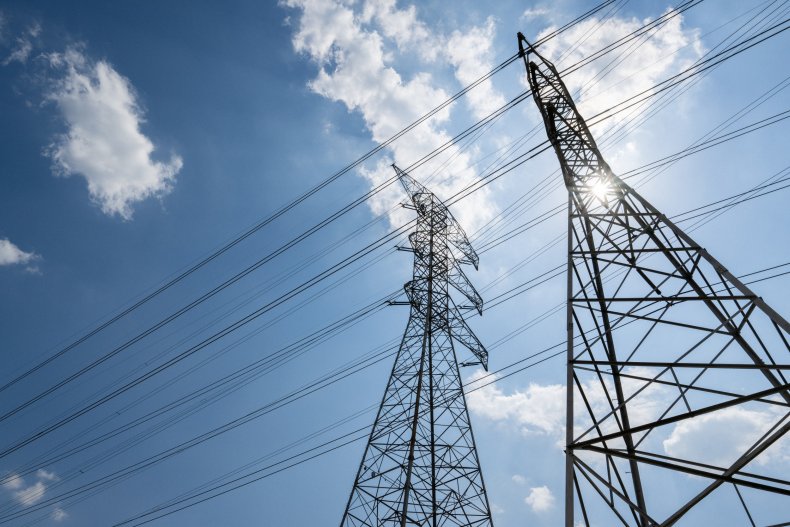 Rainfall Could Cool Down Parts of the State
A block of rain is expected to hit southeast Texas, the National Weather Service (NWS) reports.
This "line of showers and storms" could bring a quick down pour and 40 mph wind gusts in parts of Travis and Blanco Counties, according to the NWS station for Austin and San Antonio.
The precipitation could cool down parts of Texas, where temperatures have been in the triple digits for the past few days.
How ERCOT Decides Need for Rolling Blackouts
As Texas residents face calls to conserve energy amid the Monday heatwave, the Austin-based public radio station KUT looked back on the steps ERCOT said it would take to address upticks in energy demand this summer.
The station pointed to ERCOT's "Summer 2022 Energy Emergency Alert Overview," a document that outlines the steps ERCOT said it will take when energy demand spikes. The document explores the three energy alerts that ERCOT issues when demand rises.
The first step ERCOT said it can take begins when operating reserves fall below 2,300 megawatts "and are not expected to recover within 30 minutes." In that case, ERCOT can bring energy in from nearby grids to supplement existing energy availability.
If operating reserves decline to below 1,750 megawatts without expectations of recovering in a half-hour, ERCOT can request energy conservation and put to use the energy reserves from companies that are paid to limit their own power under these circumstances.
Controlled outages can occur if operating reserves fall below 1,430 megawatts without an expectation of a speedy recovery, the document says. This step occurs as "a last resort," according to ERCOT. If controlled outages are implemented, local utility companies are in charge of carrying them out.
According to ERCOT, controlled outages have only been used four times since the late 1980s. The last time ERCOT implemented controlled outages was during a winter storm that hit the state in February 2021.
Energy officials have said ERCOT does not anticipate implementing rolling blackouts on Monday.
NOAA Reports Fifth Warmest June on Record
June marked a hot, dry start to summer, according to the National Oceanic and Atmospheric Administration (NOAA).
A new report from NOAA found that the average temperature in June was 70.7 degrees, just over two degrees above average. That makes last month was the 15-warmest June in 128 years.
Several states experienced above-average temperatures. Florida, Louisiana and Mississippi each had one of their top ten warmest Junes on record. Texas saw its fifth warmest June.
The year-to-date temperatures, from January to June, was 48 degrees, about 1.2 degrees above the 20th-century average and ranking in the warmest third of the record, NOAA found.
Along with high temperatures, rainfall totals were low. Precipitation totals were 1.47 inches below the average, ranking in the direst third in the January-to-June record. California had its driest year-to-date level on record.
There were also nine different billion-dollar weather and climate disasters so far this year, including tornadoes, hailstorm and droughts.
This year's first six-month period disaster count ranks the fifth highest, behind 2017, 2020, 2011 and 2021.
June also saw several large wildfires in the South and Southwest.
Bitcoin Miners Shut Down Machines
Bitcoin miners in Texas have stopped activity as the state braces for rolling blackouts.
Companies like Riot Blockchain Inc., Argo Blockchain Plc and Core Scientific Inc operate millions of energy-intensive computers in Texas to secure the Bitcoin blockchain network.
Texas has become one of the world's largest crypto-mining centers by computing power due to the state's low energy costs.
But the record-breaking heatwave is expected to disrupt Texas' power grid.
"There are over 1,000 megawatts worth of Bitcoin mining load that responded to ERCOTs conservation request by turning off their machines to conserve energy for the grid." Lee Bratcher, president of Texas Blockchain Association, told Bloomberg. "This represents nearly all industrial scale Bitcoin mining load in Texas and allows for over one percent of total grid capacity to be pushed back onto the grid for retail and commercial use."
The heatwave will keep miners' machines off and drastically increase energy prices, putting further stress on the state's power grid.
Bitcoin miners are required to turn off their mining machines when Texas faces energy shortages, Bloomberg reports.
This comes after the state's energy use peaked Friday. Miners hit 78,206 megawatts, breaking the previous record of 77,460 set on July 5.
No Current Plans for Rolling Outages
The organization overseeing Texas' power grid does not anticipate it will need to implement rolling outages on Monday amid the current heat wave, officials said.
Addressing the public during a Monday afternoon meeting in San Antonio that streamed live on the city's website and Facebook page, CPS Energy's interim president and CEO, Rudy Garza, said it was "not likely" but "possible" that rolling outages would occur.
"ERCOT is not calling for rolling outages at this moment," Garza said. "They're not anticipating we get there."
The amount of energy available to consumers was expected to be "tight" statewide, Garza said. But in San Antonio, he said the energy generation assets managed by CPS Energy "have been performing really well."
"We have what we need to serve our customers, and we're actually sending some back to ERCOT that will help the state manage their needs on days like today," Garza said.
Several peaks have already been set this summer, according to Garza.
"We're in the thick of some of the hottest temperatures that we've seen here in San Antonio ever. We've set, already within the ERCOT system, six new peaks as we've gone throughout the summer," Garza said, adding that the last peak was recorded on July 8. "CPS Energy has set our own peak as well, a new system peak for us."
When asked if energy prices will surge in the wake of already-high energy prices around the country, Garza acknowledged that prices have generally been higher in recent months but said prices won't "necessarily" spike on Monday.
"There won't be any price spikes necessarily associated with today," Garza said, adding that CPS Energy's ability to sell energy to ERCOT benefits the company's consumers.
Number of 100-Degree Days to 'Nearly Double' in 14 Years
The number of days every year when temperatures in Texas rise to or above 100 degrees is likely to "nearly double" by 2036, according to a climate report released last fall that was commissioned by Texas 2036.
The number of days with temperatures reaching 100 degrees "more than doubled" in the 40 years preceding the report's release, according to an October 2021 press release.
The number of days where temperatures reached that threshold "could nearly double again" by 2036 when compared with the total number reported between 2001 and 2020, the release said.
"There also will likely be a higher frequency of 100-degree days in urban areas by 2036, a phenomenon enhanced by Texas urban 'heat islands,'" the release added.
The study also found that there will be an increase in frequency and severity of extreme weather and natural disasters.
Extreme rainfall is expected to become more frequent and more severe, leading to an increase in urban flooding. While hurricane frequency is expected to remain the same, their intensity will significantly increase. The risk of storm surges may double by 2050 in some places. More severe droughts and increased risk of wildfires are also likely to occur.
The study recommends Texas lawmakers begin to address challenges and vulnerabilities, upgrading the electrical grid and generation capacity, expanding broadband and emergency communications infrastructure and improve flood-prevention capabilities.
"Texas' weather is changing, and it's doing so in ways that will make it harder to live here and more expensive to recover from increasingly disruptive events. That means preparation and resilience are more important than ever," John Nielsen-Gammon, a Texas A&M professor who led the research team for this study, said. "Texas' long-term prosperity will depend on how well we prepare for these increasingly damaging natural disasters."
ERCOT Estimates Power Demand Will Exceed Supply
The electricity demand in Texas is expected to exceed capacity Monday afternoon.
At around 3 p.m. CT, the Electric Reliability Council of Texas (ERCOT) estimates the committed capacity, the amount of power available from on-line generating units, will dip below forecasted demand, or the amount of power used.
The Supply and Demand graphic represents the ERCOT system's current power supply and demand in real-time, as well as projected power supply and demand from hourly forecasts.
Available capacity amounts are based on generating units' Current Operating Plans. It can change over time due to variations in start-up times among generating units.
"When the actual demand crosses into these reserves, it indicates that ERCOT may need to bring all available generation on-line and notify consumers that conservation is needed," according to ERCOT.
Officials Share Update on Energy Conservation Efforts
Officials in Texas are sharing an update on energy conservation efforts amid the state's heat wave.
CPS Energy alerted the public about the anticipated update on social media shortly before noon local time.
The updates will be shared during a meeting with city officials in San Antonio. The meeting will stream live on the city's website and Facebook page.
'Dangerous' Heat to Continue Tuesday
Extreme temperatures will continue in parts of Texas on Tuesday, according to the National Weather Service (NWS).
"Dangerous" heat is expected through Tuesday in south central Texas, where the NWS said excessive heat warnings and heat advisories will continue to be in effect.
Weather experts said temperatures could reach 110 degrees in some places on Monday, and heat indices could reach 112 degrees.
"Hot temperatures continue on Tuesday, with high temperatures from near 100 to 108 degrees," NWS Austin/San Antonio said in a warning on the NWS website. "Expect heat indices to top out in the 108-112 degree range for most locations."
In the Corpus Christi area, experts warned residents on Twitter that hot and humid weather "will continue through the next 5 days," with heat indices ranging "from 105 to 114 degrees during the afternoon hours through Tuesday."
While southern Texas was expected to continue battling triple-digit heat, Texans further north were told there would soon be a break in the heat.
After Monday, "temperatures should return close to normal on Tuesday," NWS Amarillo said in a Sunday evening tweet.
Temperatures to Reach Century-High Records
Texas is facing record-high temperatures this week amid a major heatwave.
Nearly every part of the states is likely to reach the century mark Monday, according to AccuWeather. The forecasted temperatures in many cities will approach, and even exceed, decades-old records.
Temperatures remain in the triple digits Monday, with Austin expected to face 109 degree heat through Wednesday.
Sunday was the hottest July 10 and the hottest July day ever on record for Austin, according to local meteorologist Zack Shields.
According to the National Weather Service station for Austin/San Antonio, this year is the warmest June 1 to July 9 period on record for both cities.
All of central Texas remains under a heat alert, as temperatures could reach between 110 and 115 degrees Monday, Shields said.
O'Rourke Calls for Fixing the Grid, Voting Abbott Out
People in Texas "can't rely" on the power grid to continue working without issue in hot or cold temperatures, Democrat Beto O'Rourke tweeted on Monday.
"We can't rely on the grid when it's hot. We can't rely on the grid when it's cold," O'Rourke said in one tweet posted Monday morning.
The gubernatorial candidate, who is campaigning against sitting Republican Governor Greg Abbott, has posted several messages on Twitter over the last few days about the vulnerability of the state's power grid in extreme temperatures. Abbott is running for re-election this fall, and O'Rourke is running to replace him.
O'Rourke's tweets come as Texas battles a heat wave with triple-digit temperatures, weather that the power grid operator has cited while encouraging residents to conserve energy.
O'Rourke's Monday morning tweet continued by saying it is "time" to vote Abbott out of office.
"We can't rely on Greg Abbott. It's time to vote him out and fix the grid," O'Rourke said.
Democrats Blame Gov. Abbott for Power Grid Issues
Democrats in Texas are taking aim at Republican Governor Greg Abbott amid the ongoing issues with the state's power grid.
Democratic Gubernatorial candidate Beto O'Rouke criticized Abbott after Texas' power grid operators asked Texans to conserve electricity Monday amid a major heatwave.
"The governor of the 9th largest economy on earth — the energy capital of the world — can't guarantee the power will stay on tomorrow," O'Rourke tweeted. "We need change."
O'Rouke also recalled "Abbott's grid failure" during a winter storm in February 2021 that left million without power and resulted in hundreds of deaths.
"After that crisis, Abbott took millions in campaign checks from energy CEOs that he allowed to profit off it. Helps explain why he won't fix the grid," O'Rourke said.
The Texas Democratic Party also blamed Abbott for failing to resolve issues with the power grid after last year's winter storm.
"Greg Abbott had the chance to #FixTheDamnGrid after Winter Storm Uri, but he chose to bail out his buddies instead," the party tweeted. "So, now we've got a failing power grid in 100+ degree heat and with expected rolling blackouts across [Texas] over the next 3 days."
On Twitter, Texans have used several hashtags to express their frustration with Abbott's lack of action to fix the power grid, including #WhereisGreg and #AbbottFailsTexasEveryday.
In June 2021, Abbott signed a bill to reform ERCOT and "weatherize and improve the reliability of the state's power grid" into law. This law came after the winter storm.
"We promised not to leave session until we fixed these problems, and I am proud to say that we kept that promise," Abbott said in a statement at the time. "These laws will improve the reliability of the electric grid and help ensure these problems never happen again."
Texans Asked to Cut Electricity Use
Texas residents and business are being asked to conserve energy use Monday afternoon.
The Electric Reliability Council of Texas (ERCOT) issued a Conservation Appeal for the peak hours between 2 p.m. and 8 p.m. ERCOT, the company that operates Texas' power grid, said there is no system-wide outages expected.
ERCOT suggested Texans turn up their thermostat one or two degrees and not run major appliances or pool pumps during the peak hours in order to reduce electricity use Monday.
This comes as the state is facing a record-breaking heatwave, with temperatures in the triple digits.
The heatwave is driving an increase in power demand, ERCOT said. Additionally, wind power generation is currently lower than usual for this time period. Current projections show wind generation coming in less than 10 percent of its capacity, ERCOT said.
"When there is not enough generation available to serve consumers' demand for electricity, and all other solutions available to ERCOT have been exhausted, ERCOT will instruct utilities to reduce power on the system to balance supply and demand," according to ERCOT.