Man's Body Found on Conveyor Belt at Texas Recycling Plant
A man's body was found on a conveyor belt at a recycling center in Texas.
The body was discovered at a facility in the 3600 block of Farm to Market Road 1327 in Creedmore, 15 miles south of Austin.
"Right now, what we know is we have a male victim, our crime lab is here, our detectives are here and the investigation has just gotten underway," Kristen Dark of Travis County Sheriff's Office told reporters on Thursday.
Dark said authorities are treating the discovery as a suspicious death, adding that an autopsy "will help us determine if foul play was involved."
"Most likely, this body got here off a truck. The next step is to find out which it was," she added.
Employees sorting through recycling discovered the body on a conveyor belt at about 9:45 a.m. Thursday and called the police, Fox7 Austin reported.
The Travis County Sheriff's Office released a statement later that day confirming the incident where the Texas Disposal Systems Materials Recovery Facility is located.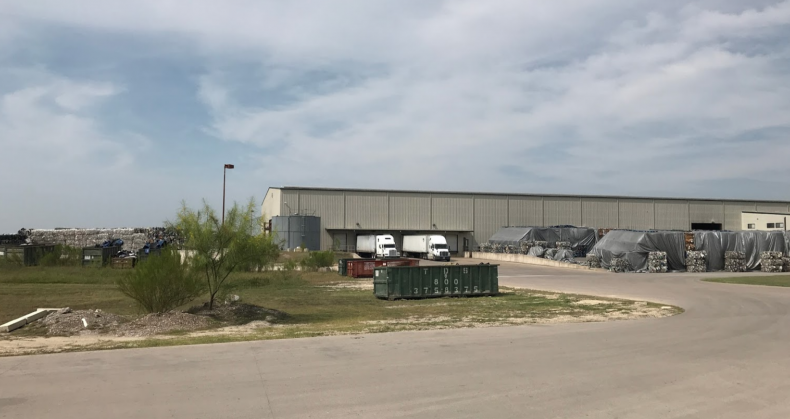 Detectives are now sorting through surveillance video to find out which trucks were delivering at the time in order to determine which truck and which route may have been involved.
"The next step is to find out which truck it was and that's done through a series of investigative tools," Dark said. "Once surveillance and interviews with the company take us to the point where it's determined how that body came into this facility then they'll work backwards from there."
"The first step will be to determine how that body got into this building and then we'll follow the next logical steps until we can go back to where we think it originated. We make no assumptions along the way. We let the evidence take us where we need to go."
Officials have not yet said how the man died or released an identity.
Newsweek has contacted the Travis County Sheriff's Office for comment.
In March, the body of 31-year-old Collen LeBlanc was discovered on a conveyor belt at a recycling center in east Travis County.
Commenting on similar cases in the country, Dark said the TSCO has solved cases like this in the past and "has every reason to believe this is solvable as well."
In November, a murder investigation was launched after a man's naked body was found stuffed inside a storage container in a Florida pond.
The grisly discovery was made by a man walking his dog near the water in the Windy Hill area of Jacksonville on the morning of November 8.
Police divers pulled the container out of the water and discovered the man had been shot.
A Jacksonville homicide detective told local media that the dive team retrieved a grey storage container from the pond in Dairy Drive, east of Southside Boulevard, a block from Windy Hill Elementary School.
Sergeant Steve Rudlaff told reporters it appeared the man was shot elsewhere and then placed in the container, which was dumped 24 to 36 hours prior to it being found.